Best Psychology Schools in Missouri
Are you based in Missouri and currently looking to enter into or expand a career in psychology? There are many educational opportunities for those who wish to pursue psychology in the state. Whether you're considering an undergraduate degree or one of the numerous graduate degree options, this guide can help you decide on your route to a psychology career.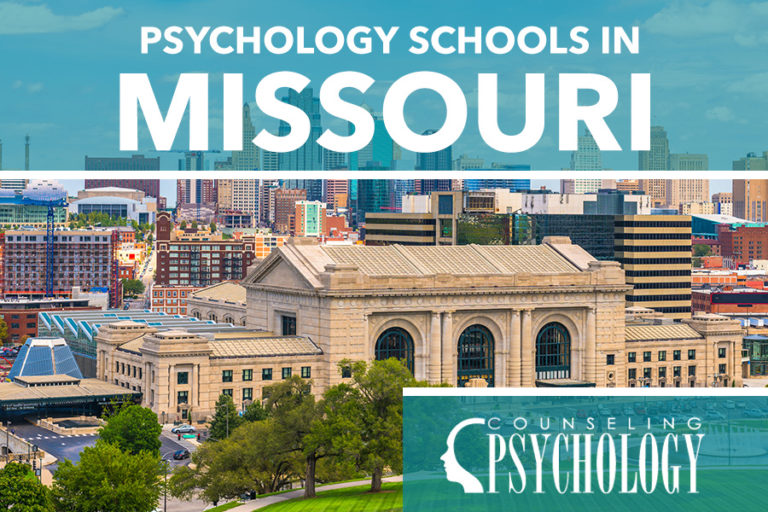 How to Find a Psychology Program in Missouri
Searching Missouri's available psychology programs should consider many elements – not just location and cost. Below are a number of factors you may not yet have considered.
Psychology Degree Pathways in Missouri
The most important question, whether you're an undergraduate or postgraduate student, is the psychology degree type you wish to pursue. For those entering higher education for the first time, there is either the associate's degree, which takes two years to complete or the bachelor's degree, which takes four years.
If you already have a bachelor's degree and are not immediately interested in a higher degree level, a graduate certificate is a great way to expand your skill set in psychology with a shorter program. Psychology grad certificates can usually be completed in around a year, and come in numerous niche areas.
The next option is the psychology master's degree, a two to three-year program available as a master of arts or a master of science. Most psychology students pursue a master's degree to start entering more patient-facing roles.
The terminal degree in psychology is the doctorate degree. There is the Ph.D. for research careers, and the PsyD aimed at clinical practice.
Choose a Psychology Specialty
Associate's and bachelor's degrees are rarely available in specialty areas of psychology – students simply major in general psychology at this level. However, once you undertake a graduate program, you can increasingly niche and specialize.
The University of Missouri offers a BS in psychology as well as both a master's and Ph.D. in Education, School, and Counseling Psychology.
Missouri State University offers a bachelor's in psychology as a major and a minor, and several graduate certificates – specifically in forensic child psychology, clinical psychology, experimental psychology, and industrial-organizational psychology.
Accreditation
Why should you choose an accredited psychology program in Missouri? There are several huge advantages:
Accreditation is an endorsement of quality; it indicates that the faculty and curriculum adhere to minimum required standards
If your psych degree program is not accredited, you will not be allowed to work as a clinician
Non-clinical roles may also require full accreditation
Professional representative organizations may reject applications from non-accredited graduates
Accredited programs in Missouri are covered regionally by the North Central Association of Colleges and Schools. Nationally, accreditation is provided by the American Psychological Association (APA).
Online vs. Traditional Psychology Programs in Missouri
Both traditional campus-based and online psychology degree programs in Missouri have their benefits and drawbacks.
When enrolled in an online psychology program, the major benefit is the flexibility to study to a pattern that works for you. Occasionally, you may be required to attend synchronous classes at scheduled times in a group. With online study, however, you do not have access to the social element of college life.
Campus study provides all the benefits of in-person interaction with both fellow students and faculty. However, the hours follow patterns that people with daytime responsibilities (job, family) may not be able to work with.
Hybrid psychology programs, which combine online coursework with limited campus-based study, are sometimes available. Students are encouraged to see what program options their school of choice offers.
Becoming Licensed as a Psychologist in Missouri
If you want to practice as a psychologist in Missouri, you will need either an accredited doctorate or a master's degree. Master's graduates must acquire at least three years of practical experience before being permitted to apply for a license.
Doctoral graduates need to complete at least two years of supervised experience. One year of this may be in the form of an internship, while the other is required as part of your postdoctoral work.
From there, you must take three exams. The first is the nationally recognized EPPP (Examination for Professional Practice in Psychology). The second is the Jurisprudence Exam, while the third is a short oral exam.
As with other states, licensure by endorsement is permissible in Missouri.
List of Psychology Degree Programs in Missouri
Are you looking for a psychology degree program in Missouri? Browse our list of psychology programs offering both online and on-campus instruction. Follow the links to learn more about what each school's psychology program offers.
Cape Girardeau, MO
Columbia, MO
Joplin, MO
Kansas City, MO
Kirksville, MO
Maryville, MO
Parkville, MO
Saint Charles, MO
Saint Louis, MO
Springfield, MO
Warrensburg, MO
Are we missing your school's program or need to update information listed? Please contact us so we can make the necessary changes.