Best Psychology Schools in Montana
With the need for mental health practitioners rising across the country, psychology is an in-demand career choice for those who want to help others. Montana is a great state to study and practice as a psychologist, with numerous opportunities for education and advancement. Whether you're a prospective psychology undergraduate or seeking opportunities for graduate study and practice, this guide will help you narrow down your options to find the right program pathway for you and your future career goals.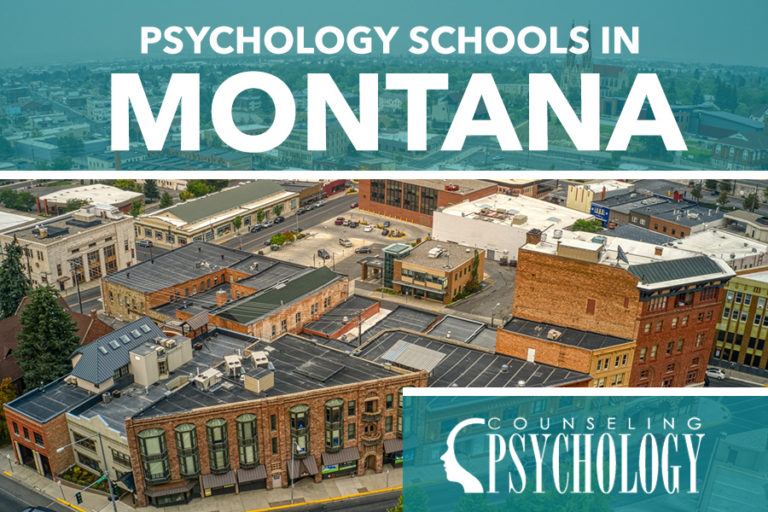 How to Find a Psychology Program in Montana
There are many things to consider before applying for a psychology program in Montana. This is as true for a graduate program as it is for undergraduate study. Keep the following in mind as you start your search for the right psychology degree program in the state.
Psychology Degree Pathways in Montana
The most important question at the start of your search is which degree type you should pursue. Undergraduates have a choice of a two-year associate's degree, which is a basic program that can be found at community colleges and can lead to some entry-level roles, or a four-year bachelor's degree (as a bachelor of arts, or a bachelor of science), which will open more doors and prepare students for future graduate studies.
For new graduate students, you may choose to obtain a graduate certificate, which allows those with a bachelor's at minimum to gain further education in a psychology specialization. Keep in mind that this program results in a certificate and not an additional degree, but it can be completed in around one year of study. Alternatively, the most common graduate program is the master's degree, which often includes the option for a concentration in a psychology specialization.
The highest type of degree in psychology is the doctorate. Students can choose between two different doctoral degree pathways: the Ph.D. is suited for research careers, while the PsyD is geared toward prospective clinicians.
Choose a Psychology Specialty
Undergraduate psychology programs such as associate's and bachelor's degrees do not typically offer the opportunity for specialization. Students at this level will most often major in general psychology. Graduate programs are where you may have the option to pursue a niche area of psychology if you so choose.
The University of Montana has a comprehensive range of general psychology and concentrations across the board including clinical and experimental psychology master's degrees and doctorates. Montana State University offers a bachelor's in psychology along with some pre-med qualifications. It also offers a Ph.D. in psychological science.
Accreditation
Choosing a properly accredited psychology degree program in Montana is essential for many reasons, including the following:
Accreditation is an indication that the college adheres to minimum requirements for teaching and research
Graduates of unaccredited programs are not permitted to work in clinical practice
Some non-clinician careers will typically ask for accredited degrees
Many professional organizations that represent those who work in the field may automatically refuse applications from graduates of non-accredited programs
Schools in Montana are accredited regionally by the Northwest Commission on Colleges and Universities. Nationally, the American Psychological Association (APA) accredits psychology degree programs.
Online vs. Traditional Psychology Programs in Montana
Students these days have two ways of pursuing a psychology degree. Both campus study and online programs have positives and negatives.
Online psychology programs have opened up higher education to more people than ever before, and the main reason is flexibility. It allows you to acquire a degree from home, working on coursework at times suitable to your schedule. The downside to online study is that you won't be able to take advantage of in-person contact with faculty and other students, and you must be self-disciplined enough to keep your coursework on track without strict attendance guidelines.
Campus study offers the traditional benefits of face-to-face interaction, but there are negatives too. This pattern doesn't suit non-typical students. Those employed or with families may need more flexibility than a traditional program can offer, and those who live in rural areas far from the nearest university may find that the commute makes a campus-based program unfeasible. In some cases, hybrid psychology programs are available, which combine some in-person lectures and coursework with online classes.
Becoming Licensed as a Psychologist in Montana
To practice as a psychologist in Montana, you will need a doctorate unless you aim to work as a school psychologist, in which case only a master's degree is required. In this case, you will need a master's in school psychology.
Doctorate students will need a minimum of two years of practical experience. The first year must take place during the doctorate program, while the second year must be conducted during the postdoctoral phase. There is a six-month limit on teaching and research work.
As with all other states, you must pass the nationally recognized Examination for Professional Practice in Psychology (EPPP). After this, you must pass a jurisdictional course by Montana's Board of Psychologists.
List of Psychology Degree Programs in Montana
Are you looking for a psychology degree program in Montana? Browse our list of psychology programs offering both online and on-campus instruction. Follow the links to learn more about what each school's psychology program offers.
Billings, MT
Bachelor's ProgramsMaster's Programs
1500 University Drive
Billings
,
MT
59101-0298
(406) 657-2011
Bozeman, MT
Bachelor's ProgramsPhD Programs
Montana State University
Bozeman
,
MT
59717
(406) 994-0211
Missoula, MT
Bachelor's ProgramsPhD Programs
Missoula, Montana
Missoula
,
MT
59812
(406) 243-0211
Are we missing your school's program or need to update information listed? Please contact us so we can make the necessary changes.