Best Psychology Schools in Nebraska
Prospective psychologists in Nebraska have many choices when it comes to education - whether you're a new undergraduate or ready to expand to a graduate degree. With so many opportunities in this rewarding career field, finding the right educational path is critical. Read on to learn more about the psychology degree options and levels in Nebraska to get started on (or continue!) your journey.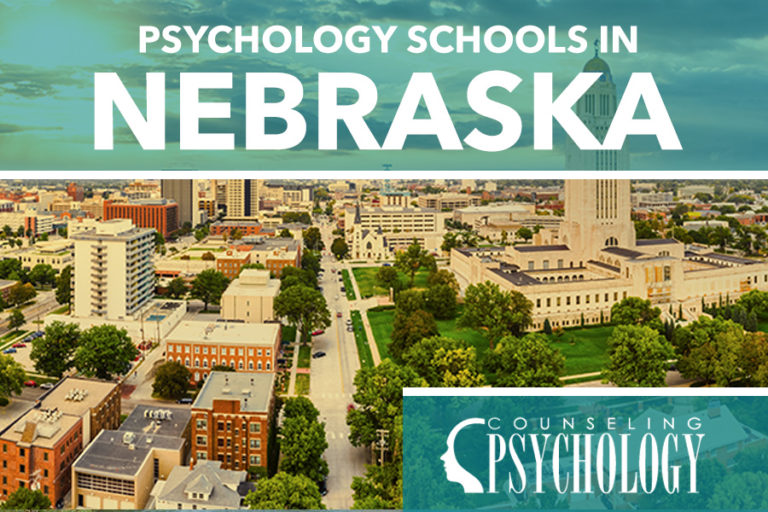 How to Find a Psychology Program in Nebraska
Finding the right psychology program in Nebraska encompasses a variety of factors. Aside from the school's reputation and the cost of the program, prospective students must think about things like degree level, future career plans, whether they want to enter a niche area of psychology, and much more.
Psychology Degree Pathways in Nebraska
New undergraduates have two types of degrees to consider. Only one, the four-year bachelor's degree in psychology, allows progression toward clinical practice. The other undergrad option is the two-year associate's degree. This is the most basic psychology degree level and is a great way to get started, but will limit career prospects without further education.
Graduate students have the option of a one-year graduate certificate, designed to help students upskill in a specialty area of psychology (open to those with a bachelor's degree at minimum). More commonly, the master's degree in psychology is the next step for students with an undergrad degree who wish to advance.
Finally, there is the doctorate – the highest type of degree or "terminal" degree in psychology. Students can choose between the Ph.D. in Psychology or the PsyD. While both are eligible for clinical practice, the Ph.D. is more suited for research careers, while the PsyD is tailored for clinicians.
Choose a Psychology Specialty
It is rare for undergraduate psychology degrees to offer specialization, though there are some exceptions. Graduate study is usually where students can select a program that aligns with a concentration within psychology, though there are many students who opt to progress in general psychology as well.
The University of Nebraska Omaha offers a full range of psychology bachelor's programs, including a choice of emphasis such as cognitive science, mental health, school psychology, and others. Nebraska Wesleyan University offers both BS and BA as well.
Accreditation
There are many advantages to choosing an accredited psychology program in Nebraska, due in large part to the following:
Accreditation means the school has implemented high standards on teaching and research, with robust adherence to curriculum
Graduates of unaccredited psychology programs are not eligible to apply for a license for clinical practice
Many non-clinician openings will expect accredited qualifications
Professional associations will usually reject your membership application if you do not have an accredited degree
Nebraska-based degrees are accredited regionally by the North Central Association of Colleges and Schools. The American Psychological Association (APA) accredits psychology degree programs on a national level.
Online vs. Traditional Psychology Programs in Nebraska
There are several ways to obtain a psychology degree. The first is the traditional method – on campus, attending classes and seminars. The second is fully online.
Online study means more people than ever before can work towards earning a degree, where lifestyle isn't much of a barrier. You can study from home during hours that suit you and utilize digital resources. The drawback is that you will miss out on the in-person contact and camaraderie of campus-based programs, and must be self-motivated enough to complete the online coursework.
Campus study is still a great way to pursue a psychology degree with all the advantages of face-to-face learning, including extracurricular campus activities. However, rigid class times and mandatory in-person attendance aren't always feasible for those employed or otherwise busy with familial obligations. It can also be a burden to commute to a college campus, especially if you live in a more remote area.
Hybrid psychology programs are sometimes available. These programs blend both in-person attendance with online coursework.
Becoming Licensed as a Psychologist in Nebraska
To practice psychology in Nebraska, you must have a doctorate. Either a Ph.D. or PsyD is eligible, as long as the programs are properly accredited.
Doctoral students should complete two years of practical psychology experience. The first year is typically an internship and must be carried out during your doctorate, while the second year requires 1,500 hours of supervised experience during post-doctoral study. A minimum 1,000 hours must be in an area of direct service.
Finally, there are two exams. The first is the national Examination for Professional Practice in Psychology (EPPP). Once passed, there is a two-part state examination. The first part is written while the second is oral. The combined pass rate is 80%.
List of Psychology Degree Programs in Nebraska
Are you looking for a psychology degree program in Nebraska? Browse our list of psychology programs offering both online and on-campus instruction. Follow the links to learn more about what each school's psychology program offers.
Bellevue, NE
Kearney, NE
Lincoln, NE
Omaha, NE
Are we missing your school's program or need to update information listed? Please contact us so we can make the necessary changes.