Best Psychology Schools in Nevada
Prospective psychology students and practice clinicians in the state of Nevada will find plenty of opportunities to study across the state. For those looking for undergraduate degrees, and those already with a bachelor's seeking a graduate program, there are many exciting educational pathways to help you land a rewarding career in psychology in the state.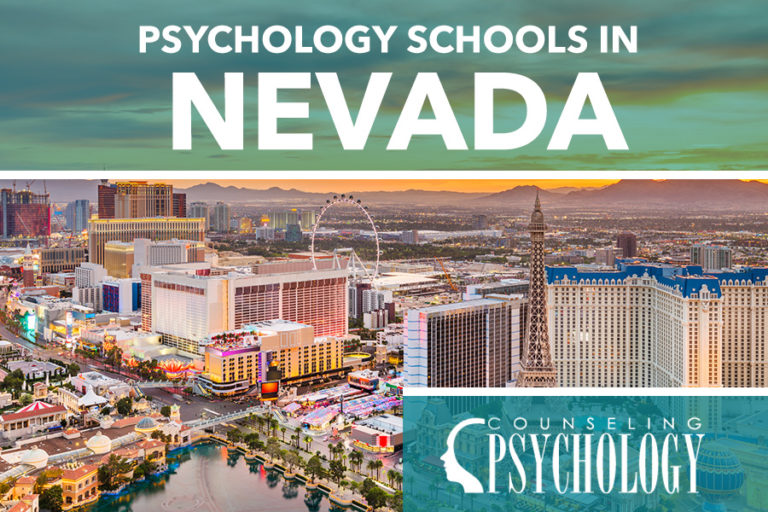 How to Find a Psychology Program in Nevada
Considering the psychology program options available to you in Nevada starts with a few key elements. You'll need to think about your current education level, your career goals, and what type of program pathway works for you (online, traditional campus-based, etc.). Read on to learn more about how to narrow down your program choices.
Psychology Degree Pathways in Nevada
New psychology undergraduates have a choice between two degree types. The associate's degree is the shortest route, taking just two years to complete. However, there are very limited career roles available at this level, and it is recommended that students continue their psychology education from there. The other undergrad option is the four-year bachelor's degree in psychology. Only this type of undergraduate permits graduate study.
Once you've completed your bachelor's, you may progress towards graduate study; there are plenty of options available. The first is the graduate certificate, which typically takes around one year to complete and is designed to help those with a bachelor's degree at minimum learn skills in a niche area of psychology. The second is the master's degree in psychology – available as a master of arts (MA) or a master of science (MS).
The terminal degree type is the doctorate in psychology – available as a research-based Ph.D. or as a practice-based PsyD.
Choose a Psychology Specialty
You will typically find that most undergraduate degrees are offered in general psychology. While it's not mandatory to choose a psychology concentration, students who know they want to enter a specific field of psychology can usually enter a specific program starting at the graduate level.
The University of Nevada (Reno) offers a BA in Research Psychology, and a BA in Behavior Analysis – one of those rare exceptions where students can specialize at the undergraduate level. Also on offer are a Master's in Behavioral Analysis and Ph.D. programs in Behavior Analysis, Clinical Psychology, and in Cognitive and Brain Sciences.
National University offers a BA with two tracks: Licensed Clinical Professional Counselor (LCPC), and Marriage and Family Therapist (MFT).
Accreditation
Choosing a properly accredited psychology degree program can mean the difference between the career of your dreams and a big disappointment. Here's why it matters:
Accreditation signifies that the school adheres to minimum standards on the curriculum, and teaching and research standards
Graduates of unaccredited programs cannot work in clinical practice
Many non-clinical roles will also expect graduates with accredited qualifications
Professional bodies will typically reject applications from non-accredited graduates
In Nevada, the North Central Association of Colleges and Schools accredits schools and programs at the regional level. Nationally, the accrediting body is the American Psychological Association (APA).
Online vs. Traditional Psychology Programs in Nevada
Prospective students have two ways they may pursue any degree. The most common is the traditional on-campus route, attending classes and seminars in person. The second is fully online. However, some programs may be available in a hybrid format, which merges the two.
Benefits of online study include completing coursework from home at a schedule and pace that suits your lifestyle – ideal for those employed or with families. There are several downsides to this format, including a lack of in-person contact, both social and faculty.
Campus study is still the most common way to pursue a degree. What it lacks in flexibility it gains in collaborative opportunities, face-to-face interactions with faculty and fellow students, and campus-based resources like libraries.
Becoming Licensed as a Psychologist in Nevada
Prospective psychology clinicians in Nevada require a doctorate. Both Ph.D. and PsyD grads are eligible in the state.
During your doctorate education, you must acquire 2,000 hours of supervised internship. Upon completion of your doctorate, you must work towards a further 1,750 hours of supervised clinical practice.
Once complete, you may apply for your license, but you will not be able to practice until you have passed the Examination for Professional Practice in Psychology (EPPP). There is now a second part to the EPPP, with Nevada being one of the earliest states to adopt it.
List of Psychology Degree Programs in Nevada
Are you looking for a psychology degree program in Nevada? Browse our list of psychology programs offering both online and on-campus instruction. Follow the links to learn more about what each school's psychology program offers.
Henderson, NV
Las Vegas, NV
Associate ProgramsCertificate Programs
6375 W. Charleston Blvd.
Las Vegas
,
NV
89146-1164
(702) 651-5000
Bachelor's ProgramsPhD ProgramsCertificate ProgramsGraduate Certificate ProgramsEd.S. Programs
4505 S Maryland Pky
Las Vegas
,
NV
89154
(702) 895-3011
Reno, NV
7000 Dandini Blvd
Reno
,
NV
89512-3999
(775) 673-7000
Bachelor's ProgramsMaster's ProgramsPhD Programs
North Virginia Street
Reno
,
NV
89557
(775) 784-1110
Are we missing your school's program or need to update information listed? Please contact us so we can make the necessary changes.