Best Psychology Schools in New Jersey
Students seeking opportunities to enroll in both undergraduate and postgraduate psychology degree programs in New Jersey will find plenty of choices. This in-demand and rewarding career path starts with the right education. Whether you're starting a degree for the first time or considering expanding your qualifications for the next step on your journey, there is vital information you'll need to know to take the next step.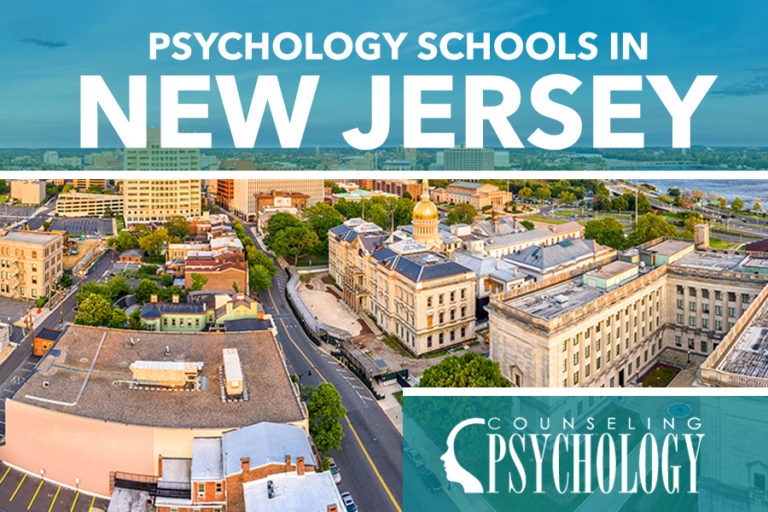 How to Find a Psychology Program in New Jersey
Finding the right psychology program in New Jersey takes some careful consideration. Students must factor in the program cost and location in addition to things like degree level, career goals, and program format.
Psychology Degree Pathways in New Jersey
Undergraduate degree options include the associate's degree and bachelor's degree in psychology. The associate's degree is a short program, taking just two years to complete on average, but will only allow for the most entry-level psychology roles. The bachelor's degree in psychology is a great choice for those wanting to head toward clinical practice. You may choose from a Bachelor of Arts (BA) or Bachelor of Science (BS) in psychology.
Graduate certificates are one potential next step. These short programs (roughly one year long) are available to those with at least a bachelor's degree, and are offered in many niche psychology areas. A master's degree in psychology (MA or MS), however, is still the most common graduate program and is essential for progression to a doctorate.
Psychology doctorates come in two forms. The Ph.D. in psychology is for research careers, while the PsyD is for clinical careers.
Choose a Psychology Specialty
Some students know they want to enter into a specialty field of psychology. Typically, undergraduate students will major in general psychology. Concentrations and specializations are more common at the graduate level, where you can tailor your studies to your skills and interests.
The College of New Jersey offers several bachelor's degrees in psychology, both majors and minors. New Jersey City University also offers a BA in Psychology, as well as a Master of Arts in Educational Psychology, and a Professional Diploma in School Psychology.
Accreditation
Choosing a properly accredited psychology degree program at any level is essential for many reasons, including the following:
Accreditation means the school complies with minimum expectations on teaching, research, and curriculum
Graduating from an unaccredited degree program will leave you ineligible to work in clinical practice
Many roles outside of the medical sphere may also expect accreditation. For others, it may be a strong preference when hiring
Professional organizations and networking bodies may reject applications from non-accredited psych degree graduates
In New Jersey, the Middle States Association of Colleges and Schools is a regional accrediting body. Nationally, the American Psychological Association (APA) accredits psychology degrees and programs.
Online vs. Traditional Psychology Programs in New Jersey
In a bid to help non-traditional students access higher education, many schools have made their full psychology degrees available as online study programs.
There are benefits to online study. The most obvious is the flexibility – you may complete courses at times that work around your lifestyle, which suits parents and those employed. The drawback is you can be limited by your lack of in-person contact with both faculty and fellow students.
For traditional campus study, you have access to in-person contact, but you are limited by the structure of the school week. Classes are scheduled around a typical working day which is not always feasible for those with busy schedules. In addition, those who live far from the nearest college or university may find that commuting limits their ability to complete an on-campus psych program.
In some cases, hybrid psychology degree programs are available, which mix aspects of online coursework with on-campus learning.
Becoming Licensed as a Psychologist in New Jersey
The state of New Jersey only permits doctoral graduates to practice as a clinician. Both PsyD and Ph.D. graduates are eligible for licensure in the state.
Candidates must complete 1,750 hours of supervised clinical practice in the form of internships during their doctoral degree. Once the degree has been completed, another 1,750 post-doctoral hours are mandatory – again under supervision.
Once this has been completed, you can apply for a license and sit for the EPPP (Examination for Professional Practice in Psychology). Once you have passed this, you may enter clinical practice.
List of Psychology Degree Programs in New Jersey
Are you looking for a psychology degree program in New Jersey? Browse our list of psychology programs offering both online and on-campus instruction. Follow the links to learn more about what each school's psychology program offers.
Bloomfield, NJ
Camden, NJ
Ewing, NJ
Galloway, NJ
Glassboro, NJ
Jersey City, NJ
Lakewood, NJ
Lawrenceville, NJ
Mahwah, NJ
Montclair, NJ
New Brunswick, NJ
Newark, NJ
South Orange, NJ
Teaneck, NJ
Union, NJ
Wayne, NJ
West Long Branch, NJ
Are we missing your school's program or need to update information listed? Please contact us so we can make the necessary changes.