Best Psychology Schools in Ohio
Students in Ohio looking for an in-demand and rewarding career pathway are increasingly opting to enroll in psychology degree programs. These programs are available at many levels, from undergraduate to graduate to doctoral. Finding the right program in the state, however, takes careful consideration. Read on to learn about your options for a psychology degree in Ohio.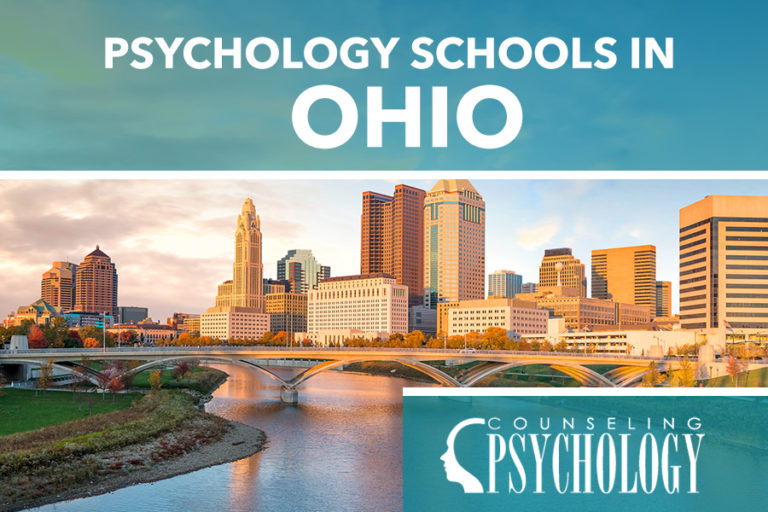 How to Find a Psychology Program in Ohio
There are many things that go into choosing the best psychology programs in the state of Ohio. The degrees or certificates offered, the pathways, preferred specialties, and accreditation are some aspects of a program that students are likely to consider when deciding which college or university to attend for completing an Ohio psychology program.
Psychology Degree Pathways in Ohio
The degree pathways may help to determine the school that a student chooses to attend when considering the best psychology program in Ohio. Students sometimes complete an associate's degree before they complete a bachelor's degree program. One example is Columbus State Community College, which offers an Associate of Arts – Psychology degree. There are formal agreements with colleges and universities to allow students to apply to transfer to a four-year psychology program.
The Bachelor of Arts in Psychology program at Miami University provides students with a structured curriculum and co-curricular opportunities for teaching, research, and the opportunity to engage in internships.
Many Ohio colleges and universities offer graduate programs in psychology. Students can earn a master's degree in psychology, a Ph.D. in Psychology, or a graduate certificate. Ohio University offers a Master of Science in Psychological Science that prepares students for a career in academic settings or in other professional settings. The program requirements include previous completion of a bachelor's degree with an overall 3.0 GPA and 3.0 psychology coursework GPA.
Choose a Psychology Specialty
A psychology specialty allows students to focus more on their desired area when completing a psychology program in Ohio. The Ohio State University has nine Ph.D. program areas. Students can choose a doctoral program in specialty areas such as Cognitive Psychology, Intellectual and Developmental Disabilities Psychology, Clinical Psychology, or Social Psychology.
Students sometimes have the opportunity to focus on a specialty area by completing a psychology graduate certificate program. The University of Akron offers a Psychology: Gerontology Certificate. The program is designed for students who are either undergraduate students or who are postbaccalaureate students who wish to focus on psychology as it relates to the field of gerontology.
Accreditation
Psychology programs in Ohio are typically accredited by regional or national organizations. Check for accreditation on the psychology program page or by clicking a link on the school's website. The University of Toledo prominently describes its Clinical Psychology doctorate program as being accredited by the American Psychological Association on the program overview page.
Ohio State University lists the accrediting organization for the Clinical Psychology program as the Psychological Clinical Science Accreditation System.
Online vs. Traditional Psychology Programs in Ohio
Many colleges and universities require that students complete their psychology programs in traditional classroom settings, though remote learning opportunities are increasingly available. Students sometimes prefer the flexibility of an online psychology program.
The highly-ranked undergraduate online psychology program at Ohio University provides the same courses for students in the online program as those completed by students in the traditional undergraduate psychology program.
Becoming Licensed As a Psychologist in Ohio
The Ohio Board of Psychology enforces Ohio Revised Codes related to the Laws and Rules Governing Psychologists and School Psychologists in Ohio. The board also has the responsibility for licensing and licensing renewal of psychologists in the State of Ohio. Students applying for licensure provide evidence of completing the education and supervision requirements.
List of Psychology Degree Programs in Ohio
Are you looking for a psychology degree program in Ohio? Browse our list of psychology programs offering both online and on-campus instruction. Follow the links to learn more about what each school's psychology program offers.
Akron, OH
Ashland, OH
Athens, OH
Blue Ash, OH
Bowling Green, OH
Canton, OH
Cincinnati, OH
Circleville, OH
Cleveland, OH
Columbus, OH
Dayton, OH
Kent, OH
Oberlin, OH
Oxford, OH
Toledo, OH
University Heights, OH
Youngstown, OH
Are we missing your school's program or need to update information listed? Please contact us so we can make the necessary changes.