Best Psychology Schools in Oklahoma
Those in Oklahoma looking for a fulfilling, stable career may want to consider psychology. With mental health practitioners in high demand, psychology degrees can be the first step on a path to a rewarding career. Whether you are just starting out at the undergraduate level or looking to advance with a graduate program in psychology, Oklahoma has options to suit you.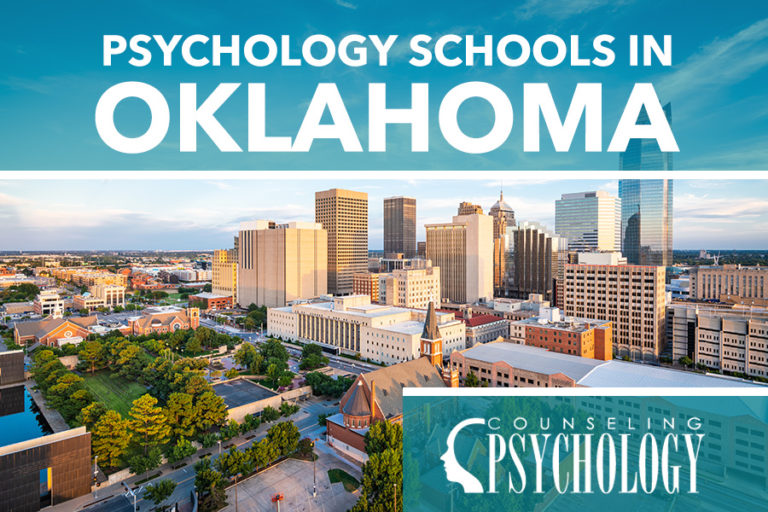 How to Find a Psychology Program in Oklahoma
Finding a good psychology education program in Oklahoma requires more than deciding to attend any college or university that offers a psychology degree program. Students need to consider many things before choosing the best psychology program for their educational goals.
Psychology Degree Pathways in Oklahoma
The psychology program that a student chooses should align with the student's desired degree pathway. Some students prefer to enroll in an associate's degree program and then transfer to a four-year bachelor's degree program in psychology.
Eastern Oklahoma State College offers an Associate of Arts in Psychology-Sociology program. Students complete their first and second years of college when enrolled in a program that focuses on understanding and studying individual and group behaviors. Why do people act, feel, or think the way that they do? The program guides students through being able to answer this and other questions, as they prepare to continue their psychology education program.
Students sometimes transfer to Oklahoma State University, while other students begin their psychology program education by enrolling in the Bachelor of Arts in Psychology or the Bachelor of Science in Psychology degree program. There are two pathway options, which allow students to complete either the Clinical Psychology or the Experimental Psychology pathway.
Many students continue their psychology education to the graduate level with a Master's degree or doctorate (Ph.D. or PsyD) so that they qualify to sit for exams and become licensed as a psychologist by the state of Oklahoma. 
Choose a Psychology Specialty
Completing a program that offers psychology specialties is likely to be a desire for many students. Check the psychology department to learn if there are specialties within the psychology degree programs.
Some unique programs allow students to complete their bachelor's degree and master's degrees, while also completing the requirements for a specialty area. The University of Central Oklahoma Jackson College of Graduate Studies offers an Accelerated Degree Pathways option.
Psychology students enroll in the Bachelor of Science in Psychology program. They may take up to 10 graduate credit hours before graduating with their bachelor's degree. The 10 credits count towards graduation on the bachelor's degree and the graduate degree programs. The specialty options include a Master of Science in Psychology – General Psychology, a Master of Science in Psychology – Experimental Psychology, or a Master of Science in Psychology – Forensic Psychology.
The University of Oklahoma offers doctorate psychology degrees. Specialties include social psychology, cognitive psychology, quantitative psychology, and industrial-organizational psychology.
Accreditation
Check the school for the accreditation status of the psychology program. A student who completes a psychology program that is not accredited will likely discover that they cannot work in their desired psychology career or become licensed as a psychologist.
Look for accreditation on the specific program page. Some colleges and universities list the accreditation for all programs on a site page, such as Eastern Oklahoma State College. The American Psychological Association (APA) accredits psychology programs nationally.
Online vs. Traditional Psychology Programs in Oklahoma
Traditional psychology programs require that students meet in a face-to-face setting, such as an on-campus classroom. Online programs allow students to complete some or all degree requirements in an online setting. While campus-based programs are still very popular, online programs allow flexibility for those who are employed or have family obligations that may keep them from commuting to campus regularly. In some instances, hybrid programs that blend campus-based coursework and online classes, are available.
The online Bachelor of Science in Psychology at Oklahoma State University has the same requirements for students who complete the on-campus program.
Becoming Licensed As a Psychologist in Oklahoma
A person who wants to practice or represent themselves as a psychologist in Oklahoma is required to become licensed by the Oklahoma State Board of Examiners of Psychologists. Students must complete the application and submit evidence of their professional education, exam performance, and other required documentation.
List of Psychology Degree Programs in Oklahoma
Are you looking for a psychology degree program in Oklahoma? Browse our list of psychology programs offering both online and on-campus instruction. Follow the links to learn more about what each school's psychology program offers.
Edmond, OK
Lawton, OK
Norman, OK
Oklahoma City, OK
Stillwater, OK
Tahlequah, OK
Tulsa, OK
Are we missing your school's program or need to update information listed? Please contact us so we can make the necessary changes.