Best Psychology Schools in Rhode Island
Psychology practitioners are needed all across the nation, even in small states like Rhode Island. This rewarding and in-demand career pathway can be achieved with the right education. Whether you are just starting out and looking for an undergraduate psychology program, or are ready to advance your psych career with a graduate program or doctorate, read on to find out what your options are in Rhode Island.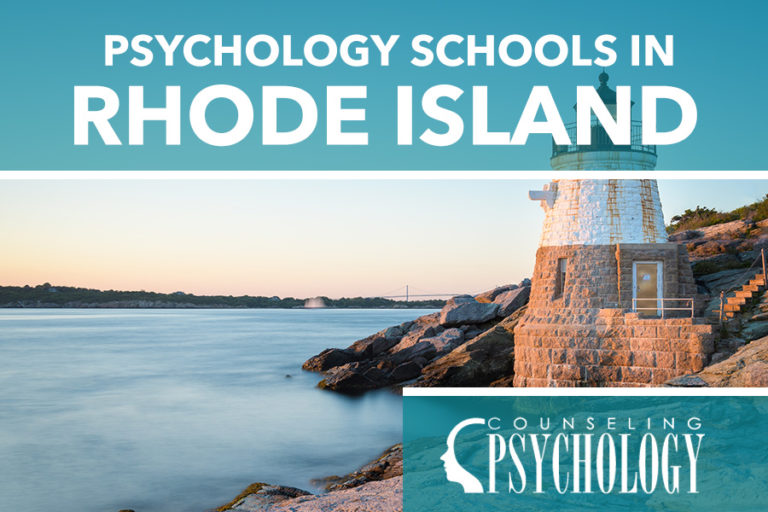 How to Find a Psychology Program in Rhode Island
There are many points to consider when choosing one of the best psychology programs in Rhode Island. Things like the psychology pathways, options for studying psychology specialty areas, accreditation, and program format options are some things to consider before enrolling in a Rhode Island psychology program.
Psychology Degree Pathways in Rhode Island
Psychology degree pathways are likely to contribute to the college or university choice when a student considers program and Rhode Island school options. Students may complete an undergraduate degree program and continue their education to complete a graduate degree for the best career options for Rhode Island psychologists.
Rhode Island College offers a Bachelor of Arts in Psychology program that has no required practicum. Students complete coursework and an internship. The school also offers graduate programs in psychology for students who prefer to advance their education.
Johnson & Wales University offers several pathways for students who want to begin or continue their education by enrolling in a psychology program in Rhode Island. Consider an accelerated program to complete both a bachelor's degree and a master's degree in psychology in an accelerated format.
This pathway allows students to complete both undergraduate and graduate courses in psychology, and to receive credits in both programs. The options include the psychology/addiction counseling Accelerated B.S./M.S. program or the psychology/clinical mental health counseling accelerated B.S./M.S. program.
Choose a Psychology Specialty
Students who choose a psychology specialty are likely to have the option to complete a Rhode Island psychology program that prepares them for their desired career area.
The University of Rhode Island indicates that specialty areas in the psychology Ph.D. program prepare students for working in roles in a variety of professional settings. The university offers specialties that include behavioral psychology or clinical psychology.
Accreditation
Students should check to make sure that a psychology program has accreditation before enrolling in the school or in the program. Look for accreditation information on the specific program page, in recent announcements, or on the website.
Many colleges and universities have a separate page or link to click on for accreditation information. The University of Rhode Island released a statement when its Ph.D. in Clinical Psychology program earned a 10-year accreditation extension.
A school or psychology program that does not have accreditation is something to consider for students who look forward to completing a Rhode Island psychology program. Students may not find employment in their field if they attend a school that is not an accredited institution.
Online vs. Traditional Psychology Programs in Rhode Island
Students who need flexibility in their psychology program studies are likely to prefer the flexibility of an online program, compared to a traditional psychology program. Students who enroll in the Bachelor of Science in Psychology program, or the Master of Science in Organizational Psychology program at Johnson & Wales University complete an online degree.
The degree requirements are the same as those for students who enroll in a traditional face-to-face setting.
Becoming Licensed As a Psychologist in Rhode Island
The State of Rhode Island Department of Health Board of Psychology has the responsibility for the licensure of psychologists in the state.
The board sends renewal notices to licensed psychologists 60 days before the expiration date of the current license to practice psychology.
List of Psychology Degree Programs in Rhode Island
Are you looking for a psychology degree program in Rhode Island? Browse our list of psychology programs offering both online and on-campus instruction. Follow the links to learn more about what each school's psychology program offers.
Bristol, RI
Kingston, RI
Newport, RI
Providence, RI
Are we missing your school's program or need to update information listed? Please contact us so we can make the necessary changes.