Best Psychology Schools in Tennessee
The field of psychology is rich with variations, and to meet the needs caused by this, schools have developed many different psychology programs. Some are meant to get you quickly prepared to offer basic counseling, others teach enough for you to tackle complex issues, and still, others will be just part of a wider degree program.
Because of this variety, you'll want to find the best school for the specific focus of your intended studies.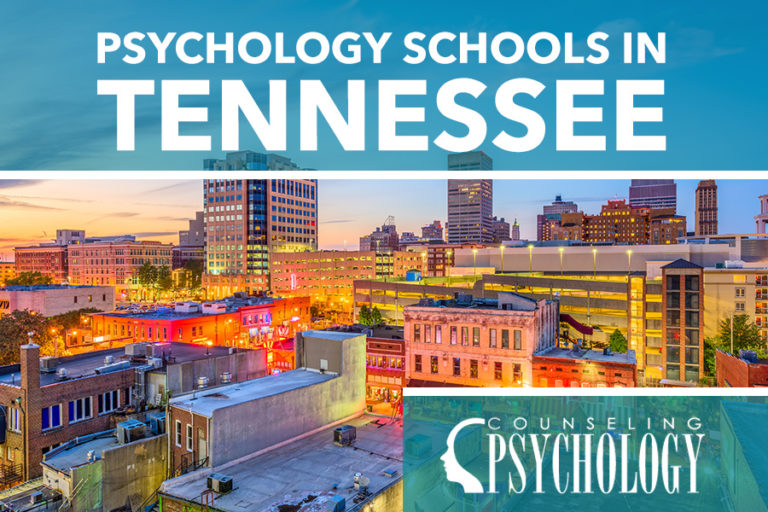 How to Find a Psychology Program in Tennessee
Since the full psychology degree system ends at the doctorate, degree programs are almost always offered by colleges and universities rather than trade schools. Look for the best school that you are eligible to attend and that can fit into your budget.
If you're not ready to jump right into a prestigious four-year university, don't fret: Starting out at a community college and then transferring the credits to a four-year institution is a common educational pathway.
Psychology Degree Pathways in Tennessee
To be a licensed psychologist in Tennessee, you must achieve a doctorate. Therefore, those seeking to enter the top level of the profession should either look for schools that have their own doctorate programs or choose institutions that offer credits that can be transferred to such a school.
That said, there are other psychology degrees – and other jobs in this general field – available. The Associate's degree can be earned in just two years. Typically, a bachelor's takes four, and a master's requires six.
Choose a Psychology Specialty
There are many specialties in the field of psychology, and not all of them require a full doctorate degree. In fact, with just an associate's degree, you can get a job as a home care aide or family advocate, among several others. Opportunities, and the number of specialties available, increase as your degree goes up. Choose the one that you can engage with the most to help ensure long-term satisfaction with your choice.
Accreditation
Accreditation is essential for any college or university degree program. It is what makes your diploma "worth the paper it's printed on," not only to licensing authorities but to employers. In Tennessee, several bodies are responsible for accrediting psychology programs.
Online vs. Traditional Psychology Programs in Tennessee
Many schools now offer at least some online courses, and there are a few universities that have 100%-online programs. Online schooling is more convenient but has limited social interaction involved. Be warned: Not all online universities are accredited by respected organizations.
Becoming Licensed As a Psychologist in Tennessee
Becoming a licensed psychologist in Tennessee takes more than getting your doctorate. The doctorate degree is mandatory, but once you have it, you then need to get two years of supervised professional experience and pass national and state exams. Renewing your license requires completing 40 hours of continuing education and paying a fee.
List of Psychology Degree Programs in Tennessee
Are you looking for a psychology degree program in Tennessee? Browse our list of psychology programs offering both online and on-campus instruction. Follow the links to learn more about what each school's psychology program offers.
Bristol, TN
Chattanooga, TN
Clarksville, TN
Cleveland, TN
Cookeville, TN
Johnson City, TN
Knoxville, TN
Memphis, TN
Murfreesboro, TN
Nashville, TN
Sewanee, TN
Are we missing your school's program or need to update information listed? Please contact us so we can make the necessary changes.