Best Psychology Schools in Virginia
With a growing need for mental health professionals throughout the country, psychology is a rewarding and in-demand career pathway to consider. Virginia residents looking at their educational options in psychology may wish to pursue one of the state's undergraduate, graduate, or even doctorate programs to help them flourish in their future endeavors. Read on to find out how to enroll in a great psychology degree program in the state.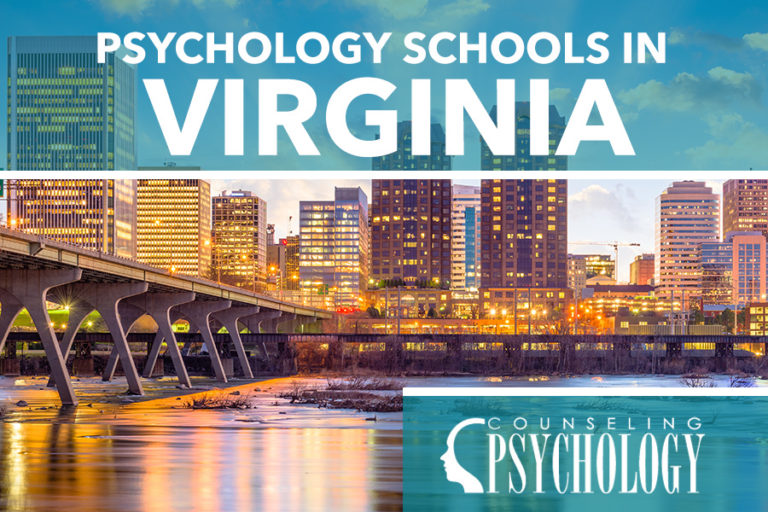 How to Find a Psychology Program in Virginia
Students who want to pursue a career in psychology have several opportunities to pursue their passion by choosing to complete their degree from among the best psychology programs in the State of Virginia. There are many things that go into finding a good psychology program in the state.
Psychology Degree Pathways in Virginia
Psychology degree pathways allow students to start their psychology education at a college that offers programs that begin at the bachelor's degree level and continue to the master's degree and to a Ph.D. program. Some other schools, including the Northern Virginia Community College, offer an Associate of Arts program, which is a transfer program for students who wish to complete a B.S. or a B.A. in Psychology.
One opportunity to complete a bachelor's degree in psychology program is the Bachelor of Science in Psychology at Virginia Commonwealth University. Students develop an understanding and skills in "scientific methods of inquiry, focusing on the human mind and behavior." The university also offers graduate degrees in psychology for students who wish to further their education.
Choosing a Psychology Specialty
Virginia psychology programs may offer a variety of specialties, which allow students to focus on their needs and goals. One example is the Virginia State University Master of Science Program in Psychology.
Students have the opportunity to specialize in either the area of general psychology or clinical psychology. The university recommends that students who want to become researchers or who want to teach at the community college level should follow the general psychology concentration.
Accreditation
Students want to make sure that they enroll in an accredited psychology program. Failure to complete an accredited program may lead to the inability to sit for exams or the inability to obtain licensure or employment in psychology in the State of Virginia.
The Virginia Commonwealth University graduate psychology programs are fully accredited programs. The clinical psychology program first received APA Committee on Accreditation status in 1975.
Online vs. Traditional Psychology Programs in Virginia
Old Dominion University offers an online psychology program for students who either have credits and wish to complete their degree or for students who want to start a Bachelor of Science in Psychology program.
Students who complete an online degree program often study at home and complete many or all course requirements in an online format. Check the school to determine if there are on-campus requirements, such as face-to-face meetings or test requirements.
Becoming Licensed as a Psychologist in Virginia
The Virginia Department of Health Professions Board of Psychology regulates the following professions:
Sex offender treatment provider
Students need to complete the requirements to take exams for their desired specialty in psychology. The board also provides information on where and how to take practice exams to become a psychologist in Virginia.
List of Psychology Degree Programs in Virginia
Are you looking for a psychology degree program in Virginia? Browse our list of psychology programs offering both online and on-campus instruction. Follow the links to learn more about what each school's psychology program offers.
Blacksburg, VA
Charlottesville, VA
Fairfax, VA
Farmville, VA
Fredericksburg, VA
Hampton, VA
Harrisonburg, VA
Lexington, VA
Lynchburg, VA
Newport News, VA
Norfolk, VA
Petersburg, VA
Radford, VA
Richmond, VA
Virginia Beach, VA
Williamsburg, VA
Are we missing your school's program or need to update information listed? Please contact us so we can make the necessary changes.