Best Counseling Schools in Arizona
Arizona has a large need for counselors, and it also has many degree programs that can help you become one. Here are some of the best counseling programs in Arizona.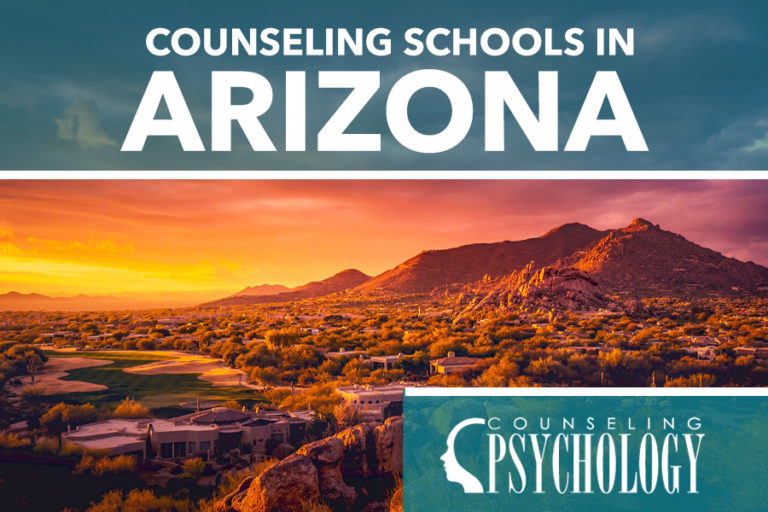 How to Find a Counseling Program in Arizona
Multiple Arizona postsecondary schools grant counseling degrees. There are degree programs at all levels of postsecondary education, in many different specialties, and both in-person and online. Compare the many different options that are available, and choose a counseling program that meets your needs and aspirations. You might consider budget, schedule, interests, and career goals.
Counseling Degree Pathways in Arizona
Counseling degree programs can last from a few months to many years, depending on what level you're qualified for and want. The degree options include:
Associate Degree: Normally is a two-year program that can be completed after high school (or a GED).
Bachelor's Degree: Normally is a four-year program that can be completed after high school (or GED). Can also be completed in two years after an associate degree.
Master's Degree: Normally is a one to two-year program that can be completed after a bachelor's degree.
Doctorate Degree: Normally is a three to six-year program that can be completed after a bachelor's or master's degree. Can be a professional (Psy.D.) or a research (Ph.D.) degree.
Graduate Certificate: Normally a six-month to one-year program that can be completed after a bachelor's or master's degree. It is often used to specialize in a particular counseling discipline.
You can work your way up through the degree programs as you advance your career. A graduate (master's or doctorate) degree is required to become a licensed counselor, but you can begin working in the field with an associate's or bachelor's degree.
Choose a Counseling Specialty
As a counselor, you can offer general counseling or focus on a specialty. For example, there are degree programs specializing in:
Clinical and mental health counseling
Clinical rehabilitation counseling
Family and marital therapy
This is just a small sampling of the many different counseling specialties that you can go into.
Accreditation
Any counseling degree program that you consider should be accredited. The main accrediting bodies for counseling programs are the Council for the Accreditation of Counseling and Related Education Programs (CACREP) and the American Psychological Association (APA). All of the University of Arizona's programs are accredited, as are many other schools' programs.
Online vs. Traditional Counseling Programs in Arizona
The counseling degree programs offered include both online and in-person options. Going to school online is frequently more affordable, more convenient, and has more flexible scheduling options. Going in-person allows you to interface directly with students and faculty, and also grants you greater access to internship and library resources.
Becoming Licensed as a Counselor in Arizona
To become licensed as a counselor in Arizona, you must complete a graduate degree program in counseling or a related field (e.g. psychology, substance abuse, marriage and family studies, etc.). The program must be accredited and at least 60 semester hours long.
You must also complete an internship consisting of 700 total hours, including 240 hours with direct client contact. You then must work in a supervised capacity for at least two years, before passing the licensure exam and paying the associated fee.
Once licensed, you must renew your license every two years. Renewal requires 30 hours of continuing education.
List of Counseling Degree Programs in Arizona
Are you searching for a counseling degree program in Arizona? Browse our comprehensive list of schools offering counseling programs, both online and on-campus, and follow the links to learn more about what each program has to offer.
Flagstaff, AZ
1900 S Knoles Dr, Babbitt Administrative Center, Room 200
Flagstaff
,
AZ
86011-4092
(928) 523-9011
Kingman, AZ
1971 Jagerson Ave
Kingman
,
AZ
86409-1238
(928) 757-4331
Phoenix, AZ
3300 W Camelback Rd
Phoenix
,
AZ
85017
(602) 639-7500
9414 North 25th Avenue
Phoenix
,
AZ
85021
(602) 371-1188
9414 North 25th Avenue
Phoenix
,
AZ
85021
(602) 371-1188
Are we missing your school's program or need to update information listed? Please contact us so we can make the necessary changes.