Best Counseling Schools in Michigan
Michigan has many well-respected colleges and universities, and a number of these offer counseling degree programs. If you're thinking of going to school for counseling, here are some of the best counseling programs in Michigan.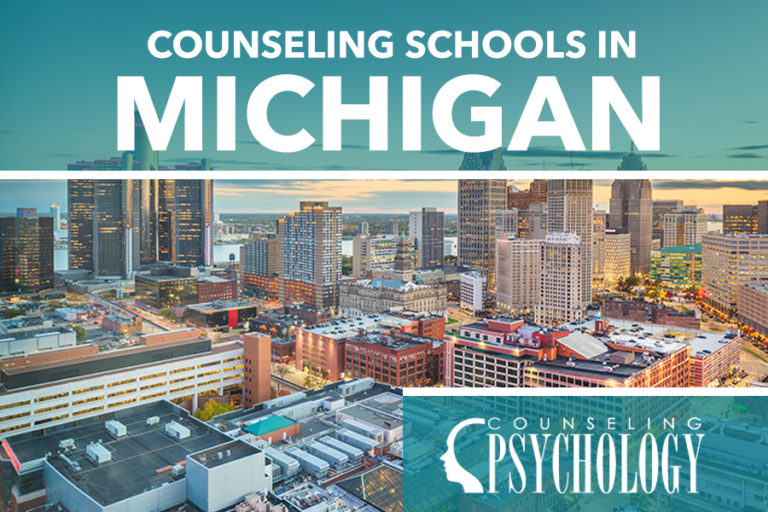 How to Find a Counseling Program in Michigan
Selecting a counseling program to attend is a personal choice. While there are many quality programs, the one that you choose should be particularly well-suited for your needs. These could be financial needs, flexibility needs, specialization needs, or other considerations.
Counseling Degree Pathways in Michigan
The first decision to make is what type of degree you want to pursue. This choice should be based on your current academic work, and on what academics are needed for you to reach your goals. You might be ready for either an undergraduate or graduate degree:
Associate Degrees are two-year programs that qualify you for entry positions within the field.
Bachelor's Degrees are four-year programs that qualify you for entry and mid-tier positions, possibly moving up as you gain experience. Completing an associate degree first will shorten your bachelor's program by two years.
Master's Degrees are one to two-year programs that meet the academic requirements for licensure.
Doctorate Degrees are three to six-year programs that not only meet licensure requirements but go beyond what's academically required for licensed professional counselors (LPCs). These programs involve intensive work in clinical counseling (Psy.D.) or research (Ph.D.). Completing a doctorate will qualify you for faculty and leadership positions.
Graduate Certificates last less than a year. These aren't degrees but are typically taken after a degree program in order to specialize. 
Choose a Counseling Specialty
Should you wish to specialize in a particular type of counseling, you can do so in a couple of ways. Enroll in a degree program that has a specialization track, or complete a graduate certificate. Some examples of potential specializations include:
Clinical mental health counseling (CMHC)
College counseling (CLCL)
Multicultural society interventions (HIMS)
Accreditation
Whatever program you choose to attend should be fully accredited by the Accreditation of Counseling and Related Education Programs (CACREP).
An accredited program has been vetted by other institutions and will be accepted by schools, licensing boards, and employers.
Online vs. Traditional Counseling Programs in Michigan
Accredited Michigan counseling degrees are available through both online and traditional programs. Online programs typically have lower tuition costs and more flexible course schedules. Traditional programs provide for in-person discussions during and outside of class. Which is better for you depends on your resources, obligations, and desired experience.
Becoming a Licensed Counselor in Michigan
To become a licensed counselor in Michigan, you'll need to complete an accredited master's degree that's a minimum of 48 credits. This is less than what many other states require.
The master's degree must include 600 practicum hours, and then you'll need 3,000 hours of supervised work after graduating. The last licensing step is to pass an exam and pay a fee.
Michigan requires counseling licenses to be renewed every three years. There isn't any continuing education requirement for renewal.
List of Counseling Degree Programs in Michigan
Are you searching for a counseling degree program in Michigan? Browse our comprehensive list of schools offering counseling programs, both online and on-campus, and follow the links to learn more about what each program has to offer.
Grand Rapids, MI
Rochester Hills, MI
Spring Arbor, MI
Ypsilanti, MI
Are we missing your school's program or need to update information listed? Please contact us so we can make the necessary changes.