Best Counseling Schools in Rhode Island
Rhode Island may be a small state, but its educational opportunities are quite robust - especially for those considering a rewarding career in counseling. With many degree levels and specialization opportunities available, counseling is a highly fulfilling career pathway with room for growth. Keep reading to find out more about what counseling degrees are available to you in Rhode Island.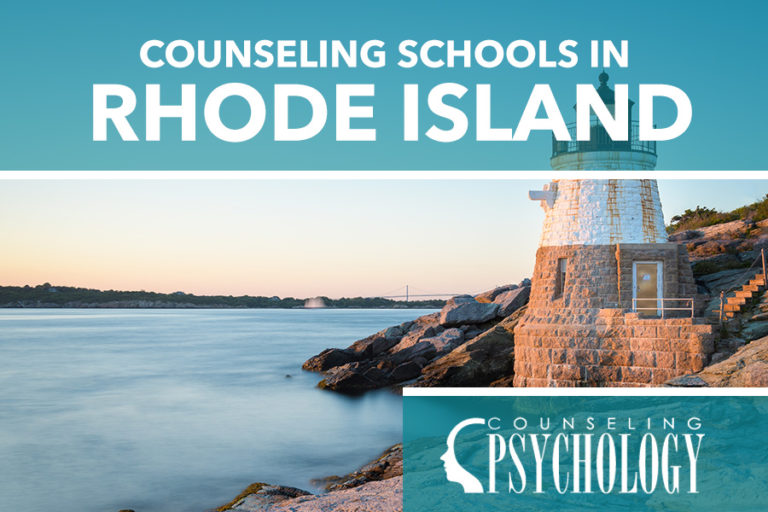 How to Find a Counseling Program in Rhode Island
Many things go into finding a good counseling program in Rhode Island. Students who complete a good counseling program have the knowledge and skills to work in the counseling profession and to qualify to sit for exams and to complete credentialing requirements. 
Counseling Degree Pathways in Rhode Island
It can be challenging to navigate the educational system for the first time (or even the second time). The degree that will make the most sense for you to acquire really depends on the type of counselor you want to become.
Choose a Counseling Specialty
Students often want to choose a counseling specialty when they consider Rhode Island counseling programs.
Some students want to follow the requirements to complete a unique counseling specialty. Roger Williams University offers a full-time Master of Arts in forensic mental health counseling. The program provides students who want a career that focuses on providing mental health counseling services in legal or forensic settings.
Students who enroll in the Master of Arts in forensic mental health counseling program complete more than 200 hours of practicum and a 600-hour internship. Completing this Rhode Island counseling program provides the foundation for future study in a doctoral program.
Rhode Island College offers a Certificate of Graduate Study in advanced counseling and a Master of Science in clinical mental health counseling.
Check School Accreditation
School accreditation and counseling program accreditation are important for students who want to practice counseling in the State of Rhode Island. Students need to determine if a school or a counseling program has the required accreditation that allows students to take exams or obtain licensure.
The rehabilitation counseling programs at Salve Regina University are accredited by the Council for Accreditation of Counseling and Related Educational Programs. Students who want to consider other counseling programs at the school should explore whether they are accredited programs.
Online vs. Traditional Counseling Programs in Rhode Island
Rhode Island colleges and universities that offer counseling programs are offered in the traditional on-campus format. There are no counseling programs in the state that are offered online or in a hybrid format.
Students often have a requirement to complete an outside practicum or internship. These requirements provide students with the opportunity to gain counseling knowledge and skills outside the classroom.
Becoming Licensed as a Counselor in Rhode Island
Students who want to practice in Rhode Island must complete the requirements to obtain licensure or professional certification. Failure of the student to complete the requirements may delay the Rhode Island counselor licensure or certification process.
The Department of Behavioral Healthcare, Developmental Disabilities & Hospitals, State of Rhode Island provides information about the certification, training, and licensure of alcohol and drug counselors. Students may obtain information about the professional licensure of counselors in Rhode Island.
The Rhode Island Certification Board provides information related to the exams, certification, and licensing of alcohol and drug counselors. Students also learn the prerequisites for counselors and clinical supervisors.
List of Counseling Degree Programs in Rhode Island
Are you searching for a counseling degree program in Rhode Island? Browse our comprehensive list of schools offering counseling programs, both online and on-campus, and follow the links to learn more about what each program has to offer.
Kingston, RI
Green Hall, 35 Campus Avenue
Kingston
,
RI
02881
(401) 874-1000
Newport, RI
Master's ProgramsGraduate Certificate Programs
100 Ochre Point Avenue
Newport
,
RI
02840-4192
(401) 847-6650
Providence, RI
1 Cunningham Square
Providence
,
RI
02918-0001
(401) 865-1000
Bachelor's ProgramsCertificate ProgramsMaster's Programs
600 Mount Pleasant Ave
Providence
,
RI
02908
(401) 456-8000
Are we missing your school's program or need to update information listed? Please contact us so we can make the necessary changes.