Best Counseling Schools in Tennessee
Tennessee has a diverse population with different needs, including many different counseling needs. Counselors help residents who are struggling with trauma, addiction, familial instability, school, and other challenges. If this sounds like work you could do long-term, consider enrolling in one of the best counseling programs in Tennessee.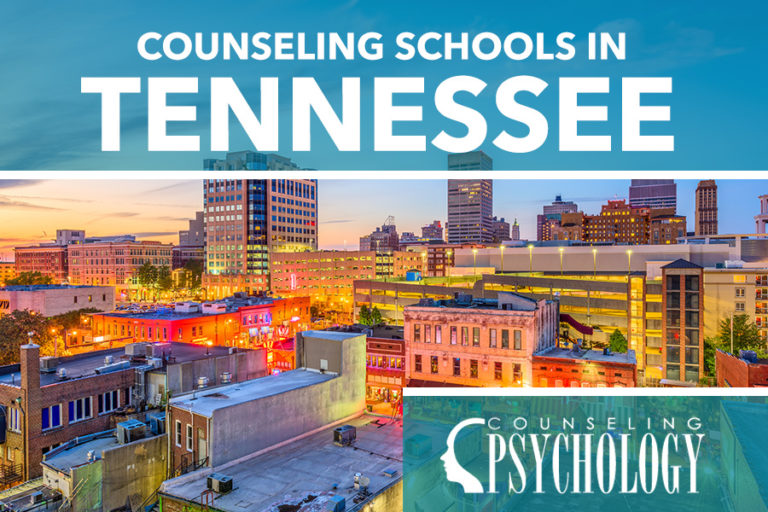 How to Find a Counseling Program in Tennessee
The right counseling program could help you embark on a long and successful career path, but there's no one program that's right for everyone.
Consider which of the available counseling degree programs suits your present needs and future goals. You may base your choice of program on tuition costs, program duration, specialization options, or something entirely different.
Counseling Degree Pathways in Tennessee
The counseling degrees that Tennessee schools offer include undergraduate- and graduate-level options. Undergraduate degrees can be started with just a high school diploma. Graduate degrees can be started after you've completed an undergraduate bachelor's program.
Associate's Degree – An associate's degree with prepare you with an entryway into the counseling field. It requires two years to obtain.
Bachelor's Degree – Provides a very basic level of education for a counselor. Requires four years of study.
Master's Degree – You will need a master's for licensure in most fields (though not all) of counseling. This will require a bachelor's degree and an additional two years of study.
Graduate Certificate – While graduate certificates aren't degrees, they will help you gain valuable insight into a particular field of study. They will take a year or less to obtain.
Doctorate Degree – The highest level of education a counselor can obtain. It will require either a bachelor's degree or a master's degree, three to six years of additional study, and a number of hours working in an internship or practicum.
Choose a Counseling Specialty
If you'd like to work with a particular population, there's no shortage of counseling specialties available. You'll find Tennessee counseling degree programs with specializations in:
Clinical mental health counseling
Couples and family counseling
Human development counseling
These are just a few of the various specializations that you can choose from. No matter what kind of counseling you ultimately want to provide, you can likely find a degree with coursework in that particular counseling niche.
Check School Accreditation
Whatever counseling degree program you select, confirm that the degree is from an accredited school. Accredited schools have demonstrated that their degrees meet accepted academic standards, and these schools' degrees will be accepted by other schools, the state, and employers.
The Council for Accreditation of Counseling and Related Educational Programs (CACREP) is the largest accreditor of counseling degrees in the United States. Programs in Tennessee may also be accredited by the Southern Association of Colleges and Schools (SACS) or the American Psychological Association (APA).
Online vs. Traditional Counseling Programs in Tennessee
Online and traditional counseling degree programs in Tennessee offer different experiences and benefits for students. Traditional programs typically offer a more structured learning environment, with set class schedules and in-person interactions with professors and classmates. This can be beneficial for students who thrive in a more traditional classroom setting and prefer face-to-face interactions.
On the other hand, online counseling degree programs offer more flexibility, allowing students to complete coursework on their own schedule and from any location. This can be particularly advantageous for students who have work or family obligations that make it difficult to attend traditional classes. Additionally, online programs often provide a wider range of course options, as students can take classes from anywhere in the country.
Overall, the choice between online counseling programs in Tennessee and campus-based options will depend on each student's individual learning style and personal circumstances. It's important for students to carefully consider their own needs and preferences when selecting a program, to ensure they choose the best fit for their educational goals.
Becoming Licensed as a Counselor in Tennessee
To work as a licensed counselor (LPC) in Tennessee, you must go through a somewhat lengthy licensing process:
Complete an accredited master's degree in counseling or a related area
Complete a 500-hour internship/practicum as part of your degree
Complete another 3,000 hours of supervised work after graduating
File the application and pay the associated fee
After getting licensed, you'll have to renew the license every two years. Before you can renew, you must complete at least 30 hours of continuing education.
List of Counseling Degree Programs in Tennessee
Are you searching for a counseling degree program in Tennessee? Browse our comprehensive list of schools offering counseling programs, both online and on-campus, and follow the links to learn more about what each program has to offer.
Chattanooga, TN
Clarksville, TN
Cleveland, TN
Cookeville, TN
Johnson City, TN
Knoxville, TN
Memphis, TN
Murfreesboro, TN
Nashville, TN
Are we missing your school's program or need to update information listed? Please contact us so we can make the necessary changes.