Best Psychology Schools in Colorado
People looking to train as a psychologist in Colorado have opportunities to study all across the state. If you're searching for either undergraduate or graduate psychology degree programs, this guide will help you find the best program in the great state of Colorado.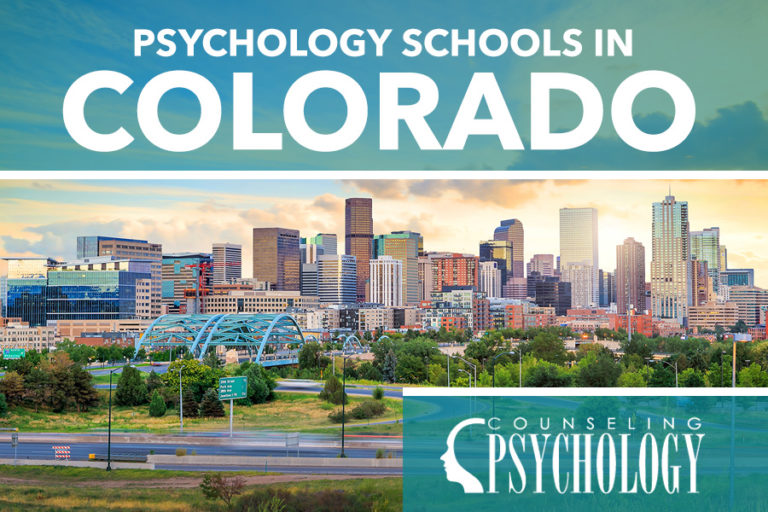 How to Find a Psychology Program in Colorado
Making any big decision requires care and consideration. Your search for psychology degree programs in Colorado should include the following elements.
Psychology Degree Pathways in Colorado
Prospective undergraduate students in the state of Colorado have two degree options. They are the two-year associate's degree and the four-year bachelor's degree. In most cases, these programs are offered as standard psychology degrees without concentrations. They are available as a BA (bachelor of arts) or a BS (bachelor of science).
Graduate students have several options. Firstly, there is the graduate certificate – these are certificate programs taken after an applicable bachelor's or master's degree that help professionals specialize in a niche area of psychology. There is also the master's degree – the master of science (MS) and master of arts (MA). Most psychology students pursue education at the graduate level.
The terminal degree is the doctorate. In psychology, there are two types: the Ph.D. (suited to research) and the PsyD (suited to clinical practice).
Choose a Psychology Specialty
Undergraduate degrees are usually in general psychology – specialties are rare. You will always have the opportunity to niche or specialize as a graduate student, though straight psychology graduate programs are available too.
The University of Colorado – Boulder offers a psychology major at the bachelor's level, and Clinical Psychology, Cognitive Psychology and Cognitive Neuroscience, Developmental Psychology, and Social Psychology – variously available as graduate certificates, master's degrees, and doctorates.
Denver University offers no undergraduate programs but does provide a range of psychology MAs and a PsyD. Master's specialties include Forensic Psychology, International Disaster Psychology: Trauma and Global Mental Health, Sport and Performance Psychology, and Sports Coaching.
Accreditation
Why choose an accredited psychology degree program? There are multiple reasons related to quality and opportunity:
Accredited programs have been assessed for minimum teaching and research quality standards
Only graduates of accredited programs will be able to become clinical psychologists
Many non-clinical roles expect your qualifications to be accredited
Professional associates will normally reject membership applications without properly accredited qualifications
The American Psychological Association (APA) accredits programs across the U.S. while the North Central Association of Colleges and Schools is responsible for accrediting programs in the Colorado region.
Online vs. Traditional Psychology Programs in Colorado
Both traditional campus study and online distance learning have their advantages and disadvantages.
Campus study is the traditional method that most students pursue in any degree program. Classes are scheduled and you will gain in-person education, including faculty contact time and social interaction.
The main advantage to online study is flexibility – for students with non-standard lives such as parents and full-time workers. Synchronous learning attempts to create a communal atmosphere with online classes while asynchronous learning means you can go at your own pace.
Becoming Licensed as a Psychologist in Colorado
Both master's (MA and MS) and doctorate graduates (both Ph.D. and PsyD) may apply for a license in Colorado, unlike other states where a doctorate is mandatory.
You will need to obtain 700 hours of supervised experience during your master's study, including compulsory internships. Once finished, you must spend the next two years completing another 2,300 hours of supervised experience – for a total of 3,000 hours supervised.
Then you must sit the National Counselor Examination or NCE. Pass that, and you will be eligible for licensure and can practice in Colorado.
List of Psychology Degree Programs in Colorado
Are you looking for a psychology degree program in Colorado? Browse our list of psychology programs offering both online and on-campus instruction. Follow the links to learn more about what each school's psychology program offers.
Boulder, CO
Colorado Springs, CO
Denver, CO
Fort Collins, CO
Greeley, CO
Are we missing your school's program or need to update information listed? Please contact us so we can make the necessary changes.