Best Psychology Schools in Maine
The northeast state of Maine has multiple options for obtaining a psychology degree, whether you're looking for an undergraduate or graduate program. This guide presents details to help you in your search, whether you're a new student or taking the next step into graduate study.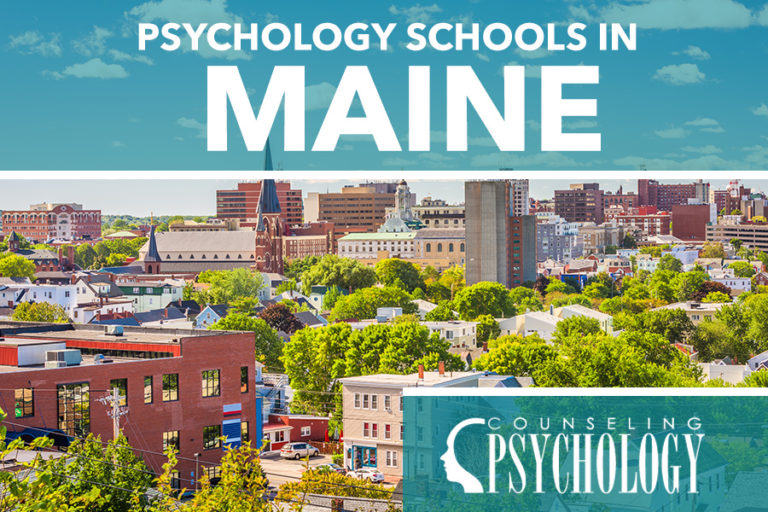 How to Find a Psychology Program in Maine
All psychology students in the state, regardless of education level, must consider many factors when choosing a degree program. Aside from location and cost, there are other issues such as degree level, pathways, and more.
Psychology Degree Pathways in Maine
For psychology undergraduates in Maine, there are two options. The first is the associate's degree, a two-year program for some limited entry-level jobs. The other is the four-year bachelor's degree. For eventual clinical practice, you must obtain a bachelor's degree. Be advised that associate's degree credits are often applicable to later bachelor's degrees.
For graduate study, you can opt for a short graduate certificate, a program for upskilling in a niche psychology area (available only for those with a bachelor's at minimum). Or, you can go the traditional master's degree route to clinical practice. Psychology master's degrees are available in two types – the master of arts (MA) and the master of science (MS).
Finally, there is the doctorate degree. In psychology, students can choose from the Ph.D. for research roles or the PsyD for clinical practitioners.
Choose a Psychology Specialty
Undergraduate degrees typically come in general psychology majors – specialty areas of psychology aren't often available at this level. Once you hit the graduate level, you will be able to specialize in an area of psychology that interests you.
At the University of Maine (various campuses) students have a range of psychology undergraduate degrees to consider. The school also provides graduate certificates, and master's degrees in social psychology, cognitive psychology, and biological psychology along with several doctorate programs. The University of Southern Maine offers bachelor's, graduate certificates, and multiple master's degrees in psychology.
Accreditation
Why should you choose an accredited program in Maine rather than a non-accredited program? There are some factors you should be aware of:
Minimum teaching standards are adhered to, according to regional and national accrediting bodies
Only those with accredited qualifications may pursue clinical practice
Non-medical careers may also require minimum teaching standards for applicants
Professional representative organizations may permit only applicants with accredited qualifications
The New England Association of Schools and Colleges accredits programs in Maine. The American Psychological Association (APA) is the responsible national body.
Online vs. Traditional Psychology Programs in Maine
Students have two attendance options for completing psychology degrees. The first choice is on-campus, the second is online. Some schools allow hybrid programs, which mixes elements of both.
When studying on campus, you have all the advantages of traditional school life: daily contact with peers and faculty, structured and timetabled classes, and in-person access to study resources. The drawback is that you work around the school's schedule.
Such a pattern is not always suitable. Full-time employees, parents, caregivers, and others can benefit from the flexibility of online study. The drawbacks of flexibility mean students who follow this pattern must have a lot of personal discipline.
Becoming Licensed as a Psychologist in Maine
In Maine, only doctoral graduates may practice as psychologists. In addition to APA-accredited programs, Maine currently also accepts Canadian Psychological Association (CPA) programs, too. Both Ph.D. and PsyD graduates are eligible.
Two years of clinical experience are required prior to licensing. At least one of those years must be completed as an internship during your doctorate. The other must be part of your post-doctoral work and under full supervision.
You will then need to take and pass two exams. The first is the Maine Jurisprudence Exam. You must pass this before taking the Examination for Professional Practice in Psychology (EPPP).
List of Psychology Degree Programs in Maine
Are you looking for a psychology degree program in Maine? Browse our list of psychology programs offering both online and on-campus instruction. Follow the links to learn more about what each school's psychology program offers.
Farmington, ME
Lewiston, ME
Orono, ME
Portland, ME
Are we missing your school's program or need to update information listed? Please contact us so we can make the necessary changes.