Best Psychology Schools in Massachusetts
Massachusetts is a great place to study and practice psychology, whether you're a new undergraduate or returning to education to enhance your skills for licensure. Wherever you are in your search, the information below is designed to help you understand your current options in the state of Massachusetts.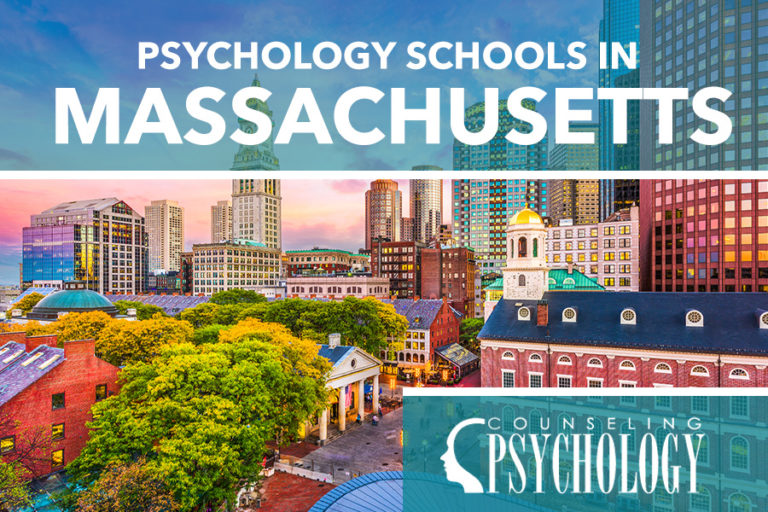 How to Find a Psychology Program in Massachusetts
Your search should consider many variables. Your first concerns may be related to the school's location and whether the program you're looking at contains courses relevant to you. However, consider these other issues, too.
Psychology Degree Pathways in Massachusetts
Prospective undergraduates have two options. First, you may consider an associate's degree. This is a two-year program suited to some entry-level career roles in psychology. The second is a bachelor's degree in psychology. You can receive a psych bachelor's degree in arts (BA) or science (BS).
If you choose to pursue graduate study, your first option is the graduate certificate – a shorter program useful to upskill or transfer from another related area (available only to those with a bachelor's degree at minimum). But your most common option is the master's degree in psychology, which is also available in arts (MA) or sciences (MS).
Your final educational step and the terminal degree option is the doctorate. You may choose between a Ph.D. in psychology (for research careers) or a PsyD (for clinical practice careers).
Choose a Psychology Specialty
Most undergraduate degrees offer majors in general psychology. It is with post-graduate programs that you will have the opportunity to specialize in a niche area of psychology if you wish to do so.
In Massachusetts, Northeastern University is one of those rare universities that offer concentrations at the bachelor's level with both a BS in general psychology, and combined degrees in a range of other disciplines such as computer science, math, economics, and data science. The school also offers several Ph.D. programs in psychology. Meanwhile, the University of Massachusetts has several campuses offering a range of psychology programs at the bachelor's, master's, and doctorate levels.
Accreditation
Accreditation is important for psychology degree programs for multiple reasons:
It denotes that the program has attained minimum teaching and research standards
A clinical practice career is not possible without accreditation
You may find that careers outside the medical psychology sphere may still require accreditation
Organizations that represent professionals in their field may refuse applications from graduates of non-accredited programs
The American Psychological Association (APA) accredits all programs nationally. The New England Association of Schools and Colleges is responsible for regionally accredited colleges and universities in this state.
Online vs. Traditional Psychology Programs in Massachusetts
Prospective students in Massachusetts may pursue either on-campus or fully online psychology programs. Both traditional campus and online programs have their advantages and disadvantages. Hybrid programs may also be available, which can be the best of both worlds.
Online study provides the benefits of flexible study to patterns that suit your life. The main disadvantage is that you will need the self-discipline to ensure you get work done on time and at the expected pace.
Campus study also provides important in-person interaction with fellow students and faculty every day. However, this isn't always feasible for students who are employed, have families, or live in rural areas far from the nearest college campus.
Becoming Licensed as a Psychologist in Massachusetts
Only doctoral graduates may practice as licensed psychologists in Massachusetts unless they're practicing school psychology. In that case, a master's is required. Both PsyD and Ph.D. graduates are eligible as long as the program is APA-accredited.
The next step is to acquire two years of supervised experience – some of which may be in the form of supervised internship experience. This can be clinical, teaching, or research-based.
Finally, you will need to pass both state and national licensing exams. The national standard is the Examination for Professional Practice in Psychology.
List of Psychology Degree Programs in Massachusetts
Are you looking for a psychology degree program in Massachusetts? Browse our list of psychology programs offering both online and on-campus instruction. Follow the links to learn more about what each school's psychology program offers.
Boston, MA
Cambridge, MA
Chestnut Hill, MA
Easton, MA
Framingham, MA
Longmeadow, MA
Lowell, MA
Medford, MA
Milton, MA
Newton, MA
North Dartmouth, MA
Salem, MA
Westfield, MA
Weston, MA
Worcester, MA
Are we missing your school's program or need to update information listed? Please contact us so we can make the necessary changes.