Best Psychology Schools in New Hampshire
In New Hampshire, there are plenty of opportunities to obtain an excellent psychology education as either an undergraduate or a graduate student. Whether you're just starting out or getting back into study to advance your career, there are many program options that can put you where you want to be.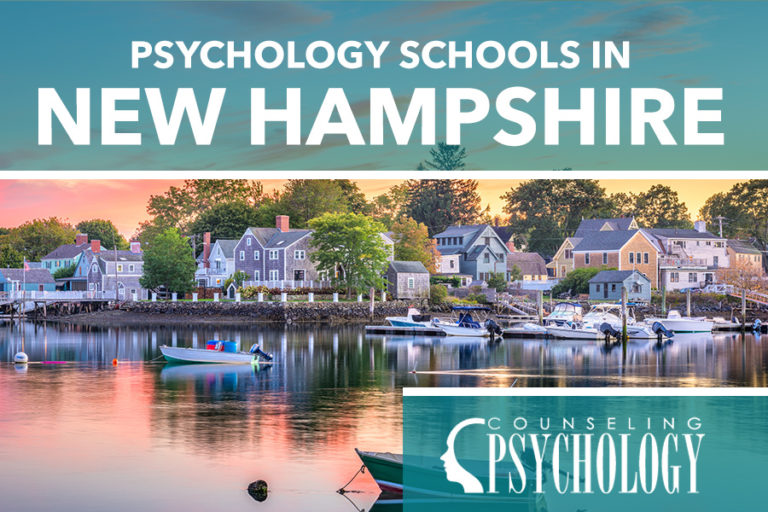 How to Find a Psychology Program in New Hampshire
Finding the right psychology program consists of many factors. While tuition and program features are important, prospective students should first consider their current education level and their future career goals.
Psychology Degree Pathways in New Hampshire
If you're a new psychology undergraduate, you can start with either an associate's degree in psychology, which takes two years to complete and are suitable only for entry-level roles. If clinical practice is your career goal, it's best to start with a four-year bachelor's degree in psychology.
At the graduate level, you may opt for a one-year graduate certificate in an area of psychology as long as you hold a bachelor's degree at minimum. While not a degree, the graduate certificate is a great way to enter a psychology concentration. A master's degree in psychology (MA or MS) is the primary type of graduate program students pursue after a bachelor's.
The highest ascertainable degree in psychology is the doctorate. These are available either as Ph.D. if research is your goal, or a PsyD if you intend to enter clinical practice.
Choose a Psychology Specialty
While general psychology is available at all levels, some students wish to pursue a specific area of psychology. This typically becomes available at the graduate level, though some bachelor's degrees offer concentrations and specializations.
In New Hampshire, Keene State College offers several bachelor's degrees: in general psychology, clinical psychology, and substance abuse & addiction counseling. The University of New Hampshire College of Liberal Arts offers a Ph.D. in psychology – one of only a handful in this sparsely populated state. Several other schools offer PsyD programs.
Accreditation
Accreditation is an important factor in finding the right psychology degree program. Proper accreditation is vital for several reasons:
It means that the school is compliant with minimum teaching and research standards within their curriculum
Unaccredited graduate programs are not eligible for clinical practice careers
Some non-clinical roles, both in the medical sphere and outside, may reject your application
Professional bodies usually reject membership applications
In New Hampshire, the New England Association of Schools and Colleges accredits schools and programs regionally. The American Psychological Association (APA) accredits programs across the U.S.
Online vs. Traditional Psychology Programs in New Hampshire
These days, students typically have the choice between traditional on-campus psychology programs and fully online programs. There are benefits and drawbacks to both.
For online programs, you may complete classwork when and where you wish. These programs also generally have a more flexible timeframe for completion. For campus-based programs, the main benefit is access to all resources. You will also benefit from extensive in-person contact.
The drawbacks are flipped for the advantages, but there are others too. For those who need structure for self-discipline, online study may not be suitable. Conversely, professionals who work either part-time or full-time may not work well with campus study. Students should consider their unique preferences and circumstances to decide which program delivery route is best.
Becoming Licensed as a Psychologist in New Hampshire
The state of New Hampshire requires clinical psychologists to have a doctorate before being able to practice. Both Ph.D. and PsyD graduates are eligible.
While completing your doctorate, you must accumulate two years of clinical study at 1,500 hours each. They must be taken in consecutive years.
At this point, you are eligible to apply for your license. Before you may practice, however, you must take and pass the Examination for Professional Practice in Psychology (EPPP).
List of Psychology Degree Programs in New Hampshire
Are you looking for a psychology degree program in New Hampshire? Browse our list of psychology programs offering both online and on-campus instruction. Follow the links to learn more about what each school's psychology program offers.
Concord, NH
Hanover, NH
Keene, NH
Manchester, NH
Plymouth, NH
Rindge, NH
Are we missing your school's program or need to update information listed? Please contact us so we can make the necessary changes.