Best Psychology Schools in North Dakota
If you're thinking about going into psychology as a career field, you're making a smart move. The stigma of mental health is disappearing fast, and more and more people are getting comfortable with reaching out to get the help that they need to build strong mental health. In the field of psychology, you get to make a lasting impact on your clients, and you have several options when it comes to career paths within the field. If you're in North Dakota and looking into a psychology education, read on.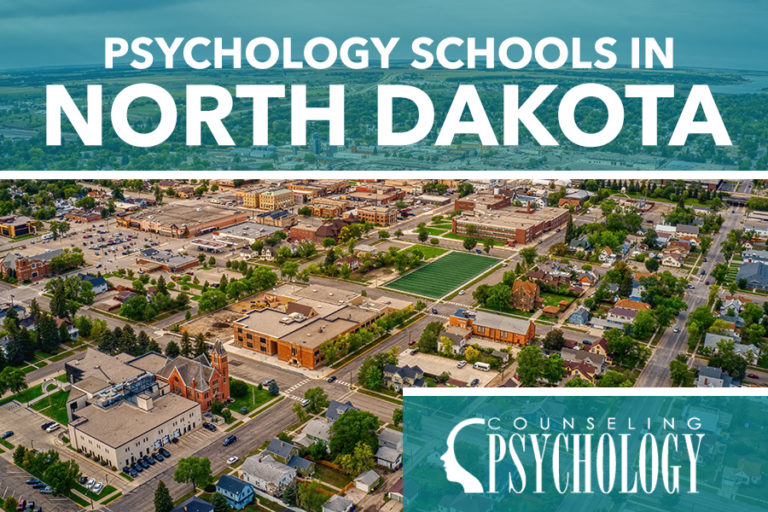 How to Find a Psychology Program in North Dakota
When searching for a psychology program in North Dakota, you'll want to take a look at program length, research published by faculty members, and job placement rates for graduates. It's also important to make sure that the school you pick is accredited, as this will make it easier for you to gain licensure and get a job after you graduate.
Psychology Degree Pathways in North Dakota
When deciding on the type of degree you'd like to pursue, it's key to consider the length of time and intensity of study that you'll need at each level.
An associate's degree typically takes two years, while a bachelor's degree takes four. After the completion of a bachelor's degree, you may choose to go on to graduate study. A master's program takes two years, and a doctorate either a Ph.D. in Psychology or a PsyD) may take up to eight, depending on whether you'll need to go through an internship or residency program. You may also be interested in earning a graduate certificate following your bachelor's degree, which can take anywhere from one semester to two years.
Choose a Psychology Specialty
While it's not mandatory to go into a psychology specialty, it's a good idea to think about your interests in the field. Your psychology program will likely allow you to explore several specialties within the field of psychology, including:
Psychology concentrations aren't typically offered at the undergraduate level (students typically major in general psychology), but master's and doctorate degrees may offer opportunities for specialization. If you identify a specialty that you think you'd like to move forward with your career, it can be smart to go through an internship in the field to help you decide if it's the right long-term fit for your interests.
Accreditation
It's important that you make sure your program is accredited so that your education will be recognized and you'll be able to get your license to practice. Accrediting bodies in the United States include the American Psychological Association and the Council for Accreditation of Counseling and Related Educational Programs.
Online vs. Traditional Psychology Programs in North Dakota
You'll need to choose whether an online or in-person program is a better fit for your needs. If you have a tight schedule, an online program may be the right choice for you. Some people studying psychology find that they prefer an in-person program to allow them to learn counseling techniques face-to-face with their instructors.
In some instances, hybrid psychology programs may be available. These combine limited campus-based learning experiences with online coursework – a happy medium for those who want to utilize both program formats.
Becoming Licensed As a Psychologist in North Dakota
To become a licensed psychologist in North Dakota, you'll first need to earn your bachelor's degree (your major does not need to be psychology). Next, you'll need to earn a doctoral degree in psychology. You'll then submit an application to the state's board, and then you'll go through two years of supervised experience. Upon successful completion of your two-year supervisory period, you'll submit a final application to become a licensed psychologist, take the North Dakota licensing exam, and then receive your license.
List of Psychology Degree Programs in North Dakota
Are you looking for a psychology degree program in North Dakota? Browse our list of psychology programs offering both online and on-campus instruction. Follow the links to learn more about what each school's psychology program offers.
Bismarck, ND
Fargo, ND
Grand Forks, ND
Jamestown, ND
Are we missing your school's program or need to update information listed? Please contact us so we can make the necessary changes.