Best Psychology Schools in South Dakota
When people think of psychology, they tend to imagine some sort of therapist who helps with general personal problems. While this is one of the things that people in the profession do, there are several other possibilities. Psychological specialties allow professionals to target specific areas of interest, such as career performance, problems with school, marriage and family issues, drug addiction recovery, and more. If you are looking for a great psychology degree program in South Dakota, many options are available to you.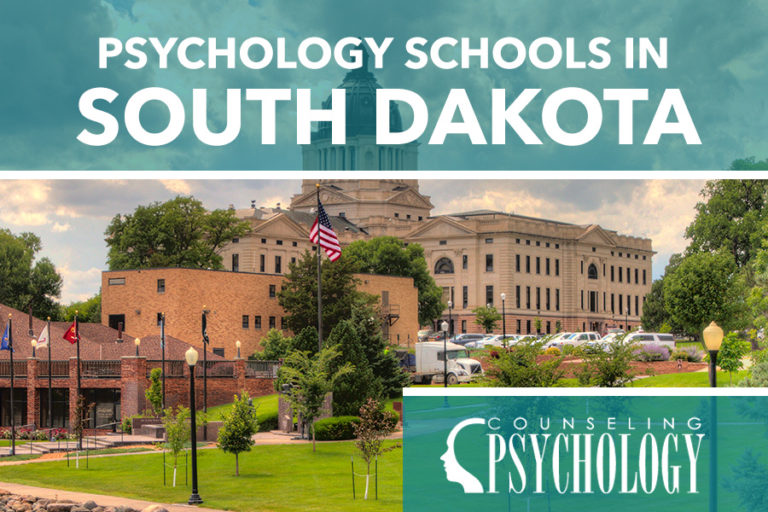 How to Find a Psychology Program in South Dakota
Finding a good psychology program in South Dakota starts with looking for accredited options. Then, look for one that meets all of your needs. If it's an in-person program, it should take place at a location and time that's convenient for you. Online programs are often available for those needing flexibility.
Tuition costs, program reviews, entry requirements, and specialization are also important factors to consider.
Psychology Degree Pathways in South Dakota
There are several possible degrees in psychology, and each of them opens up more opportunities. The associate's degree is the first and typically takes two years to obtain. This can be a good start to a career in psychology, but students will typically need to move on to a bachelor's and then a graduate degree for most career pathways.
The bachelor's degree in psychology is a traditional four-year degree that can prime students for graduate study. Many in the psychology field opt to earn a two-year master's degree. Those who want to become licensed as a psychologist, however, will need to earn a doctorate degree in psychology – either a Ph.D. or a PsyD. South Dakota has options at many different degree levels for students to obtain the education they need for the psychology career they desire.
Choose a Psychology Specialty
Psychology is a profession that requires you to be personally involved like few others. Therefore, you should put your passion at the forefront when choosing a specialty. This will improve your effectiveness and help keep you from burning out.
Some of the positions to consider include child psychologist, general psychologist, and marriage counselor. There are some specialties that are even more specific, such as those with a focus on PTSD, ADHD, or any of several other psychological conditions.
Accreditation
Accreditation is important at all psychology program levels. When you get any kind of undergraduate degree, the diploma will only count towards the next level if the program you went through was accredited. At the doctorate level, only degrees from accredited programs count toward licensing requirements. Of course, employers will also look for degrees from accredited programs and institutions.
Students should opt for degree programs that are accredited nationally by the American Psychological Association (APA).
Online vs. Traditional Psychology Programs in South Dakota
Traditional psychology programs involve attending classes and doing other activities in person. This makes them more personal and sociable, but if you have a situation that makes it hard to physically attend, you might not be able to complete your studies.
Online programs aim to eliminate the problems that arise from the need to go to specific places. Everything is done via videoconferencing or other online means. The main caveat is to make sure online programs are accredited by reputable oversight bodies because some are not.
Becoming Licensed As a Psychologist in South Dakota
The first step to getting your license is to get a doctorate degree. This can be a Ph.D. or a PsyD. Then, submit your application along with supporting documents and a fee. The next step is to pass a written licensing exam with a score of at least 500, followed by an oral exam. After this, request a provisional license, and use it to attain one year of supervised practice as a psychologist. When this period is complete, you can apply for your real license. The South Dakota Department of Social Services maintains a full list of guidelines on psychologist licensing in the state.
List of Psychology Degree Programs in South Dakota
Are you looking for a psychology degree program in South Dakota? Browse our list of psychology programs offering both online and on-campus instruction. Follow the links to learn more about what each school's psychology program offers.
Brookings, SD
Sioux Falls, SD
Spearfish, SD
Vermillion, SD
Are we missing your school's program or need to update information listed? Please contact us so we can make the necessary changes.