Best Psychology Schools in West Virginia
Psychology is a multi-faceted field, with many possible specialties. While you can be a traditional doctor of psychology and handle a wide variety of patients, you can also focus on a single condition or aspect of life. Because of this, it's possible to find specialized psychology programs as well as general offerings.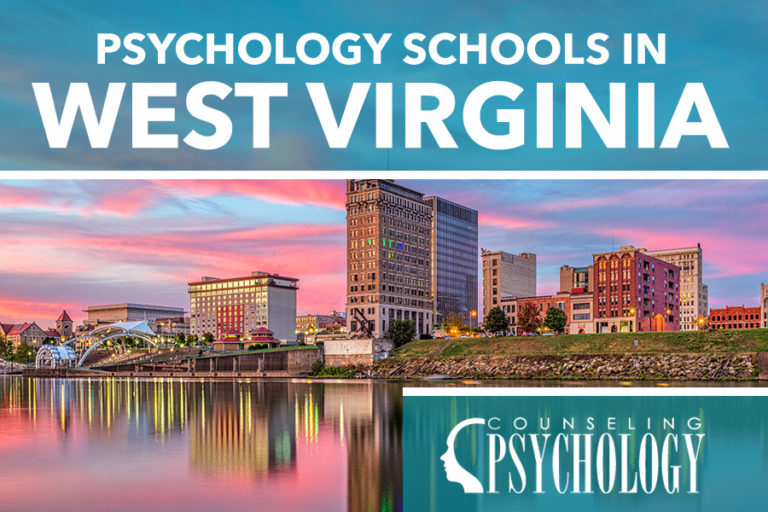 How to Find a Psychology Program in West Virginia
Several factors are involved in determining which programs will be best for you. Some of these are basic, such as whether or not you'll be able to get to the location of the school – or even whether you'll need to. Program accreditation is another big factor to consider. Besides that, you'll want to check to see if a program offers enough courses in any specialties you want to learn, check tuition rates and scholarship opportunities, and read the program's reviews.
Psychology Degree Pathways in West Virginia
Psychology degree programs are run by colleges and universities, so you can expect to see the standard university pattern: An ascending series of degrees. These are associate's, bachelor's, master's, and doctorate degrees.
A two-year associate's degree in psychology can be a good way to get started, but most careers in the field will require at least a four-year bachelor's degree, if not higher. Master's degrees in psychology are very popular and take an additional two years to complete beyond an undergrad degree, and lead to a wider variety of career opportunities. The psychology doctorate (either a Ph.D. or PsyD) can take several more years beyond a master's, and is crucial for those who wish to become licensed psychologists.
Choose a Psychology Specialty
If you choose to specialize, it's best to pick your specialty before you choose a program to attend. This lets you ensure that the program will have the classes you need. Psychology specializations, such as child psychology or forensic psychology, can usually be found at the graduate level and beyond, but some bachelor's degree programs may offer specialty tracks as well.
While a specialization is not required, it's good to think about what area of psychology you might have an interest in so you can hone your studies as you go along.
Accreditation
An accredited program is one that a governing body, such as the American Psychological Association, has certified as providing a good education. Each degree you obtain must be from an accredited program in order for its credits to count toward the next one. Licensing bureaus typically require that you have a doctorate from an accredited program, as well.
Online vs. Traditional Psychology Programs in West Virginia
Traditional programs are what most people think of when they envision "going to school and getting a degree." You attend classes, complete dissertations, and do everything on an in-person basis. This is a fine way to learn, but the need to travel can be hard for some.
Online programs eliminate the need to travel, though classes might still be scheduled at specific times. This makes them more convenient. Beware though: there are some unaccredited online programs available.
Becoming Licensed As a Psychologist in West Virginia
Before applying for a license, you must have a doctorate degree such as a Ph.D., PsyD, or surprisingly, an EdD (Educational Doctor) degree. If you have an EdD, its focus must be on a clinical form of psychology.
Once you have the degree, you submit your application to the West Virginia Board of Examiners of Psychologists. If you haven't completed an APA-approved internship yet, you'll apply for doctoral-level licensure with supervision. If you have already completed a year-long APA-approved internship, you can apply for licensure without supervision.
The board will let you know how much if any, supervised experience you need in order to get your license. Complete it, and then pass two exams – one written, and one oral. Once you pass your exams, the Board will issue a license number, and you can begin professional practice.
List of Psychology Degree Programs in West Virginia
Are you looking for a psychology degree program in West Virginia? Browse our list of psychology programs offering both online and on-campus instruction. Follow the links to learn more about what each school's psychology program offers.
Charles Town, WV
Fairmont, WV
Huntington, WV
Institute, WV
Morgantown, WV
Are we missing your school's program or need to update information listed? Please contact us so we can make the necessary changes.