Best Psychology Schools in Wyoming
Becoming a psychologist in Wyoming is as easy as going to school. Sound hard? It can be, but not as long as you prepare and do your research into the best psychology programs in the state. Here are several resources, including different colleges and programs for psychologists in Wyoming. This will save you time and money as you work toward becoming the best psychologist in your community.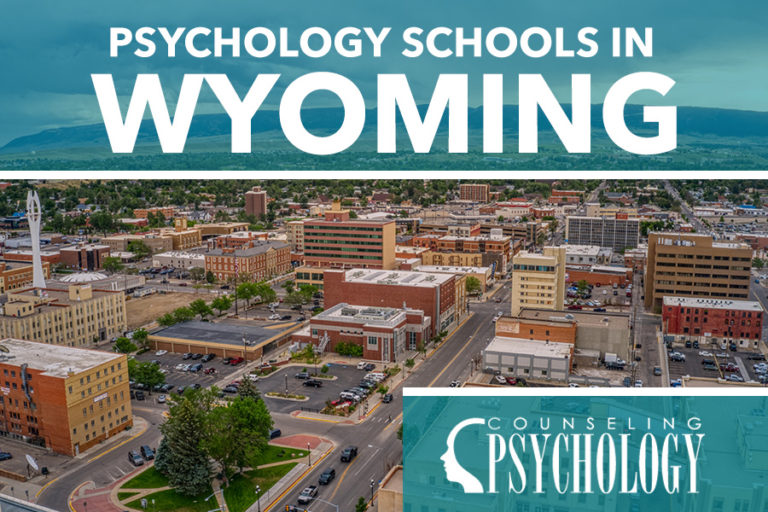 How to Find a Psychology Program in Wyoming
In order to make the most of your psychology career, you want to start out strong with a good foundation. This is where choosing the best school is key. The college or university where you take psychology courses will pave the way for the rest of your life.
Choose wisely to ensure you get the education and skills you need to succeed as a psychologist in Wyoming. Learn more about the different pathways toward becoming a psychologist to make the right decisions for your future career.
Psychology Degree Pathways in Wyoming
Western Wyoming Community College is one of several schools in the state to provide a two-year associate's degree in psychology. Here you can earn an associate of arts (AA) in psychology that can lead to a four-year degree, as well as to a master's degree. It's important to note that while an associate's degree can be a great jumping-off point for a psychology career, most students will need to complete a four-year bachelor's degree, and often even an additional two-year master's degree in order to be eligible for a wider range of psychology careers.
Other two-year training programs for psychology in WY are available at:
There are also four-year degree programs that lead to a bachelor of science or arts in psychology, such as at the University of Wyoming. UW is quite popular for psychology students as the only doctoral programs for psychologists are offered at the University of Wyoming. Doctoral programs, such as the Ph.D. in psychology or PsyD, are crucial for those interested in licensure as a psychologist or for other high-level academic careers.
Choose a Psychology Specialty
Psychology specialties in Wyoming range from social and school psychology to counseling and addiction psychology. Consider which programs would be the right fit for your career goals. Most specialization options are available at the master's degree level and higher, though some bachelor's programs may offer concentration tracks.
Accreditation
In Wyoming, the State Board of Psychology is in charge of accreditation for schools and programs. Choose an accredited program for psychology to prepare yourself for the rigors of your career, as well as for certification and licensing.
Often, you cannot transfer or advance with your degree from a school or program if it is not accredited. Therefore, you want to choose an accredited program to prepare you to become a psychologist in WY.
Online vs. Traditional Psychology Programs in Wyoming
Online psychology programs, which are available at WY schools including the University of Wyoming, are more conducive to a busy lifestyle and work schedule. In addition, students may save money by taking online psychology classes compared to traditional programs.
However, in-person traditional training for psychology offers one-on-one interaction and emotional feedback for students. Hybrid training with both online and traditional coursework is often the right choice for psychology students.
Becoming Licensed As a Psychologist in Wyoming
In Wyoming, the State Board of Psychology is in charge of licensing psychologists. You can become licensed in three areas:
School psychology specialist certification
Psychological practitioner certification
If you are seeking a license as a psychologist, you need to have a doctoral degree. To become certified as a psychologist in Wyoming, you must have a master's degree.
List of Psychology Degree Programs in Wyoming
Are you looking for a psychology degree program in Wyoming? Browse our list of psychology programs offering both online and on-campus instruction. Follow the links to learn more about what each school's psychology program offers.
Cheyenne, WY
1400 E College Dr
Cheyenne
,
WY
82007-3299
(307) 778-5222 x1357
Laramie, WY
Bachelor's ProgramsPhD Programs
Corner of Ninth and Ivinson
Laramie
,
WY
82071
(307) 766-1121
Are we missing your school's program or need to update information listed? Please contact us so we can make the necessary changes.