Online Genetic Counseling Degrees and Programs
Genetic counseling is a rapidly growing field. Students who want to earn a degree to become a genetic counselor engage in coursework, research, and clinical experiences. Genetic counselors have specialized knowledge and skills to practice their profession. They provide information to individuals and families about how genetic conditions may affect them. The genetic counselor also serves as an educator to physicians, other health care providers, and communities.
Earning a master's degree in genetic counseling is an excellent way to gain the core knowledge and skills related to becoming a genetic counselor. Many students choose to earn a doctorate degree to meet licensure and employment requirements.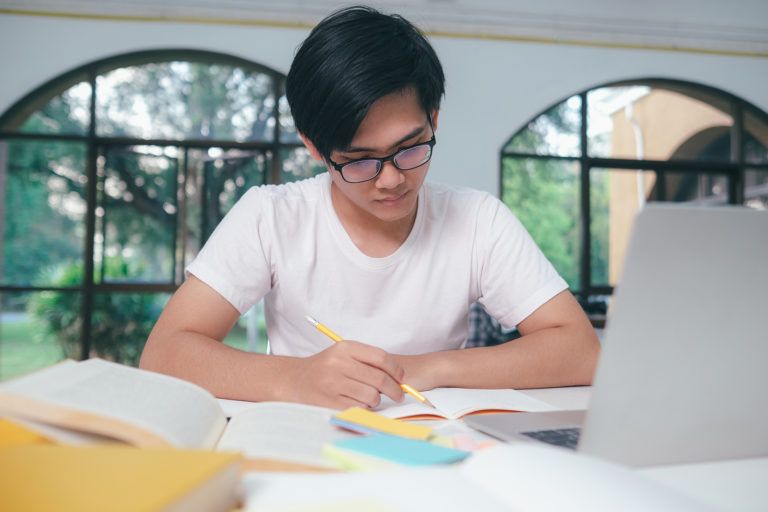 Choosing the Right Online Genetic Counselor Degree Program
The Accreditation Council for Genetic Counseling (ACGC) is the accreditation board for graduate genetic counseling programs. The council advances the quality of genetic counseling education by "developing standards, and by evaluating and accrediting graduate-level programs."
Students who want a career as a genetic counselor start with a bachelor's degree and continue their education until they have a graduate degree in genetic counseling. It is imperative that students make sure that the college or university that they want to attend is an accredited institution, and that the genetic counseling program is an accredited program. Students who do not verify that a school and genetic counseling program are accredited may not be able to obtain licensure or certifications, and may not be able to work in genetic counseling.
Bachelor's Degree
Future genetic counselors usually choose a bachelor's degree major such as psychology, biology, another major in the sciences, or a social sciences degree. Courses in communications, counseling, and healthcare are likely to benefit students who want to become genetic counselors.
Master's Degree
Students who want to enroll in an online master's degree program in genetic counseling are likely to find a variety of program options. The MS in Genetic Counseling online program at Boston University also includes coursework from the "Mental Health Counseling & Behavioral Medicine Program, Graduate Medical Sciences, and the School of Public Health."
Students often complete an internship, research, clinical hours, or other requirements in addition to coursework. Some schools also have students participate in grand rounds. The curriculum focuses on evaluating, diagnosing, monitoring, counseling, and treating patients. The students learn to become motivated, sensitive, and competent genetic counselors.
Doctorate
Earning a doctorate degree in genetic counseling provides students with advanced clinical skills in genetic counseling and the opportunity to perform independent research. Students also take comprehensive exams. One example is the PhD Qualifying Examination that students take after they complete coursework while enrolled in the Ph.D. in Human Genetics, Genetic Counseling program at the University of Pittsburgh. Some students choose programs that offer dual degrees.
What Genetic Counseling Degree is Best for Me?
| | | | | |
| --- | --- | --- | --- | --- |
| | Bachelor's Degree | Master's Degree | Graduate Cert | Ph.D. or PsyD |
| I am interested in gaining entry-level experience in genetic counseling | x | | | |
| I want to get started in my genetic counseling career before I pursue more education | x | | | |
| I want to become a licensed professional counselor | | x | | |
| I want to pursue or switch to a niche counseling specialty | | x | | |
| I already have a counseling degree and want to gain specialized knowledge | | | | x |
| I want to work in academia, administration, or clinical practice | | | | x |
Genetic Counseling Degree Program Curriculum
The curriculum for genetic counseling degree programs may vary based on the degree level and the particular college or university. Some topics include medical genetics, reproductive genetics, applications in genetic counseling, and cultural and social issues in genetic counseling.
Bachelor's: Students take courses that include psychology, chemistry, biology, and other courses that prepare students for graduate genetic counseling programs. Bachelor's degree programs usually require four years of study and the completion of about 120 credit hours of study.
Master's: The number of required credit hours often varies among genetic counseling programs at the master's degree level. The MS in genetic counseling program at Bay Path University requires 59 credit hours of study, while the MS in genetic counseling program at Boston University requires 48 credit hours of study.
Students take courses such as Applied Research Methods in Genetic Counseling and Professional Issues in genetic counseling.
Doctorate: Doctorate degree programs in genetic counseling require students to complete coursework, an internship or other field experience, a dissertation, and clinical hours. Required credit hours may vary by the college or university.
Sample courses include Human Population Genetics and Risk Calculation in Genetics Counseling.
Genetic Counseling Degree Program Clinical Requirements
Students complete an internship or clinical hours at every genetic counseling degree level. The number of clinical hours or the length of the internship is likely to vary, based on the particular degree. Another reason for the hours varying is the requirements of different colleges and universities.
Students receive clinical placements and internships based on their interests or degree requirements. Students and advisers discuss the options before the placement.
List of Genetic Counseling Degree Programs
Looking for an online or campus-based genetic counseling degree program near you? Browse our state-by-state school listings below.
Jump to Your State Listings
California
Connecticut
Georgia
Indiana
Massachusetts
New Jersey
New York
North Carolina
Ohio
Pennsylvania
South Carolina
South Dakota
Tennessee
Are we missing your school's program or need to update information listed? Please contact us so we can make the necessary changes.