How to Become a Spiritual Counselor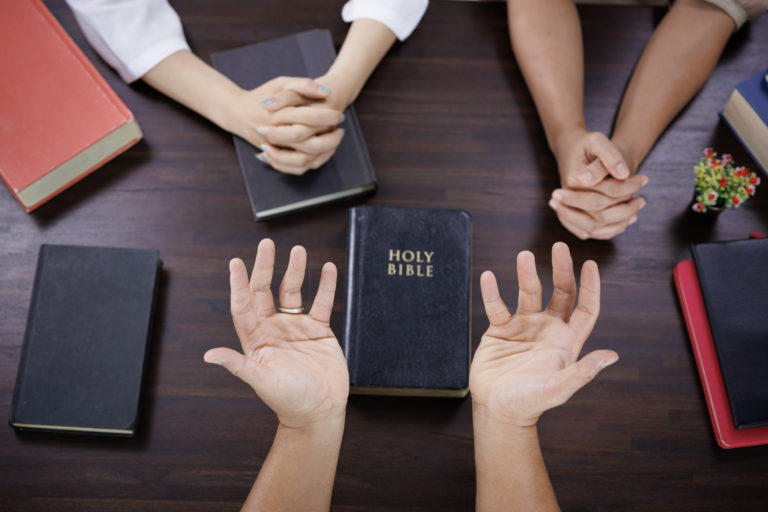 Faith-based counseling is a growing field in psychology, as more and more people turn to spiritual counselors for help with issues such as depression and anxiety. If you instantly envision a person who dabbles in palm reading and crystals, you're a bit off the mark. Real spiritual counselors have completed rigorous training and education to become specialists in their chosen field. Many have doctoral degrees in psychology, backed by intensive study in some form of spirituality, both denominational and nondenominational. But at the very least, a licensed and certified spiritual counselor holds a master's degree. They help clients work through issues such as grief, trauma, relationships, mental illness, and more, while fully considering the presence of a higher power.
If you're interested in becoming a spiritual counselor, many schools offer programs to help you reach your goal. If you break the somewhat-lengthy process down into a series of steps, it may feel more manageable.
Step 1: Complete a Spiritual Counselor Degree
Earning your master's or doctoral degree in counseling or psychology, with a specialization in spirituality or religion, usually begins with earning an associate's degree. From here, you'll continue on through a series of degrees that culminate in a master's degree, a Ph.D, or a PsyD.
Associate's Degree – A two-year degree that covers general education coursework and provides an introduction to psychology. Usually requires the completion of 60-65 credit hours.
Bachelor's Degree – This usually requires two additional years of study beyond an associate's degree. Requires the completion of an additional 60 credit hours, more or less, in counseling, psychology, or a related field. 
Master's Degree – Requires the completion of an additional 30-40 credit hours. Allows you to choose an area of focus within counseling or psychology, such as spiritual counseling. 
Graduate Certificate – Usually requires the completion of between 10 and 14 credit hours. Allows you to focus on a particular subject or specialty. Not the same as a degree, but can help you gain specialization in your area of study. 
Doctorate Degree– Either a Ph.D. or PsyD. A Ph.D denotes you as a doctor of philosophy. A PsyD is a doctor of psychology. To treat or counsel patients, most students earn a PsyD. Requires the completion of about 60 credit hours beyond a master's degree.
Step 2: Become Licensed as a Spiritual Counselor
The process for becoming a licensed counselor varies between states. However, there are similarities. For instance, you'll need to earn a master's or doctoral degree in your preferred field of psychology — in this instance — spiritual psychology. You'll then begin accruing your supervised clinical hours. With a master's degree, you'll usually need more clinical hours, usually around 3,000. With a PsyD, you may still need to accrue somewhere in the vicinity of 2,000 supervised clinical hours. You'll work under the direct supervision of a licensed counselor.
Clinical Experience
Many graduates serve their clinical practicums and internships in local clinics, hospitals, or as counselors for faith-based organizations. Options may include:
Community outreach programs that offer help for domestic violence, homelessness, or unemployment
Legal agencies, such as Child Protective Services, or Social Services
Once you've fulfilled your state requirements for clinical hours, you must submit your application and documentation to your state's Board of Professional Counselors and Therapists. You must also pass the National Counselor's Exam, or NCE.
Examination
The NCE is the required exam for becoming a licensed counselor in most states. You should familiarize yourself with the test if you're considering pursuing this career:
Composed of 200 multiple-choice questions
Assesses skills, abilities, and knowledge in six different areas
Allows 3 hours and 45 minutes for completion
Upon successful completion of the required exam or exams, your state will grant you a license to practice.
State Requirements
It's important to contact your state board for exact requirements. You are also required to renew your license every two years. This requires paying the applicable fees and providing proof that you have completed the required hours of continuing education in your required field, usually around 40.
Step 3: Apply for a Spiritual Counselor Job
Once you've obtained your license to practice in your state, the next step involves finding a job in your field. An advanced degree in psychology prepares you to work in many industries. However, your specialization as a spiritual counselor will help narrow your focus.
What Careers Can I Pursue With a Spiritual Counselor Degree?
With a graduate or doctoral degree in spiritual counseling, you'll be well-suited to administer help and hope to clients who are searching for faith-based, mental health intervention. This may mean working with members of a congregation, with inmates in a prison, or in the terminal cancer ward of a local medical center. You may decide to choose private practice, where you see clients for grief counseling or post-traumatic stress. Or, you may find yourself working in the legal system, talking to victims of crime or abuse.
Where Can I Work With a Spiritual Counselor Degree?
Many industries employ spiritual counselors, including:
Faith-based medical centers
Christian counseling organizations
Step 4: Learn About Spiritual Counselor Salaries
In 2021, counseling psychologists earned a median of $82,510 a year, according to the Bureau of Labor Statistics. This translates into roughly $39.67 per hour. Most worked in the offices of health care practitioners, in outpatient care centers, or in medical or surgical hospitals.