How to Become a Domestic Violence Counselor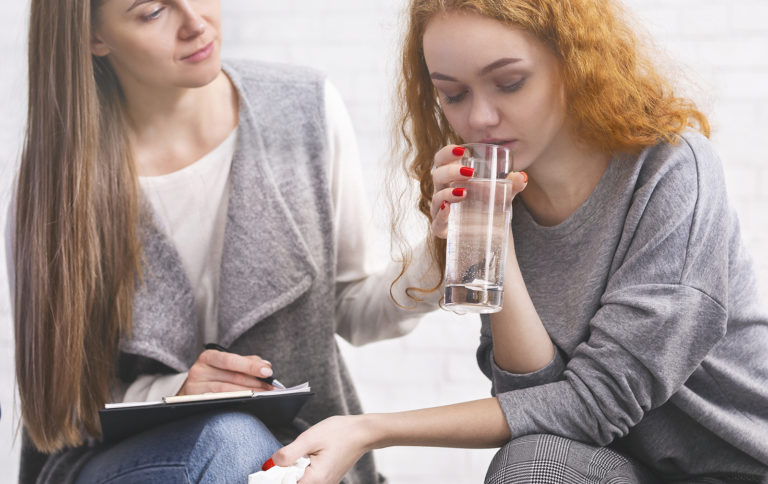 Every year, millions of Americans become victims of domestic abuse at the hands of a family member or partner. Not only are these kinds of situations uncomfortable and unpleasant, but they're also very risky. Domestic abuse that includes physical violence is referred to as domestic violence.
Counselors who work with victims of domestic violence must be carefully trained to gently help these victims overcome the mental and emotional aftermath of these experiences. The proper education and experience can prepare a counselor to make a difference in the lives of domestic violence survivors.
Step 1: Complete a Domestic Violence Counselor Degree
Depending on the state you're thinking of working in, different degrees are needed to start a career helping the victims of domestic abuse. A bachelor's degree in psychology, human services, social work, and/or counseling is often the entry point for most of those interested in a career in domestic violence counseling. Even if your state only requires a bachelor's degree to become a licensed domestic violence counselor, you might also think about pursuing a graduate degree in a complementary profession.
Also, note that a master's degree is required in various settings in order to work as a domestic violence counselor, such as in healthcare or educational environments. Advanced degrees will make you a more desirable job applicant for any position you're applying for in this field. Advanced degrees demonstrate to an employer that you're competent, committed to your profession, and possess the intellectual discipline required to finish an advanced degree.
Step 2: Become Licensed as a Domestic Violence Counselor
Most states require that students acquire experience dealing with domestic violence victims before they can be certified or licensed. This typically involves a minimum of 3,000 hours of fieldwork. However, you should double-check the licensing requirements for counselors in your area, since they do vary from state to state.
Internship / Practicum Experience
As mentioned above, 3,000 hours of fieldwork is often a requirement for becoming certified or licensed as a domestic violence counselor.
Employers in this field like to recruit people who have something of value to give their businesses in the way of experience. Any prospective employer will view your experience helping victims of domestic violence or abuse favorably, regardless of your educational background. You may want to think about the many volunteer opportunities available to you if you lack experience (you'll need the work to get experience). Every state has initiatives that are focused on its own enterprises and communities.
Nationwide groups that deal with different types of domestic violence and regularly look for volunteers include:
• American Bar Association Commission on Domestic & Sexual Violence
• Battered Women's Justice Project
• The Center for Survivor Agency and Justice
Examination
While there aren't examinations that are specific to domestic violence counseling, becoming certified or licensed in some states as a counselor, particularly for working in certain settings (such as healthcare or education), may require passing an exam. It's best to check with your state for details on this.
State Requirements
Before being certified or licensed, most states additionally require that domestic violence counseling students acquire experience working with domestic abuse victims. Typically, this entails a minimum of 3,000 hours of fieldwork. But because of differences from state to state, you should double-check the licensing criteria for counselors in your state.
Step 3: Apply for a Domestic Violence Counselor Job
Counseling for domestic violence victims is essential because it enables them to leave their abusers and deal with the often devastating consequences of the abuse.
Domestic violence counselors often spend more time listening than talking when dealing with victims, particularly initially. This gives a victim a sense of increased control that they probably didn't have when they were living with their abuser. Additionally, this helps the victim in expressing their worries and emotions and aids the counselor in gaining the victim's trust.
A domestic violence counselor's duties also include providing education. For instance, a counselor may often educate a victim of domestic violence who hasn't yet separated from their abuser on all facets of the abuse at issue. By doing this, the counselor gives the victim knowledge they can utilize to better understand their circumstances.
During therapy sessions, domestic violence counselors often make an effort to assist victims in realizing that the abuse they've suffered was not their fault. Additionally, they'll make an effort to empower and promote a victim's independence. In the event that the victim is still living with their abuser, the counselor may also make a gentle effort to convince the victim that leaving the abusive person is not only possible but also in their best interests.
What Careers Can I Pursue With a Domestic Violence Counselor Degree?
The government sector is where a domestic violence counselor is most likely to find work. Often, police agencies' involvement is the sole reason victims are saved and offenders are brought to justice. If left to their own devices, a significant portion of those impacted by abuse would never obtain beneficial and essential domestic violence treatment. Domestic violence counselors are employed in different ways by different states, as indicated by their job titles or classifications. A generalized list of jobs that you may or may not be able to get with your qualifications in your state of residence is provided below:
• Social Worker Specializing in Domestic Abuse
• Private Practice as a Domestic Abuse Counselor
• On-Staff Domestic Abuse Counselor for Private/Public Hospital
• On-Staff Domestic Abuse Counselor for Women's and Children's Clinics
• Domestic Abuse Counselor for the Prison System
• Domestic Abuse Court Coordinator
• Educational Positions: Professor, Instructor, Lecturer
• Domestic Abuse Counselor/Consultant for Private Businesses
• Domestic Abuse/Violence Author, Speaker, Authority
• Expert Witness in Domestic Abuse/Violence Issues
• Victim's Rights Advocate
In 2021, approximately 351,000 substance abuse, behavioral disorder, and mental health counselors (which include domestic violence counselors) were employed in the United States, according to the U.S. Bureau of Labor Statistics (BLS). Substance abuse, behavioral disorder, and mental health counselor employment is expected to grow at a rate of 22% during the 2021-2031 decade, generating some 77,500 new positions in that time frame.
Where Can I Work With a Domestic Violence Counselor Degree?
Counselors for domestic violence may operate in a variety of contexts. They could work for hospitals, for example, and be asked to evaluate potential domestic abuse situations. Domestic violence counselors may also be employed by battered women's shelters, charitable organizations, and social care agencies.
Domestic violence counselors often have the option to start their own private clinics, much like many other counseling and psychology specialists.
Step 4: Learn About Domestic Violence Counselor Salaries
Substance abuse, behavioral disorder, and mental health counselors, which includes the sub-category of domestic violence counselors, earned an average yearly salary of $53,490 in the U.S. as of 2021, according to the BLS. Substance abuse, behavioral disorder, and mental health counselors' median annual wages, according to the BLS, range from $59,790 in California to $49,480 in Pennsylvania, two of the states with the greatest employment levels in this profession.
State and local hospitals paid their substance abuse, behavioral disorder, and mental health counselors a median wage of $50,460, while government organizations paid them $54,070, the highest median wage of any industry category the BLS analyzed for this occupation.
Employers in both the public and commercial sectors regularly raise an employee's pay scale in recognition of their further education. Therefore, it's wise to enroll in a master's program in this profession if you already have a bachelor's degree. Consider getting a doctorate if you already have a master's degree. Inquire about incentives for continuing education at your institution from the human resources department. Some businesses will provide extra funds to assist with your educational expenses.