How to Become a Child Abuse Counselor
Sadly, child abuse is an everyday reality for too many minors. Child abuse counselors help these children by documenting instances and helping them process their trauma. If you want to work in this difficult but deeply rewarding field, you'll need both academic degrees and professional experience.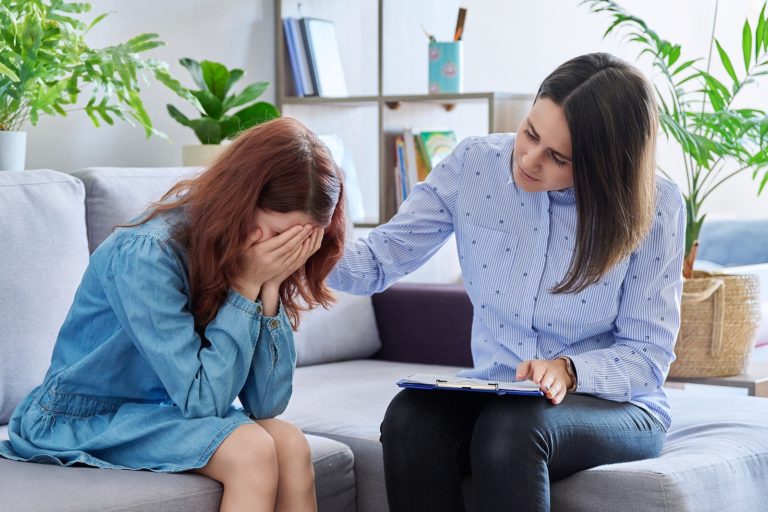 Step 1: Complete a Child Abuse Counselor Degree
The academic degrees required to become a child abuse counselor are a bachelor's degree and a master's degree. There are a few other degree programs that you might consider:
Associate Degree: An optional two-year program that might reduce the length of a bachelor's degree. Make sure any associate degree you pursue is either in a relevant field (e.g. psychology), or will eliminate many of your bachelor's course requirements.
Bachelor's Degree: A standard four-year program is needed to apply for master's degree programs. You can major in a relevant field, such as social science, human services, behavioral science, or psychology, but you don't have to.
Master's Degree: A standard two-year program needed to become licensed as a counselor. You'll need to complete a master's in counseling or something similar. Programs usually have generalized counseling programs but might offer a child abuse tract within the program.
Most states require that the degree be accredited by CACREP or a similar organization(CACREP is the most universally accepted accrediting agency).
Graduate Certificate: A shorter six months to a year-long program that allows you to specialize. You might complete a graduate certificate after your master's degree so you can focus specifically on child abuse counseling. 
Doctorate Degree: A doctorate degree, such as a Ph.D. in psychology, is optional and requires a lengthy investment of three to six years. A doctorate in child abuse counseling will prepare you for the highest research, clinical, and leadership positions.
Accredited master's degrees include a hands-on practicum component, usually 600 hours. This must be completed during the program.
Step 2: Become Licensed as a Child Abuse Counselor
The professional experience that's needed after graduate school is substantial. For licensure, you'll also need to pass an examination.
The vast majority of states have extensive supervised counseling hours. These hours must be completed under the supervision of a licensed counselor, and most hours require direct patient care. 
In most cases, expect to complete between 1,500 and 3,000 supervised hours throughout one to three years. The practicum included within a master's degree program doesn't count toward this requirement.
Your supervised hours can be in any counseling setting, but you'll be most prepared for child abuse counseling work if you get the supervised hours in this field.
Licensure Examination
Licensed professional counselors (LPCs) must take a licensure examination regardless of specialization. Most states require the National Clinical Mental Health Counseling Exam, but there are others that some states accept.
Specific State Requirements
While these generally hold true, exact licensure requirements can differ between states. Ensure your academic and professional work prepares you for licensure in the state where you intend to apply for jobs.
Step 3: Apply for a Child Abuse Counselor Job
Once you're licensed, you're prepared to apply for child abuse counselor jobs. There are many job opportunities in this field.
What Careers Can I Pursue With a Child Abuse Counseling Degree?
A child abuse counselor works with minors who have experienced child abuse. This can include experiencing physical abuse, emotional and psychological abuse, neglect, sexual abuse, and other forms of maltreatment. Work can consist of both documentation and treatment.
To help children overcome their experiences, you might provide various counseling. You may render behavioral therapy, mental health counseling, sexual abuse counseling, and substance abuse counseling. Cases of child abuse cause many issues.
One of the most common tactics used by child abuse counselors is play therapy, where children communicate through toys. This and other types of counseling are covered in any child abuse counseling degree program.
Where Can I Work With a Child Abuse Counselor Degree?
Child abuse counselors are employed in diverse settings. They may work in:
Domestic violence shelters
Private practice is much less common but might be feasible. Counselors may also hold higher-level positions within child protective services (CPS), although only a bachelor's is needed to work with the agency. CPS may be a viable employer while pursuing a master's degree.
Step 4: Learn About Child Abuse Counselor Salaries
The tragic reality is that child abuse counselors are in great demand, and there aren't enough professionals in this field. The Bureau of Labor Statistics (BLS) expects 22% job growth among substance abuse, behavioral disorder, and mental health counselors. This includes child abuse counselors.
Glassdoor reports the average child abuse counselor's salary to be $52,510 annually. Most earn close to this range, with the middle 50% making between $45,000 and $62,000. A few earn as little as $39,000 or as much as $72,000. 
These figures are roughly in line with what substance abuse, behavioral disorder, and mental health counselors at large earn. The BLS reports these counselors to make a median salary of $48,520. The total range goes from $30,780 to $77,980.