How to Become a Conflict Resolution Counselor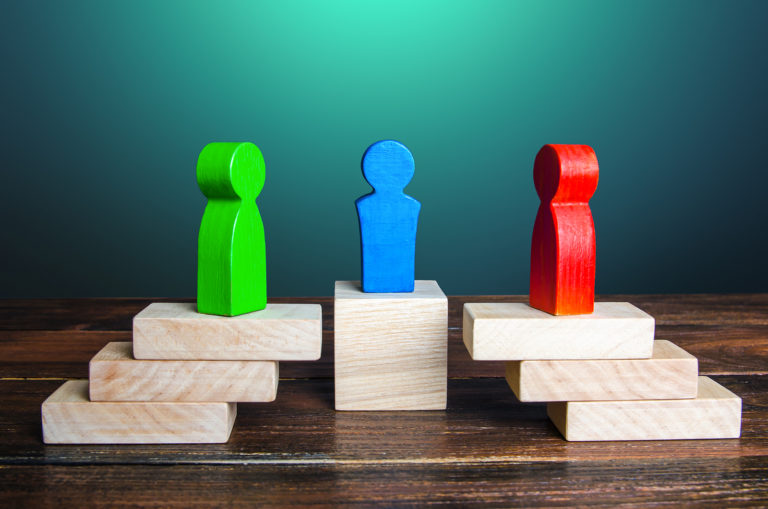 Conflict is, unfortunately, a normal part of life. However, people often struggle with it because they don't know how to resolve it satisfactorily. Conflict resolution counselors work with people to aid in this goal.
There are many situations where conflict resolution help is needed, and the term for this job sometimes varies by industry. You may see it called conflict mediator, conflict resolution specialist, conciliator, arbitrator, or several other names. Some use the same skills, while others require knowledge of a related field, such as law.
Step 1: Complete a Conflict Resolution Counselor Degree
Typically, schools won't offer degrees labeled "conflict resolution counselor." Instead, you might get a general psychological counseling degree or one focused on a specific industry's needs.
Bachelor's Degree – This degree should be focused on the expected requirements of the industry you desire to work with. Instead of a counseling degree, get one that specializes accordingly. Popular choices include law, mediation, negotiation, and dispute management.

Master's Degree – If your bachelor's degree has no focus on dispute resolution, now is the time to make it your focus. Go for a master's in conflict management or dispute management.

Graduate Certificate – Several certification programs exist for those who already hold a bachelor's or master's degree, and getting a certificate in a highly focused branch of conflict resolution can impress employers in relevant fields.
Step 2: Become Licensed as a Conflict Resolution Counselor
There is no license needed to be a conflict resolution counselor. Some professions that involve conflict resolution, however, may require one. For example, some states require that professional arbitrators get a certification to practice.
Even then, certification is only required for specific case types. The state typically sets requirements but can be selected at a level as far down as a particular court.
State Requirements
According to the Bureau of Labor Statistics (BLS), states that require certification typically demand that you take 20-40 hours of training classes.
State courts may impose other requirements if you focus on a specific industry. For example, you may also need to be a licensed attorney or a certified public accountant. Because there is wide variability both by state and your focus industry, it is essential to check your local laws and court requirements in your intended practice area.
For more general conflict resolution counseling, rather than creating binding agreements, no license or certification is required.
Step 3: Apply for a Conflict Resolution Counseling Job
Though conflicts can arise in all aspects of life, those hiring conflict resolution counselors tend to concentrate on a few areas. This is because such locations are focal points for dealing with conflicts, whether through the legal system or due to the circumstances surrounding interaction with these agencies.
What Careers Can I Pursue With a Conflict Resolution Counselor Degree?
A few careers can be entered with a degree that focuses on conflict resolution.
Where Can I Work With a Conflict Resolution Counselor Degree?
Several industries require people who are skilled at conflict resolution.
Law Offices. Not everyone who goes to a law firm wants to sue and go to court. Here, you'll help negotiate settlements and other non-court resolutions to disputes.

Corporate Headquarters. You can help resolve many types of conflicts in a big business setting. These include labor disputes, conflicts between individual employees, disputes with dissatisfied customers, haggling with vendors over contract specifics, and more. Expertise in a specific industry is very important for some of these positions.

Hospitals. Often, there are disputes between doctors and family members over what sort of treatment an incapacitated or underage patient should (or shouldn't) receive. Adult patients may also raise strong objections to how they were treated. Help keep people out of court by assisting in resolving these and other issues.

Government Agencies. Some government agencies are lightning rods for public ire. Help them, and regular citizens, avoid expensive and time-consuming litigation by assisting in negotiating an acceptable agreement. As with corporations, you'll also need expertise in the specific sorts of things the agency deals with. For example, a background in tax law will help if you intend to work with the IRS, while a background in environmental matters will be a great help if you want to get on board with the EPA.
Step 4: Learn About Conflict Resolution Counselor Salaries
Since there are so many different situations that you can find yourself in as a conflict resolution counselor, it's hard to pin down a specific salary range. The Bureau of Labor Statistics does give some figures for median wages under its listing for arbitrators, mediators, and conciliators:
Local government level: about $73,500
State government level: about $65,000
Health care and social assistance: about $46,500
Legal services: about $30,000
Note that the government figures exclude those involving education and hospitals.
As you can see, the type of employer you choose has a very strong effect on possible median salaries. Specific geographic location, your experience, and educational level, and the competitiveness of your exact area of interest are other factors that will play a role in determining earning potential.