How to Become a Veterans Counselor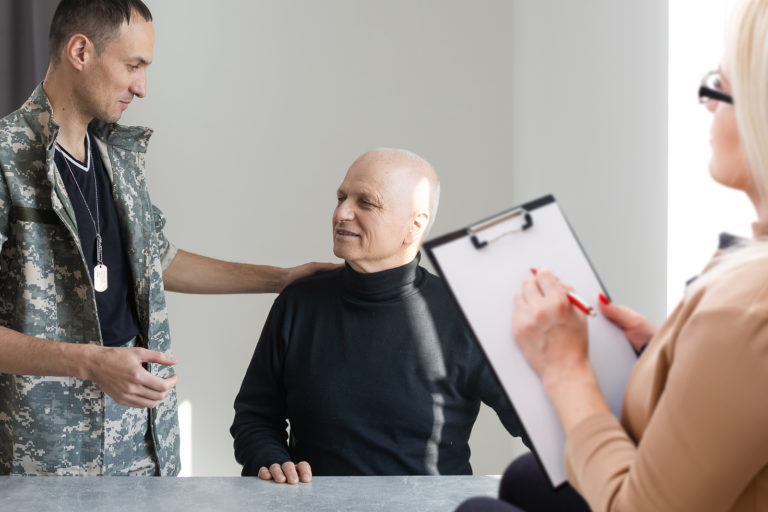 There are a variety of qualifications for working as a veterans counselor. Students who want to become a counselor who works with veterans and the family of veterans need to have specialized skills. They are likely to have to meet stringent requirements set by the U.S. Department of Veterans Affairs or state or local agencies that serve veterans.
The path to becoming a veterans counselor includes earning the required degrees and completing other requirements.
Step 1: Complete a Veterans Counselor Degree
Earning a degree to become a veterans counselor often requires students to complete a similar degree. There are some schools that do offer a specific program as a concentration in another type of counseling degree. 
Associate's Degree: Complete an associate's degree in an area such as psychology, health, and wellness or a similar program to start the educational path towards becoming a counselor for veterans. Students typically transfer to a four-year university or college to continue their education. 
Bachelor's Degree: Earning a bachelor's degree in psychology, addiction counseling or mental health are some options to consider for students who want to earn a degree to work with veterans and their families. Some colleges and universities may have a concentration for veterans counseling. 
Master's Degree: Earn a master's degree, such as a Master of Education (M.Ed.) with a concentration in Clinical Mental Health Counseling and a specialization in Military and Veterans Counseling. Some other degree options include a master's degree in clinical counseling, psychology, or mental health with other concentrations. 
Doctorate Degree: Earning a doctorate degree (such as a Ph.D. or PsyD) in veterans counseling is for professionals who want to work for state and federal government agencies that serve veterans, counseling centers, hospitals, clinics, and a variety of other settings. Students gain advanced competencies in working with veterans and helping with serving their needs, gaining knowledge and skills in working with clients who have post-traumatic stress disorder (PTSD), and other skills and knowledge. 
Step 2: Become Licensed as a Veterans Counselor
Becoming licensed is a requirement for students who want to practice as a veterans counselor. The type of licensure needed depends on a variety of factors.
Internship/Practicum
Bachelor's degree programs, master's degree programs, and doctorate programs in counseling or psychology require students to complete an internship experience or a practicum. Students need to make sure that they complete their internship or practicum at a facility or agency that is approved by the school accepted for their degree and that meets requirements for licensure.
Examination
The U.S. Department of Veterans Affairs (VA) often refers to counselors who work with veterans as rehabilitation counselors. Some students complete their degree in rehabilitation counseling, mental health counseling, licensed clinical counseling, or another area of counseling or psychotherapy.
The examination that students take depends upon their specific degree requirements and the requirements of the state where they intend to practice.
State Requirements
The state requirements for working as a veterans counselor may vary from one state to another state. It is important to note that the American Counseling Association revealed information regarding new qualification standards for licensed professional counselors. Students want to be sure that the degree program and any licensure that they acquire meets with the recently revised standards.
Step 3: Apply for a Veterans Counselor Job
Applying for a veterans counselor job is an easy process if you know where there are openings for counselors who serve veterans. The VA understands that mental health counselors have an important role in service to veterans and their families. That is one reason that they recently hired more than 1,000 new mental health professionals to provide services to veterans across the U.S.
What Careers Can I Pursue with a Veterans Counselor Degree?
Some examples of careers for a student who has a veterans counselor degree include:
Licensed clinical counselor
Keep in mind that students who have a degree in psychology, psychiatry, licensed clinical counseling, and similar programs must meet the requirements for licensure for those professions to work with veterans.
Where Can I Work with a Veterans Counselor Degree?
Students who have a degree to become a veterans counselor work in a variety of settings, which include:
U.S. Department of Veterans Affairs
Other federal or state government agencies
Step 4: Learn about Veterans Counselor Salaries
The salary that a veterans counselor earns depends on the setting in which they work and the location where they work as a counselor who works with veterans.
Glassdoor indicates that the average salary for veterans counselors in the U.S. is $64,823, with the total pay package at an estimated $69,415.