How to Become a Multicultural Counselor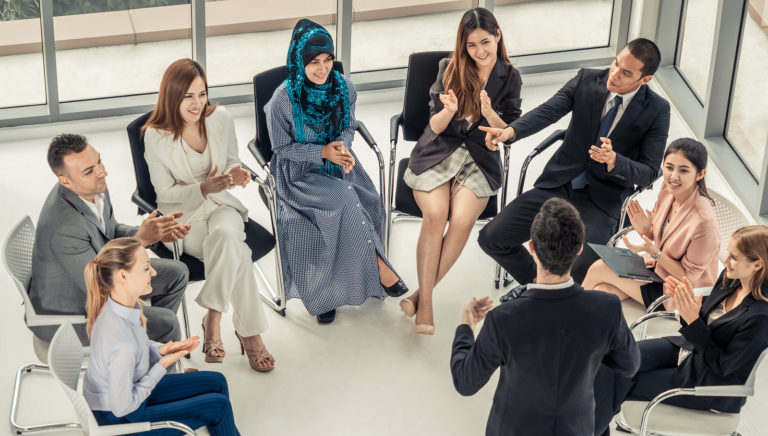 Increasing diversity in the general population has led to the need to adjust counseling methods to match the cultures of patients. A one-size-fits-all approach, while never truly appropriate, is even less so now. This is especially true in areas that have seen a lot of immigration.
Some counselors have undergone extra studies to help meet the needs of newer populations. One who has focused on these ideas can be said to be a multicultural counselor. Despite the name, however, it is common for such a counselor to focus on one specific population in order to better meet local needs.
Step 1: Complete a Multicultural Counselor Degree
Unlike many specialties, there is no degree specific to being a multicultural counselor. The degree requirements are the same as those for a regular psychological counselor. However, if you want to be highly multicultural, you'll want to pack in as many courses that address this goal as possible.
Bachelor's Degree: This degree is the first step to becoming a counselor. Any four-year institution offers bachelor's degrees in disciplines like psychology or counseling, but only some go all-out when it comes to diversity and inclusiveness. Look for a school with a strong emphasis on creating this atmosphere within its own culture, as well as plenty of classes about other cultures and how to be more inclusive toward them. Also, be sure to start learning any languages that you expect to need to know. Take as many such classes as you can in order to widen your own perspectives.
Master's Degree: It takes another two years after you get your bachelor's degree to get your master's. You can opt for a master's degree in counseling, often with a multicultural concentration.
Doctorate Degree: You'll need a doctorate in order to be licensed as a clinical psychologist. However, there are non-licensed counseling positions that can be obtained with just a master's. You can get a Ph.D. or a PsyD to qualify for a license.
Associated Studies: Multicultural counselors often work with newly-arrived immigrants to the United States, so to meet their needs, you'll need to learn more about them and how to interact with them. Learn the languages of all of the groups you want to work with, and as much about their cultures as possible.
Step 2: Become Licensed as a Multicultural Counselor
If you choose to be a clinical psychologist, you'll need a license. This requires a doctorate degree. For many counselor positions, there is no need to be licensed – just the proper educational background as outlined above.
Internship / Practicum Experience
Typically, states have requirements for practice experience that must be met during the licensing process. In many cases, you'll get a provisional license that allows you to get the needed hours. How many hours are involved depends on your state, so check with local authorities for specifics.
Examination
States usually require two exams. One is a nationally-standardized exam about psychology called the Examination for Professional Practice in Psychology (EPPP), while the other is a state exam centered on the relevant laws of the state. In some cases, you may also have to take short courses put out by the state which address local concerns.
State Requirements
Along with your state's practice requirements and exams, there will be a fee for becoming licensed. The fee typically runs in the hundreds of dollars, with some states on the low end and others on the high side.
Renewals are usually a matter of paying another fee, but some states require exams to ensure that you haven't forgotten anything important and that you are up on new developments.
Step 3: Apply for a Multicultural Counselor Job
There are many agencies that help immigrants navigate the psychological hurdles associated with coming to a new country and learning its overall culture. Companies that hire plenty of immigrants often want to provide help of this sort, as well. This makes it so that there are plenty of opportunities to find work if you've developed this skill set.
What Careers Can I Pursue With a Multicultural Counselor Degree?
Where Can I Work With a Multicultural Counselor Degree?
Multicultural corporations
Step 4: Learn About Multicultural Counselor Salaries
Salaries vary widely depending on your main degree, where you work, your geographic location, and the overall category of the job in question.
Unfortunately, figures specifically for people with a multicultural focus are not yet available. However, numbers for more general job categories where this emphasis is common have been published by the Bureau of Labor Statistics. Jobs that fall into the category of social work are often on the low end of the scale, with a median salary of around $42,500 per year. Meanwhile, you can make about $82,000 per year as a licensed psychologist.