How to Become a Licensed Professional Counselor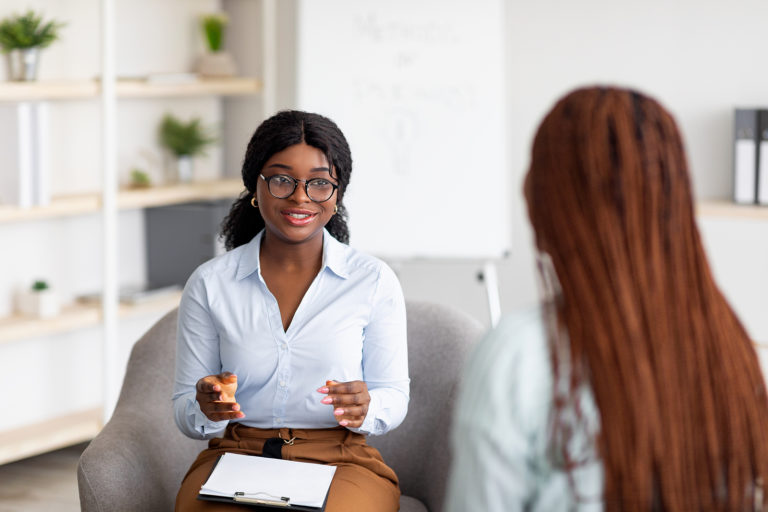 Licensed professional counseling is an all-encompassing term for counselors who provide mental health care and treatment to those with a wide range of emotional, behavioral, and mental health conditions. Specialty-focused counselors, such as substance abuse counselors, fall under the larger licensed professional counseling umbrella. These licensed professionals, who must possess a master's degree, diagnose and administer a range of therapeutic treatments to help individuals, families, and groups effectively cope with the challenges they are experiencing.
Step 1: Complete a Licensed Professional Counseling Degree
The first step to becoming a licensed professional counselor is achieving a degree. You will likely need a higher-level degree for licensure, but depending on your career path, a lower-level degree may be adequate.
Associate's Degree – Though an advanced degree is required to work with clients, students can start their journey in counseling by obtaining a two-year degree in psychology. Students can find such programs at affordable career or community colleges.
Bachelor's Degree – To become a licensed professional counselor, students need to earn a four-year bachelor's degree in psychology, social work, sociology, or a similar field. This initial degree provides students with theoretical education in psychology, mental health, and counseling.
Master's Degree – A two-year master's is the standard degree required for those to practice as licensed professional counselors. Therapeutic skills, clinical assessments, community mental health, and legal and ethical issues in counseling might be some courses students take during their graduate program. Students must also complete in-person internships to gain experience in the work they will be doing. Most programs also require students to complete a thesis.
Graduate Certificate in Licensed Professional Counseling – Current licensed professional counselors who want to keep current with the latest training may complete a graduate certificate. Many certs are offered online and take less than a year to finish.
Doctorate Degree – Generally speaking, a doctorate degree is not needed to work as a licensed professional counselor. Students may seek to earn a Ph.D. to improve their knowledge of the counseling field. A doctorate also allows a licensed professional counselor to teach at the college level. Doctorates are commonly four to five years of commitment plus clinical.
Step 2: Become Licensed as a Professional Counselor
In order to become a licensed professional counselor, students must earn their master's degree, complete required internships, and successfully pass the National Counselor Examination (NCE).
Internship / Practicum Experience
During graduate school, students must begin to complete their required internships in order to qualify for licensure as a professional counselor. Depending on their state, students must complete up to 2000 to 3000 hours of supervised clinical experience providing counseling services to clients at mental health centers, government agencies, and other organizations. Many internships are paid through compensation which can vary. As much as possible, students should try to complete internships doing work they would prefer to be doing once they graduate.
Examination
Professional counseling graduates must obtain licensure before they are able to treat or diagnose clients in an independent capacity. As such, graduates must pass the National Counselor Examination (NCE) to obtain licensure. The majority of states in the U.S. require that the master's degree is earned at an institution accredited by the Council for Accreditation of Counseling and Related Educational Programs (CACREP). Not earning a degree from an accredited school may impact their ability to earn a license.
State Requirements
National exams are administered through an individual state's licensing board so counselors are thereby issued a license for that state.
Some states have their own requirements for licensure once counselors pass the national exam. California for instance requires counselors to pass a Law and Ethics Exam.
Most states require counselors to earn continuing education (CE) credits to maintain and renew their licenses.
Step 3: Apply for a Licensed Professional Counseling Job
Licensed professional counselors help people better cope with emotional and behavioral challenges both ordinary and more severe. Once graduates finish their master's degree and thousands of hours of internship experience, they can choose to work in a range of settings though demand is higher in some areas than others. Demand for licensed professional counselors is expected to rise by 20% over the next 8 years, according to BLS.
What Careers Can I Pursue With a Licensed Professional Counseling Degree?
Licensed professional counselors can specialize or work with a broad population of clients to help them live their best lives.
Licensed Professional Counselors (Group Practice) – A common occupation for licensed professional counselors is to provide counseling, therapies, and treatment as part of a group practice. Such individuals may have the option of working face-to-face or remotely with clients. Group practice may allow counselors to specialize in treating certain types of clients or they may function as generalists treating whichever clients work with the practice. In this situation, the group typically handles billing and administrative aspects of the job.
Licensed Professional Counselors (TeleHealth) – As remote work has become a way of life, so has remote professional counseling. This environment allows greater flexibility for both the counselor and the client. Counselors may work as part of a larger integrated team working with physicians, psychiatrists, and others or they may work independently. Counselors are still bound to only serve clients in the states where they maintain a license.
Licensed Professional Counselors (Private Practice) – Experienced licensed professional counselors may own and operate their own private practice treating clients. This opportunity may allow counselors to treat only the types of patients they prefer. They may also be able to use their preferred treatment methods, charge their own rates, and work preferred hours.
Where Can I Work With a Licensed Professional Counseling Degree?
As previously mentioned, Licensed Professional Counselors tend to work in group or private practices diagnosing and treating patients. They may also work for various government agencies and nonprofits. Due to advances in telecommunications, counselors may work with clients via a remote connection.
Step 4: Learn About Licensed Professional Counseling Salaries
Years of experience and continuing education may contribute to the salary range for licensed professional counseling. Location, type of treatment provided, and additional certifications or specializations can also impact earnings. Salary.com lists the average annual salary of a Licensed Professional Counselor at roughly $62,000.