How to Become a Geriatric Counselor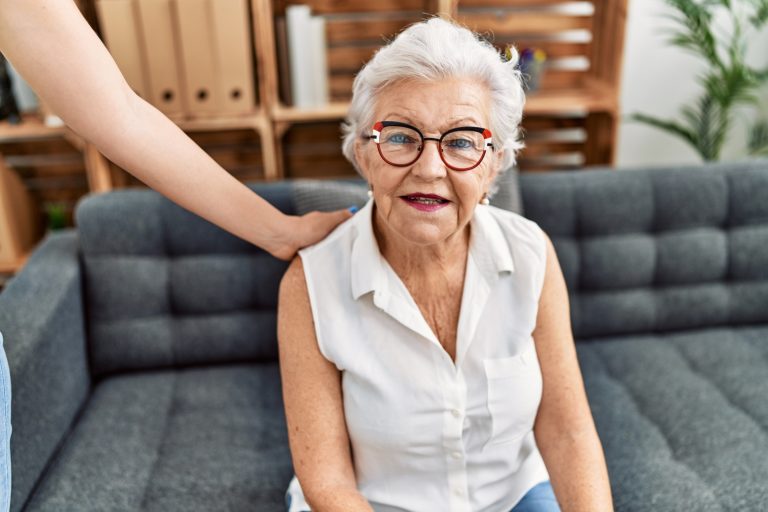 They say aging beats the alternative, yet most would agree that getting older poses its own set of challenges. Once healthcare focused primarily on the medical health of seniors, yet today there's a great demand for broad-based mental and emotional health treatment as well. Medical professionals are recognizing how improved mental health has the potential to improve physical health. As such, those who study geriatric counseling are likely to find employment opportunities in numerous places that serve the nation's growing aging population.
Step 1: Complete a Geriatric Counseling Degree 
The first step to a career as a geriatric counselor is to enroll in a degree program. Typically, higher-level degrees will open up the most opportunities, but it might make more sense to work towards a lower-level degree, depending on the circumstance.
Associate's Degree – There's a large demand for people to work with the elderly in a range of capacities. As such, individuals who want to enter the workforce right away may benefit from a two-year degree in psychology. Such low-cost education options are available at community and city colleges.
Bachelor's Degree – Love working with seniors? This four-year degree is the starting point for most students who end up working as counselors treating aging populations. Some bachelor's programs may offer a few courses in the growing specialty of geriatric counseling. Graduates may be able to obtain entry-level work in healthcare and other centers that serve seniors. They can advocate for and support the elderly in different capacities.
Master's Degree – An accredited master's degree, which can be earned in about 24 months, is the next educational step to providing counseling to aging patients. During this time, students also begin their supervised internships so they can experience for themselves what the work is actually like.
Graduate Certificate – Licensed mental health professionals seeking to focus on caring for seniors may gain the skills necessary to make this transition by completing a graduate certificate in geriatric counseling. Due to the demand for this specialty, many online universities are offering this program in online formats. They are commonly 16-25 credit hours in length.
Step 2: Become Licensed as a Geriatric Counselor
Those with an accredited master's degree in geriatric counseling or a related field such as social work or general mental health counseling must acquire licensure via a delineated step-by-step process to treat patients.
Internship / Practicum Experience
Students completing their counseling or psychology degree with a specialty in geriatric counseling tend to start working on their internships during grad school. Such training should be completed at places that serve this population, such as nursing homes, hospice centers, memory care facilities, hospitals, and more. Obtaining a certain number of related clinical hours (approximately 600) is required to practice and obtain licensure. Because there is a demand in the field for people who specialize in elderly counseling and related care, students are well-positioned to find internships and post-grad fellowships.
Examination
All licensed mental health counselors regardless of their specialty are required to hold a license before they can provide unsupervised treatments. The National Clinical Mental Health Counseling Exam (NCMHCE) is one such exam though there are a few others that may be accepted by different states.
Counselors must then satisfy 2,000 to 3,000 hours of post-master clinical experience (supervised). Some states may require additional hours.
State Requirements
Licensure candidates may also have to complete individual state exams before becoming legitimate practitioners.
Geriatric counselors must update their licenses every one to three years and complete continuing education (CE) coursework to stay current.
Step 3: Apply for a Geriatric Counselor Job
Though much of healthcare has been focused on the physical health of the elderly, recognizing the link between physical and mental health has led to an increase in demand for geriatric counselors. These practitioners are employed by a range of healthcare organizations.
What Does a Geriatric Counselor Do?
Healthcare organizations that support the elderly in managing life changes associated with the aging process may employ geriatric counselors.
Geriatric counselors work with elderly people to diagnose mental health conditions and deliver appropriate care. In this way, they may sit down with patients to assess their mental health and cognitive capabilities to help determine if they've developed dementia. They may help patients cope with age-related changes they're struggling with, such as memory loss, loss of mobility, and bereavement issues due to the death of a spouse, family member, or friend.
Geriatric counselors may work for hospice centers to help patients cope with the fears and anxieties they face as they get close to the end-of-life phase. They may also work with family members to plan and make arrangements for this difficult time and help them cope with the loss of a loved one.
Where Do Geriatric Counselors Work?
Geriatric counselors primarily work in nursing homes, hospitals, hospice centers, group practices, and other healthcare organizations as they treat elderly populations, including those with limited mobility. Some practitioners are employed by adult social services, government agencies, or healthcare group practices.
Step 4: Learn About Geriatric Counselor Salaries
The earnings of mental health counselors specializing in Geriatric counseling can be quite substantial due to rising demand in recent years. As people are living longer, the outlook and growth opportunities for this specialty look promising. According to ZipRecruiter, the average salary in California for this profession is $68,175. Experience level, certification, and education can contribute to salary as can location.