Online Geropsychology Degrees and Programs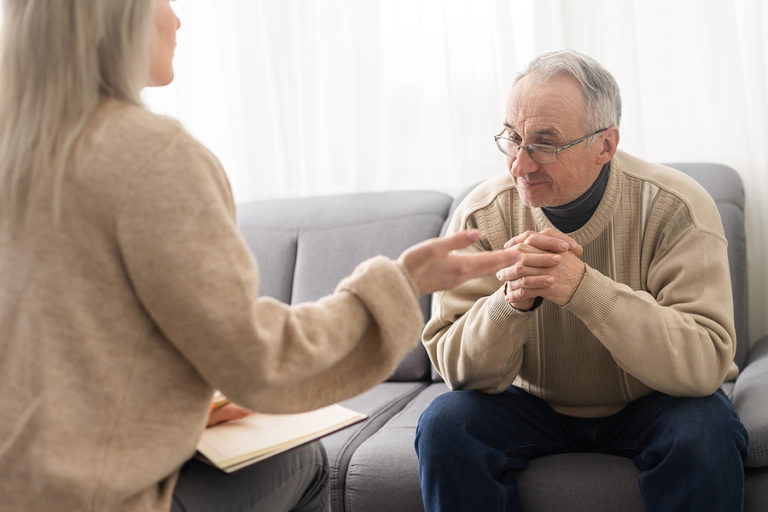 The field of geropsychology attempts to meet the needs of the older population. Geropsychology is a growing specialty of psychology, first recognized as professional geropsychology in 2010. It was first recognized by the American Psychological Association (APA) in 2014.
Geropsychology applies knowledge, psychological theory, and research to work with aging adults and their families. Students who earn an online degree in geropsychology become researchers and practitioners to help older adults maintain a high quality of life throughout the aging process.
Choosing the Right Online Geropsychology Degree Program
Students who want to become geropsychologists are required to have the knowledge, skills, and training to have the foundational competencies for board certification in geropsychology. Working in the specialty field of geropsychology requires a graduate degree and certification. The American Board of Geropsychology is one of the 15 member boards of the American Board of Professional Psychology, which "oversees and authorizes the credentialing activities of all the specialty boards."
Several colleges and universities offer online graduate degrees or certificate programs in geropsychology. Choosing the right degree program in geropsychology is an important step for all students. Students need to make sure that both the college or university that they choose to attend is an accredited school and that the geropsychology program that they enroll in is an accredited program.
Bachelor's Degree
Students who want to have a career in geropsychology first earn a bachelor's degree in psychology. Students who prefer an online learning format, such as the Bachelor of Arts in Psychology offered by New Mexico State University, will have many advantages such as the comfort of not having to commute to campus.
There are options that allow students to choose whether they want to earn a Bachelor of Arts (BA) in Psychology or a Bachelor of Science (BS) in Psychology. One example is the bachelor's degree options at the University of Washington. It usually takes four years for students to earn a bachelor's degree in psychology online.
Master's Degree
Earning a master's degree in geropsychology online provides students with the specialized knowledge that they need for a career in the field. Thomas Edison State University offers a Master of Arts in Liberal Studies in Geropsychology program. The online program prepares students for the specialized field of geropsychology, and for providing services to older adults.
The curriculum includes core courses and courses that focus on geropsychology. Schools vary on the type of other requirements, such as whether students complete an internship or a capstone project.
Graduate Certificate
Earning a graduate certificate in geropsychology online provides students with additional knowledge and skills beyond that of a bachelor's or master's degree program. Students who complete a graduate certificate program may have an advantage over other applicants who apply for a position in geropsychology.
Thomas Edison State University indicates that it recognizes the need for skilled professionals who can provide services to aging adults. The Graduate Certificate in Geropsychology program provides students with the knowledge and skills to understand the complex psychological issues that adults face as they age and the legal and ethical issues facing aging adults.
Doctorate
A doctorate degree is a degree that most students earn when they want to work in the field of geropsychology. Doctorate degree programs educate students in the foundational competencies and the functional competencies needed for board certification. Students who enroll in a doctorate degree program in the geropsychology specialty learn to deliver services across a variety of settings, including inpatient and outpatient mental health, long-term care settings, and in medical settings.
Which Geropsychology Degree is Right for Me?
| | | | | |
| --- | --- | --- | --- | --- |
| | Bachelor's Degree | Master's Degree | Graduate Certificate | Ph.D. or PsyD |
| I am interested in gaining entry-level experience in geropsychology | x | | | |
| I want to get started in my geropsychology career before I pursue more education | x | | | |
| I want to pursue a non-patient-facing role in psychology | x | x | | |
| I want to pursue or switch to a niche geropsychology specialty | | x | x | |
| I already have a psychology degree and want to gain specialized knowledge | | | x | x |
| I want to conduct research in psychology | | x | | x |
| I want to become a licensed psychologist and treat patients | | | | x |
| I want to work in academia | | | | x |
Geropsychology Degree Program Curriculum
The Geropsychology degree curriculum focuses on courses related to aging and the mental health aspects of aging that are likely to affect older adults and their families.
Bachelor's: Bachelor's degree programs in psychology require the completion of around 120 credit hours of study. Sample courses include Psychology of Gender, and Memory and Cognition.
Master's: A master's degree in geropsychology usually requires around 36 credit hours of study. Students complete a capstone project or internship, in addition to examinations. Sample courses include Adult Development and Aging, and Geropsychological Assessment.
Graduate Certificate: Sample courses in a graduate certificate in the geropsychology program include Geropsychological Consultation, and Adult Development and Aging. The program usually requires about 12 credit hours of study.
Doctorate: Students who pursue a doctorate in geropsychology can expect the program to require up to five years to complete. The program usually requires about 120 credit hours of study. Students complete an off-site one-year internship and comprehensive exams.
Geropsychology Degree Program Clinical Requirements
Students complete clinical hours based on their geropsychology program and licensure requirements. The one-year clinical practicum and research obligations may require students to complete a sixth year before they complete the doctorate degree program. Because you'll be enrolled in an online program, you'll need to make sure these clinical hours can be completed within your own community.
List of Geropsychology Degree Programs
Looking for an online or campus-based applied geropsychology degree program near you? Browse our state-by-state school listings below.
Jump to Your State Listings
Colorado
Michigan
Missouri
North Carolina
Ohio
Oregon
South Carolina
Texas
Are we missing your school's program or need to update information listed? Please contact us so we can make the necessary changes.