Online Neuropsychology Degrees and Programs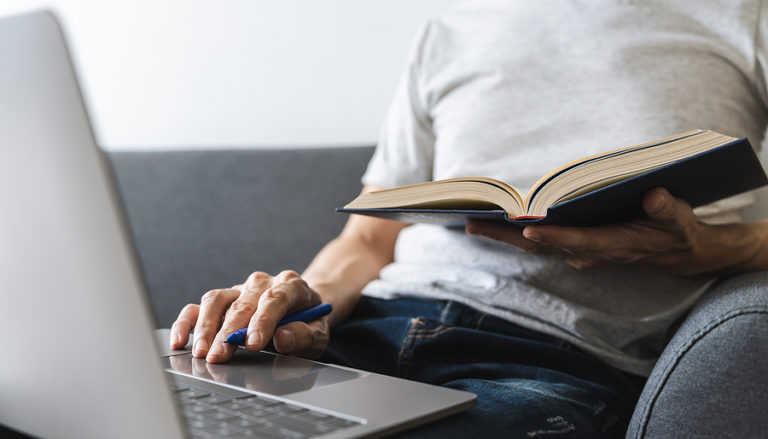 Neuropsychology combines the study of how the brain works and the physical structures that help generate and deliver thoughts and messages through the brain. This area of psychology sounds like it's a medical degree, and graduates usually find work in hospitals and labs, but the work is verbal instead of working with the body. To learn how you can become a cognitive neuropsychologist through a degree program, continue reading below.
Choosing the Right Online Neuropsychology Degree Program
Neuropsychology is a specialty field of psychology that requires a Ph.D. or Psy.D. and supervised experience before being able to work independently. It requires an average of 10 years of education in order to become a neuropsychologist and start contributing to research.
Alternatively, students can also earn their undergraduate degree in pre-med or biology and take psychology courses as part of their electives. A student needs to make sure that the online program they attend has accreditation regardless of the educational pathway they choose. Accreditation ensures that the education that's provided meets industry standards and that graduates receive an education that's accepted by governments and the public at large.
The American Psychology Association (APA) accredits all psychology programs at the graduate and doctoral levels, but not at the undergraduate level. Before applying to an undergraduate program in psychology or a related field, make sure that it's certified by a licensing body that's recognized by the Department of Education. Accreditation for undergraduate psychology programs is handled by the Higher Learning Commission or regional accreditation.
Bachelor's Degree
Students who are seeking to become a neuropsychologist are required to complete an undergraduate degree in neuroscience, psychology, or a related field. Earning a bachelor's in general psychology guarantees that a student can gain entry into a master's degree program for neuropsychology, as there are no degree programs that feature this concentration. However, a student may wish to take a degree program that introduces them to the field of neuropsychology through elective courses.
Master's Degree
In general, students aren't required to earn their master's degree in neuropsychology or a related field. Instead, a student can apply for their doctorate degree (Psy.D. or Ph.D.) after graduating with their bachelor's degree.
Doctorate
In order to work as a neuropsychologist, a student has to earn their Psy.D. or Ph.D. from an accredited program. A Ph.D. program focuses more on the psychological aspect of the neuropsychology field, whereas a Psy.D. qualifies a graduate to work in different clinical settings and in one-on-one settings with clients.
Which Neuropsychology Degree is Right for Me?
| | | | | |
| --- | --- | --- | --- | --- |
| | Bachelor's Degree | Master's Degree | Graduate Certificate | PhD or PsyD |
| I am interested in gaining entry-level experience in neuropsychology | x | | | |
| I want to get started in my neuropsychology career before I pursue more education | x | | | |
| I want to pursue a non-patient-facing role in neuropsychology | x | x | | |
| I want to pursue or switch to a niche neuropsychology specialty | | x | x | |
| I already have a neuropsychology degree and want to gain specialized knowledge | | | x | x |
| I want to conduct research in neuropsychology | | x | | x |
| I want to become a licensed applied neuropsychologist and treat patients | | | | x |
| I want to work in academia | | | | x |
Neuropsychology Degree Program Curriculum
The neuropsychology concentration begins at the doctorate level. The curriculum for undergraduate and master's degree programs depends on the degree concentration. Some of the courses included in an online neuropsychology degree program may include:
Neuropsychological Assessment
Functional Neuroanatomy in Neuropsychology
Basic Neurosciences Survey
Child Clinical Neuropsychology
Brain Asymmetry: Functional and Structural Differences Between Hemispheres
Cognitive Neuroscience of Memory and Perception
Bachelor's: 120 to 130 credits
Master's: 60 credits
Doctorate: 64 credits
Neuropsychology Degree Program Clinical Requirements
The clinical requirements for an online neuropsychology degree differ from school to school. However, students can expect a minimum requirement of 1,600 hours of clinical study as this is the number of hours required to sit for the Examination for the Professional Practice in Psychology (EPPP). Clinical hours are spent in on-campus clinics, affiliated hospitals, and laboratories.
Graduates are also required to complete one to two years of post-doctorate work in a residency, complete a dissertation based on their research, and complete a supervised internship before they can become licensed to practice as a neuropsychologist.
List of Neuropsychology Degree Programs
Looking for an online or campus-based neuropsychology degree program near you? Browse our state-by-state school listings below.
Jump to Your State Listings
Alabama
California
Colorado
Connecticut
Florida
Georgia
Illinois
Indiana
Iowa
Kansas
Michigan
Missouri
Nebraska
Nevada
New Hampshire
New Jersey
New York
North Carolina
Ohio
Pennsylvania
Rhode Island
South Carolina
Tennessee
Texas
Virginia
Wisconsin
Are we missing your school's program or need to update information listed? Please contact us so we can make the necessary changes.