Online Psychopharmacology Degrees and Programs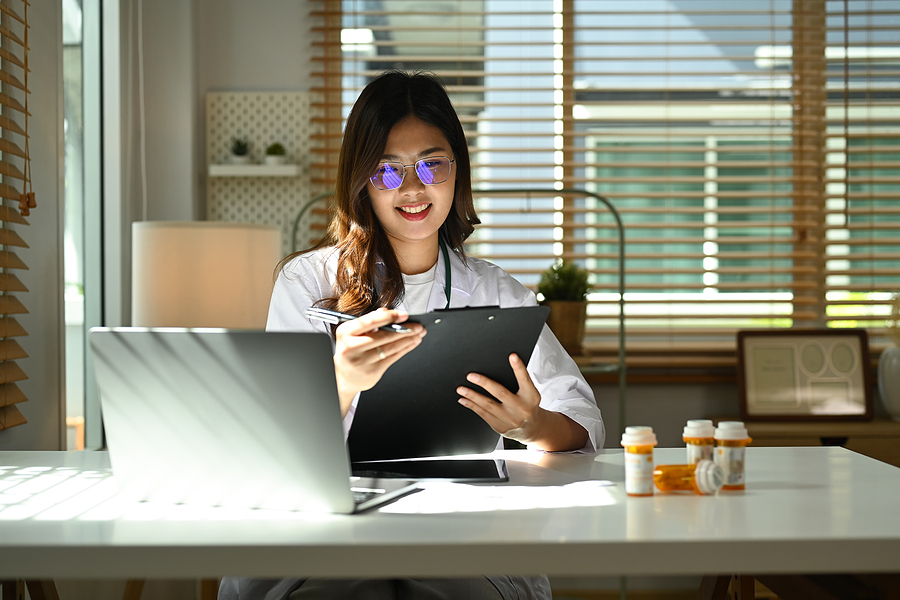 Psychopharmacology is a branch of psychology that focuses on the understanding of how medications help treat mental disorders of all types. The field requires a deep understanding of human biology, the effects of medication on the brain and body, and the chemistry of the body and medications.
A psychopharmacologist also has to show comprehensive knowledge of the mental disorder that's being treated prior to prescribing a medication. A psychopharmacologist can find themselves working in clinical settings, engaging in research, and treating clients in individual and group settings. 
Entering the field of psychopharmacology involves a lengthy educational process in order to obtain licensing and gainful employment. The process begins by earning an undergraduate degree, then entering into a master's of psychopharmacology degree program before moving on to a Ph.D. or PsyD program. It's also possible to earn a post-doctoral degree that bestows a second master's degree in psychopharmacology provided the student can qualify for a program. 
If you're interested in entering an online version of one of these programs, continue reading below.
Choosing the Right Online Psychopharmacology Degree Program
Psychopharmacology is a relatively new branch of psychology in comparison to the field of psychology as a whole. Prospective students need to make sure they pick a pharmapsychology degree program that's in alignment with their educational and career goals. Undergraduate psychology degrees are typically accredited by an institution that relates to the field of study, or features regional accreditation.
Post-graduate degree programs are accredited by the American Psychology Association to ensure that students get an education that's in keeping with the expectations of federal and state governments along with the public at large. Accreditation is also important for students who plan to use student loans to pay for their education as loans are not given to schools without accreditation.
Bachelor's Degree
There is no specific undergraduate degree program for psychopharmacology, and a general online psychology bachelor's degree is more than adequate for entry into a master's of psychopharmacology program. Students who wish to enter this field as a career may want to seek out a bachelor of psychology program that features a minor or understudy in psychopharmacology to prepare for their master's degree. Other undergraduate degrees that give students entry into the field include biology, neuroscience, bioinformatics, chemistry, health sciences, biostatistics, and pharmacology.
Just about any undergraduate degree program that teaches the understanding of mental and medical care can help a student gain access to an online master's degree in psychopharmacology. Always check with the schools of choice prior to starting classes to make sure that the degree is acceptable for a master's degree program. 
Master's Degree
An online master's degree in psychopharmacology introduces the student to the basics of the field. It takes two years on average to earn a master's degree, and some of the coursework includes classes such as Physiology/Pathophysiology, Neuroscience/Neuropharmacology, Biological Foundations of Psychopharmacological Practice, Clinical Pharmacology, Treatment Issues in Psychopharmacology, and more. 
Students may be offered the opportunity to work in clinical settings or develop a research paper, but most master's degree programs do not have a requirement for clinical hours.
Graduate Certificate
An online graduate certificate in psychopharmacology is available for post-master's students who wish to enhance their existing knowledge of psychopharmacology. The certificate provides a basic overview of the area of study and can be useful for students who want to learn more about psychopharmacology. 
Doctorate
Students can opt to earn a Ph.D. or PsyD in psychopharmacology. The psychopharmacology doctorate takes four to five years to complete and 3,000 hours of clinical practice are required for graduation and licensure. Students typically work in clinical settings on a weekly, part-time basis in order to fulfill the clinical requirements. The final year of education typically consists of completing the dissertation along with engaging in clinical internships.
Which Psychopharmacology Degree is Right for You?
| | | | | |
| --- | --- | --- | --- | --- |
| | Bachelor's Degree | Master's Degree | Graduate Certificate | Ph.D. or PsyD |
| I am interested in gaining entry-level experience in pharmacology | x | | | |
| I want to get started in my psychopharmacology career before I pursue more education | x | | | |
| I want to pursue a non-patient-facing role in psychology | x | x | | |
| I want to pursue or switch to a niche psychology specialty | | x | x | |
| I already have a psychology degree and want to gain specialized knowledge | | | x | x |
| I want to conduct research in psychology | | x | | x |
| I want to become a licensed psychologist and treat patients | | | | x |
| I want to work in academia | | | | x |
Psychopharmacology Degree Program Curriculum
An online psychopharmacology degree program differs from school to school, but students start taking psychopharmacology-focused classes at the master's degree level. Some of the classes at the master's degree level include:
Neuroscience
Biological Foundations of Psychopharmacological Practice
Neuropharmacology
Clinical Pharmacology
Treatment Issues in Psychopharmacology
Some of the classes at the doctoral level include:
Psychological Measurement
Advanced Psychopathology
Cognitive Assessment
Biological Bases of Behavior
Clinical Applications: Group Counseling
Principles and Methods of Assessment
Models of Psychotherapy
Typical credits required for each degree level are as follows:
Bachelor's: 120 credits
Master's: 30 credits
Graduate Certificate: 15 credits
Doctorate: 90 credits for Ph.D. and 130 hours for PsyD.
Psychopharmacology Degree Program Clinical Requirements
As previously mentioned, clinical hours are typically not required of master's degree students, but all schools differ in their requirements. On average, doctorate students need 3,500 hours of supervised practice in order to graduate and earn state licensure. An additional 400 practicum hours are also required but do not count towards the 3,500 hours for licensure. All states vary in their clinical hour requirements, but students can expect to engage in an internship of 1,750 hours at a minimum, with the remaining hours fulfilled under supervision. Upon completion of the required hours, students will graduate with their doctoral degree, sit for the Examination for Professional Practice in Psychology (EPPP), and go on to apply for licensure in their state of residence. 
Should you need or want to enter into an internship for your online psychopharmacology master's program, check to see what options are available for you to complete internship hours within your own community.
List of Psychopharmacology Degree Programs
Find an online or campus-based degree program in Psychopharmacology today – our state-by-state listings make it easy to find a great program near you.
Jump to Your State Listings
California
Illinois
New Mexico
Las Cruces
,
NM
(575) 646-3121
Are we missing your school's program or need to update information listed? Please contact us so we can make the necessary changes.