How to Become a Vocational Rehabilitation Counselor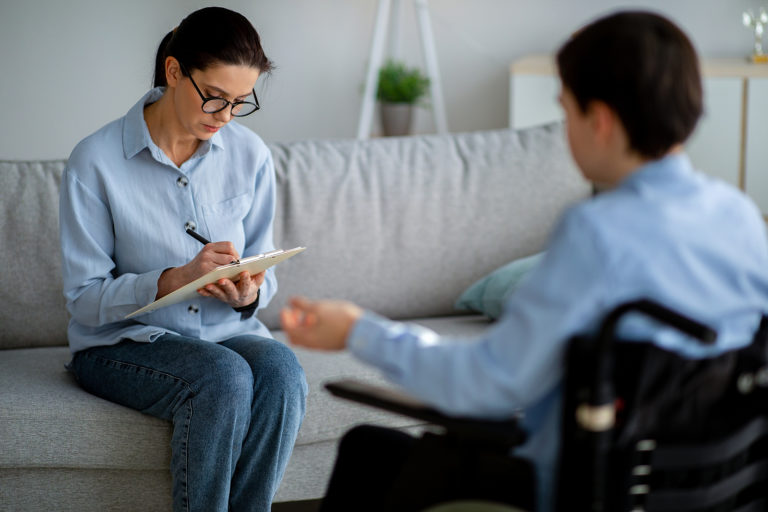 Vocational rehabilitation counselors provide services to people who were born with cognitive or physical impairments or people who have experienced injuries. They help people to evaluate their options for employment and help them develop their employment skills.
Completing education requirements and other requirements is likely to open doors for employment in vocational rehabilitation counseling for people who want to enter this career field.
Step 1: Complete a Vocational Rehabilitation Counselor Degree
Earning a degree in vocational rehabilitation counseling is an important step towards becoming a vocational rehabilitation counselor. It is the responsibility of the student to know the education requirements for their state and for any agency where they wish to apply, or another potential employer.
Students need to make sure that a vocational rehabilitation counselor program that they enroll in is an accredited program. Many employers do not consider education from a non-accredited college or university. 
Associate's Degree: Students are not likely to find a vocational rehabilitation counselor program at the associate's degree level. Many students enroll in a psychology degree program or a closely related program.
Bachelor's Degree: Enroll in a vocational rehabilitation counselor bachelor's degree program to gain the skills to become a vocational rehabilitation counselor. Many colleges and universities offer a bachelor's degree in vocational rehabilitation counseling. The school may have a similar name for their program, such as a Bachelor of Science in Rehabilitation Services. Students should make sure that the program meets the requirements of their state or the agency where they want to work. 
Master's Degree: Students who want to have a great opportunity to work in vocational rehabilitation counseling are likely to earn a master's degree. The school where a student plans to attend may have a variation in their program name. Earn a Master's in Rehabilitation Counseling to gain skills such as counseling interview skills, career counseling, theories and techniques in rehabilitation counseling, assessment, and trauma and crisis intervention. Students are likely to have to complete an internship, practicum, or other field experience. Students often have the option of choosing a traditional on-campus program or an online program. Some programs offer a Master's in Rehabilitation Counseling with Licensure Eligibility program. 
Graduate Certificate: A graduate certificate in vocational rehabilitation counseling program focuses on training students who work in a variety of career fields. Vocational rehabilitation counselors, behavioral counselors, occupational therapists, and psychologists may enroll in a graduate certificate vocational rehabilitation counseling program. Learn to apply leading learning technologies and gain hands-on experience while enrolled in a graduate certificate program. 
Doctorate Degree: Earning a Ph.D. in vocational rehabilitation counseling prepares students to work as rehabilitation counselors, vocational rehabilitation educators and administrators. The program is likely to combine theory and advanced practice in vocational rehabilitation counseling. Students gain research and publication skills, grant writing and grant management skills and teaching skills. Doctoral program students complete a capstone project. 
Step 2: Become Licensed as a Vocational Rehabilitation Counselor
Vocational rehabilitation counseling is not as heavily regulated as some other counseling professions. Students complete several steps to become licensed as a vocational rehabilitation counselor. 
Internship/Practicum experience
Most vocational rehabilitation counselor programs have an internship or practicum that students are required to complete to earn their degree.
Bachelor's degree – Students often complete an internship at a career center, vocational center, agency or a health center. 
Graduate certificate – Students complete fieldwork experience when they are enrolled in a graduate certificate program in vocational rehabilitation counseling 
Graduate degree – Graduate students complete a practicum or a project where they gain hands-on experience working with clients in a variety of settings 
Practice hours vary and some degrees may require more than 2,000 hours of clinical practice
States may have specific internship requirements which students need to know before enrolling in a degree program
Examination
The Commission on Rehabilitation Counselor Certification (CRCC) offers certifications for people who want to have a commitment to themselves and to their vocational rehabilitation clients.
The certification helps to distinguish the certified vocational rehabilitation counselors from those who do not have certification.
The types of certifications include:
Certified Rehabilitation Counselor (CRC) 
Certified Vocational Evaluation Specialist (CVE) 
Certified Rehabilitation Leader (CVL)
State Requirements
Students need to know the state requirements for vocational rehabilitation counselors in the state where they want to practice. Some states may require certification, while others require only the completion of a certain degree.
Knowing the federal and government agency requirements for working as a vocational rehabilitation counselor is important for students who plan to work for federal agencies.
Step 3: Apply for a Vocational Rehabilitation Counselor Job
Apply for a job at specific employers or the types of agencies or facilities where you want to practice.
What Careers Can I Pursue with a Vocational Rehabilitation Counselor Degree?
Students who earn a vocational rehabilitation counselor degree have a variety of career options, which include:
Vocational rehabilitation counselor 
Community and vocational rehabilitation services professional
Vocational rehabilitation counselor educator
Where Can I Work With a Vocational Rehabilitation Counselor Degree?
Vocational rehabilitation counselors practice in a variety of work settings. Some examples include:
Federal agencies such as the Department of Veterans Affairs (VA)
Inpatient or outpatient rehabilitation centers
Industrial health settings
Step 4: Learn about Vocational Rehabilitation Counselor Salaries
The site Salary.com revealed that the 2022 median salary for vocational rehabilitation counselors was $73,649. The salary range in the U.S. was between $64,329 and $84,585. Salary depends on factors such as the job location and work setting.
The Bureau of Labor Statistics (BLS) expects a "much faster than average" job growth for vocational rehabilitation counselors.