Online Applied Psychology Degrees and Programs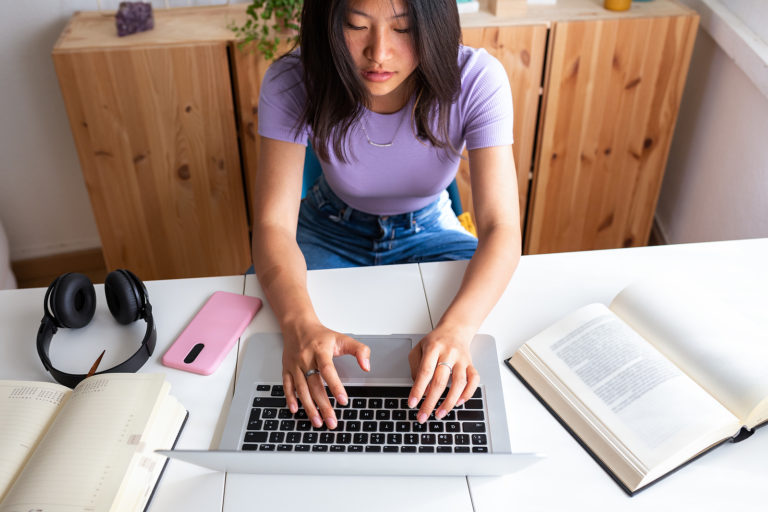 The field of applied psychology is wide, and many career pathways are available. With a degree, you can do anything from patient counseling to offering marketing advice. In its most general terms, it involves applying the principles of psychology to real-world situations rather than simply generating more research papers.
Choosing the Right Online Applied Psychology Degree Program
You will find that there are plenty of online options available for applied psychology degrees, as well as traditional in-person possibilities. Jobs in psychology-related fields open up as soon as you get your bachelor's degree, but it's the master's and doctorate that will give you more traction when it comes to specializing.
No matter which program you choose, make sure it is accredited. This ensures that your diploma will be respected by employers and any university program you wish to transfer to. Licensing boards, where applicable, also demand that your degree come from an accredited program. For psychology degrees, the top accrediting agency is the American Psychological Association.
Bachelor's Degree in Applied Psychology
This is typically a four-year program, but the true time may be shorter or longer depending on how many courses you take every year, and how flexible your online program is. A program for applied psychology will have more classes on how to actually use psychology in a variety of real-world situations than would be found in a general psychology program. It will open doors to jobs in the field of psychology, but these positions will tend to be more general. Bachelor's-level jobs also pay less than those open to people with a master's degree or greater.
Many bachelor's degree programs are available that are completely online, which can make them available to people who aren't able to attend traditional classes.
Master's Degree in Applied Psychology
Here is where your employment opportunities start to get interesting. With this degree, which takes between two and four more years to get, you can be hired to help with marketing campaigns, to evaluate public programs, to analyze issues surrounding social media, and more.
Several universities offer online-only master's degree programs, though there are likely fewer of these than there are bachelor's programs.
Doctorate Degree in Applied Psychology
These degrees are available in both Ph.D. and PsyD formats. Ph.D. programs are geared towards those who wish to continue into academia, while the PsyD is better for people interested in clinical practice or other real-world positions. Most states require a doctorate degree from an accredited program for licensure. Clinical experience, or practicum time, is also typically required. Most if not all universities will provide this experience as part of their doctorate programs. The time needed for a license ranges from 1,500 hours all the way to 6,000 hours, so check with your state to see how much will be required there. Then, make sure your prospective university's program covers it.
Which Applied Psychology Degree is Right for You?
| | | | | |
| --- | --- | --- | --- | --- |
| | Bachelor's Degree | Master's Degree | Graduate Certificate | Ph.D. or PsyD |
| I am interested in gaining entry-level experience in applied psychology | x | | | |
| I want to get started in my applied psychology career before I pursue more education | x | | | |
| I want to pursue a non-patient-facing role in applied psychology | x | x | | |
| I want to pursue or switch to a niche psychology specialty | | x | x | |
| I already have a psychology degree and want to gain specialized knowledge | | | x | x |
| I want to conduct research in applied psychology | | x | | x |
| I want to become a licensed applied psychologist and treat patients | | | | x |
| I want to work in academia | | | | x |
Applied Psychology Degree Program Curriculum
Courses in applied psychology are, as the degree's name implies, focused mostly on the ways psychology can be applied in the real world rather than just the theories involved. At the bachelor's level, you'll also have to take a variety of courses in subjects like math, history, and English.
Bachelor's Degree: It typically takes 120 credits to get a bachelor's degree. These credits are usually earned by taking 15 credits worth of courses each fall and spring, which will add up to 120 after four years. However, you can usually vary how many credits you take per semester, and thereby alter the standard timeframe.

Master's Degree: Some schools offer master's degrees with just 30 credit hours beyond a bachelor's, but that doesn't make it a one-year program. Instead, it takes between two and four more years thanks to the requirements for theses or dissertations.

Doctorate Degree: There are both PsyD and PhD versions of this degree, though not all universities offer both. Normally, the PhD is sought after by people who want to go into research or academia, while the PsyD is chosen by those who want to go into clinical practice. The credit-hour requirement is misleadingly low, with the high 80s or low 90s being typical. However, the main work of getting a doctorate lies in its requirements for a dissertation and many hours of practicum experience.
Applied Psychology Degree Program Clinical Requirements
The requirements vary depending on the degree level, with a bachelor's typically not requiring any, and a doctorate needing at least 1,500 and sometimes much more. State regulations strongly influence the hours needed at the doctoral level because the school will try to match the hours demanded by the state licensing board.
Clinical practice hours are gained under the supervision of a licensed practitioner and offer increasing independence as time goes on. This makes it so that someone who gets a license has at least some experience right from the start. When it comes to online programs, clinical hours can often be performed in the student's local area.
List of Online & Campus-Based Applied Psychology Degree Programs
Looking for an online or campus-based applied psychology degree program near you? Browse our state-by-state school listings below.
Jump to Your State Listings
Alabama
Arizona
California
Colorado
Florida
Georgia
Illinois
Iowa
Kentucky
Louisiana
Maryland
Massachusetts
Michigan
Missouri
Nevada
New Jersey
New York
Ohio
Oregon
Pennsylvania
Rhode Island
South Carolina
South Dakota
Texas
Utah
Virginia
Wisconsin
Are we missing your school's program or need to update information listed? Please contact us so we can make the necessary changes.