How to Become a Military Psychologist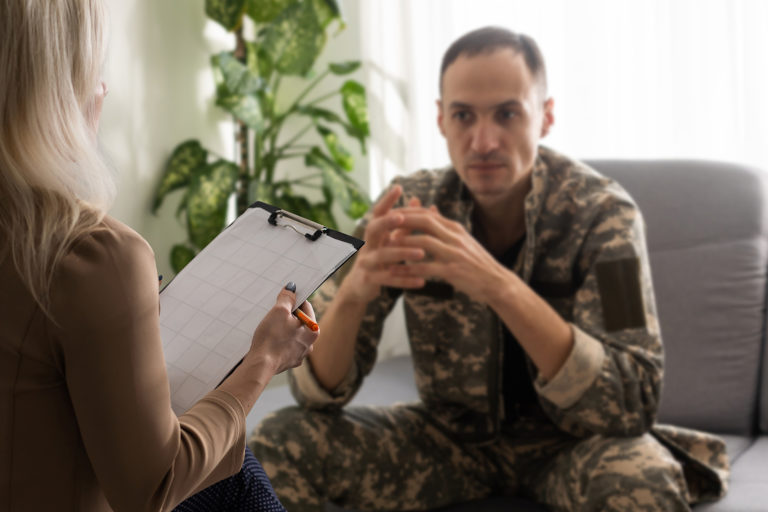 For both military personnel and their loved ones, weeks, months, and years of military service can often result in emotional and mental stress. Wars and conflicts have a significant impact on both thinking and actions. In fact, according to research, the majority of enlisted women and men suffer from mental conditions, emotional disturbances, or both.
Soldiers and their families are the only focus of the particular area of psychology known as military psychology, a branch of industrial-organizational psychology. Work in military psychology can include conducting psychiatric assessments, identifying and treating emotional and mental illnesses, and providing counseling services.
Step 1: Complete a Military Psychology Degree
The same degree is needed to become a psychologist in the military as in the civilian sector. This translates to a four-year bachelor's degree in general psychology, clinical psychology, or general psychology being required to enter the military psychology field.
Graduate degrees in psychology are also necessary for those seeking to become military psychologists. Both conventional universities and certain military colleges provide qualifying master's and doctorate (Doctor of Philosophy in Psychology [Ph.D.] or Doctor of Psychology [PsyD]) programs. The U.S. military often pays the tuition and living costs for graduate students who opt to attend military colleges throughout their time in training for this field. Note, however, that it's not necessary to attend a military school to work in the armed forces.
Step 2: Become Licensed as a Military Psychologist
A military psychologist is a licensed psychologist who works mainly with military people, either as a civilian or as a member of a military organization. Military-focused psychologists may work in research or practice, but they must be particularly sensitive to the demands of the military in both instances. A psychologist working with the military must have the same education as a civilian psychologist, with extra training.
Internship / Practicum Experience
Prior to beginning their careers in military psychology, students are often obliged to undergo an internship in a branch of the armed forces after receiving a Doctor of Philosophy in Psychology (Ph.D.) or Doctor of Psychology (PsyD) degree. The internship will typically last a year, and the student will choose the particular branch of the military in which they want to work. During this internship, a military psychologist often consults with both veterans and active-duty personnel to make sure they can manage the aftereffects of serving in the military. Every military branch emphasizes a distinct set of services, although they all require some kind of practical training. It's common for the military to require a certain number of years of service in exchange for this type of schooling. Still, military psychologists can be enlisted officers, or they can be civilian psychologists who simply work with the U.S. armed forces.
Military psychological research strives to maintain the military's overall effectiveness. An organization can increase cohesiveness and attention by implementing regulations that keep soldiers healthy by having a psychological knowledge of how people function within the military. A researcher's exact studies will rely on the demands of the military at a particular moment, but it will always include testing hypotheses and researching the psychological circumstances that are in force at that time. A large portion of a researcher's work often entails presenting results in such a manner that they may be used for the development of new military policy.
Examination
While there's no specific standardized examination for individuals who desire to work as military psychologists, most legitimate jobs in this field require advanced degrees and/or internships and practical experience, as outlined above. To become licensed as a psychologist in general, candidates must complete a doctorate degree and take the Examination for Professional Practice in Psychology and follow any state requirements.
State Requirements
Aspiring military psychologists must follow their state requirements in order to become licensed. These can vary by state, so it's a good idea to check the Board of Psychology website for your state in order to follow the guidelines.
Step 3: Apply for a Military Psychologist Job
Military psychologists must be able to communicate with the varied members of the organization they represent, since service members may willingly seek out a psychologist for therapy when they're experiencing challenging emotional issues.
The U.S. Bureau of Labor Statistics (BLS) says that overall, employment of psychologists is anticipated to expand as much as 3% from 2019-2029, although it doesn't specifically provide data for military psychologists.
What Careers Can I Pursue With a Military Psychology Degree?
A psychologist who works in the military may consult with service personnel, provide guidance when necessary, and suggest either a leave of absence or therapy. Post-traumatic stress disorder (PTSD) symptoms in military personnel are assessed by certain military psychologists.
Where Can I Work With a Military Psychology Degree?
Military psychologists may be employed wherever military personnel is. These settings can include:
• Military clinics
• Hospitals
• Government research institutions
• Military installations, including bases.
During times of conflict, military psychologists may also accompany soldiers abroad. These combat-stress deployments often offer mental health treatments while staying close to soldiers in or within a conflict zone.
Step 4: Learn About Military Psychologist Salaries
Industrial-organizational psychologists, which includes the category of military psychologists, earned an average yearly salary of $105,310 in the U.S. as of 2021, according to the BLS. Industrial-organizational psychologists' median annual wages, according to the BLS, range from $72,640 in Massachusetts to $123,090 in California, which are states with the greatest employment levels in this profession. Incentive pay, special pay, board-certification money, and other compensation are not included in these figures; they instead merely reflect basic earnings. Military psychologists in the U.S. Army and U.S. Air Force generally earn more than those in the U.S. Navy.
The greatest opportunity for military psychologists to increase their compensation is often to advance their knowledge and abilities in a specific area of psychology, which results in promotions or higher pay. Employers often consider military psychologists' expertise in law, ethics, and/or specific knowledge of a legal situation. In a legal environment, psychologists who have taken courses in evidence analysis, dispute resolution and negotiation, or decision-making skills and judgment may be more valuable to an employer and make such psychologists eligible for a pay raise.
In a hospital or school context, advanced training might be helpful. Those who pursue board certifications will get qualifications that may raise their market worth. Numerous certification specialties are available from the American Board of Professional Psychology (ABPP), including counseling psychology, rehabilitation psychology, and others.