How to Become a Psychometrician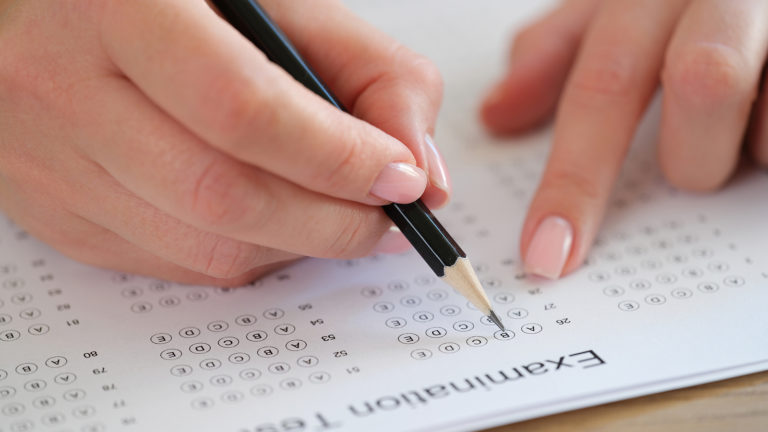 A psychometrician supports psychologists by administering psychological or neuropsychological tests. They practice in the science of psychological measurement. Psychometricians may work in the background without much interaction with colleagues. They may work in positions that have a more hands-on approach, which allows for more interaction with colleagues and other people.
Some duties of the psychometrician include identifying proper testing methods, creating tests using a variety of formats, administering tests, managing testing systems, researching the process and implementation of testing to make it more accurate, and sharing reports with psychologists and neuropsychologists. They also stay up to date on advancements in their field.
The psychometrician follows an educational path and other requirements to have a successful career.
Step 1: Complete a Psychometrician Degree
Completing the required education is the first step toward becoming a psychometrician. Some degree levels may not have a specific psychometrician degree. Students earn a similar degree, which will help them in their professional pathway.
Associate's Degree – A two-year degree that will provide a rudimentary education for the budding psychometrician.
Bachelor's Degree – A four-year degree that will provide basic knowledge for a psychometrician.
Master's Degree – Psychometricians typically fall somewhere in this degree range, though a bachelor's degree or doctorate-holding psychometrician is not uncommon. You will need a bachelor's degree and an additional two years of study.
Graduate Certificate – Though not a degree, there may be graduate certificates that provide some more detailed insight into your studies. A graduate certificate will take you a year or less to accomplish.
Doctorate Degree – The highest level of degree a psychometrician can hold. It will take either a bachelor's degree or master's degree, three to six years of study, and some time working as an intern.
Step 2: Become Licensed as a Psychometrician
Completing all the requirements to become a psychometrician provides students with the best opportunities to start their careers and to have opportunities for advancement. Many educational programs and career fields require passing a licensure exam to work in the field.
Internship/Practicum
Students are likely to have a requirement for an internship to graduate with a bachelor's degree. Students who enroll in a master's degree program or a doctorate degree program are also required to complete an internship or practicum experience.
Examination
There is no specific licensure required to become a psychometrician in the U.S. Some other countries and jurisdictions require that students pass a licensure exam.
If you see a site advertising a psychometrician licensure exam, make sure that the site is based in the United States.
State Requirements
There are no uniform state requirements to become a psychometrician. Students need to check with professional organizations or career counselors at their school to determine if there are additional requirements to work in the state where they want to practice as a career psychometrician.
Make sure to note that requirements may be different between the state where a student plans to work and the requirements for a student's listed state of residency.
Step 3: Apply for a Psychometrician Job
Some students get a job as a psychometrician as soon as they earn their bachelor's degree. Students who wait until they complete a master's degree program or a doctorate program are more likely to get the best psychometrician jobs.
What Careers Can I Pursue with a Psychometrician Degree?
Psychometricians are very knowledgeable and have the skills necessary to work in their specialized field. Students may find success by choosing a career as a psychometrician immediately after earning their degree. Some other students are likely to find that they need to start their career in a similar field.
Similar career options include:
Working for testing companies
Conducting ongoing statistical research
Working as a consultant or an advisor
Designing tests for educational institutions and organizations
There are a variety of other careers available for students who have a degree that can help them in their desire to become a psychometrician.
Where Can I Work with a Psychometrician Degree?
Psychometricians gain career employment in a variety of settings. Some places where psychometricians work include:
Hospitals or other medical facilities
Private psychological practices
Step 4: Learn about Psychometrician Salaries
According to the Bureau of Labor Statistics, the average salary for a psychometrician depends upon where a psychometrician is in their career. A person who started a job this year is likely going to make less than someone who is a mid-career or advanced-level psychometrician. Some areas of the country differ in the average salary that psychometricians earn each year when compared to other areas.
Payscale lists the average base salary for psychometricians as $80,626 a year. Psychometricians with several years of experience may earn more than $100,000 a year.