How to Become a Biogerontologist
A biogerontologist is a person who researches the aging process. The biogerontology discipline is a sub-field of gerontology. Gerontology focuses on why and how we age and tries to find a way to slow down the aging process. Biogerontology focuses on the biological reasons behind aging. For example, biogerontologists study the influence of genetics on aging, as well as how the environment and lifestyle affect the aging process.
Biogerontologists work mainly in research. They do not work directly with patients and do not provide therapy. They may choose a specialty, like studying Alzheimer's disease or another chronic disease like Parkinson's, and the effect the disease has on aging. The idea is that if a cure can be found for these diseases, the lifespan of humans can be increased.
Most biogerontologists have doctorate degrees, although it is possible to find jobs in the field after earning a master's degree.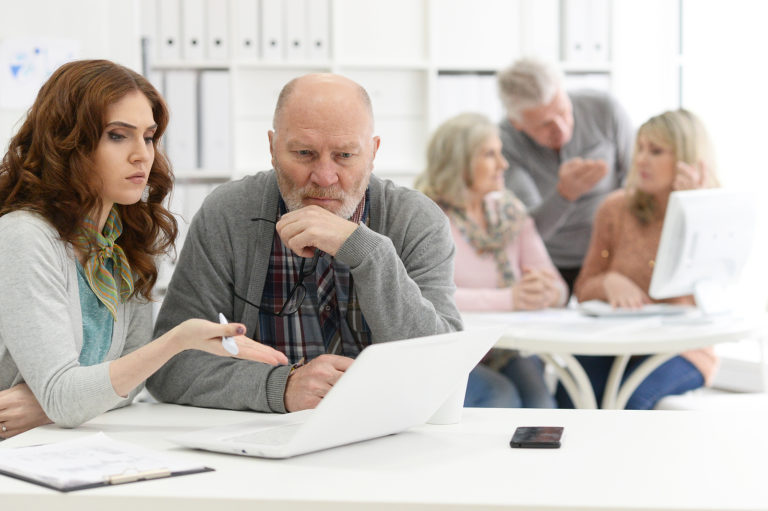 Step 1: Complete Your Degree
To become a biogerontologist, you must ultimately earn your doctorate degree in biogerontology. There are educational steps you can take along the way to your final degree.
Associate's Degree – You can begin your education with an associate's degree in biology, chemistry, or another science-oriented degree. You may find a job as an assistant in a gerontology research laboratory but if you want to be a biogerontologist, you will have to continue your education.
Bachelor's Degree – A bachelor's degree in a psychological or scientific field can lead you to a career as a biogerontologist. Take coursework in biology, microbiology, chemistry, biochemistry, and genetics. Some schools offer a bachelor's degree in gerontology. It will take you four years of full-time study to earn your bachelor's degree. This degree qualifies you to work as an assistant in a biogerontology laboratory but to be a biogerontologist you must earn, at a minimum, a master's degree.
Master's Degree – A master's degree in gerontology, genetics, biogerontology, psychology of aging, or another related field qualifies you to work in a biogerontology research laboratory. It will take you from one to three years to earn this degree, depending on whether you go to school full or part-time. There are careers available for you to work as an assistant in gerontology or biogerontology research laboratories with a master's degree, but to call yourself a biogerontologist and conduct your own research, or to be in charge of research projects, you need a doctorate degree.
Doctorate Degree – A Ph.D. in biogerontology qualifies you to be a biogerontologist. This generally takes between three and five years after you earn your master's degree. As a biogerontologist, you can conduct your own research or be in charge of research that is being conducted by others. Although biogerontologists do not treat patients, some people earn M.D. degrees and focus on researching the aging process and become biogerontologists. It takes four years of full-time study after a bachelor's degree to earn an M.D. degree. There may be additional educational requirements before a medical doctor can be a biogerontologist.
Graduate Certificates – A graduate certificate in biogerontology alone won't be enough to become a biogerontologist, but enrolling in a graduate certificate will allow you to gain a little extra insight into the field, and will give you some leverage when it comes to applying for positions as a biogerontologist. It will take between six months and one year to complete.
Step 2: Is Licensing Required for Biogerontology?
Since biogerontologists work in research and do not have direct patient contact, there are no state licensing requirements. Earning a Ph.D. in biogerontology is the only qualification for finding employment as a biogerontologist.
Step 3: Apply for a Biogerontology Job
Biogerontology is a research-based career, so the places where you can work with such a specialty degree include:
Private and government-funded research facilities.
Universities.
Hospitals.
Hospice care centers.
Homes for the elderly.
Pharmaceutical companies.
Cosmetic companies.
Biogerontologists develop and manage research projects. They may be exposed to toxic substances. The nature of the career requires them to be very precise in their work, detail-oriented, and persistent. All research is directed at helping people live longer and live better lives.
Step 4: Learn About Biogerontology Salaries
The U.S. Bureau of Labor Statistics (BLS) provides information about the educational requirements and earnings of hundreds of careers. Unfortunately, it provides essentially no information about biogerontologists.
Some sources report that the average salary of a biogerontologist is between $60,000 and $100,000 annually. Those who work for pharmaceutical companies generally earn more than those who work in privately funded research centers.
Opportunities are expected to grow as baby boomers age, and as research is successful and people begin living longer.