How to Become a Cognitive Neuroscientist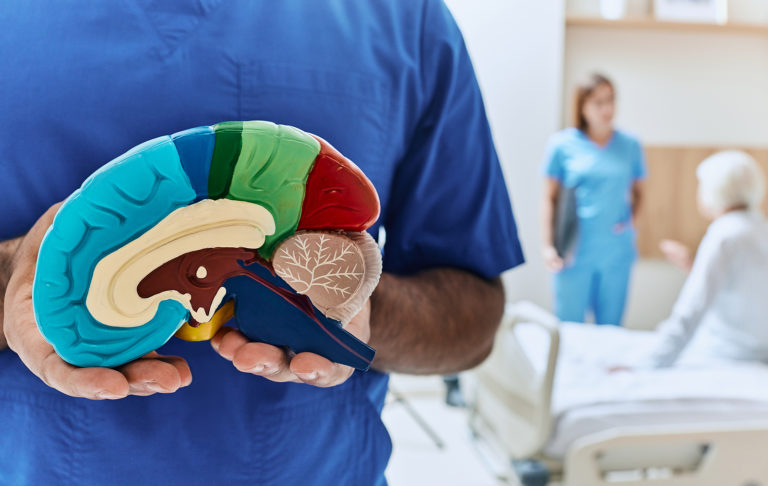 Are you curious about how the mind processes information? Well, if so, you might make a great cognitive neuroscientist. This is a career field that specializes in the study of the brain and mind in the human species. The role of a cognitive neuroscientist is to learn more about how neurons work for processing information.
As a cognitive neuroscientist, your job also involves learning about human communication and how to communicate using language. Take a moment and find out what it takes to become a cognitive neuroscientist with this handy guide.
Step 1: Complete a Cognitive Neuroscientist Degree
In order to become a cognitive neuroscientist, you will need to pursue higher education than what is achieved at high school. Post-secondary schools, including colleges and technical schools, will provide you with the training you need for this field of science.
Associate's Degree – An associate's degree is not offered at this level of science.
Bachelor's Degree – A bachelor's degree in neuropsychology requires at least four years and covers the basics, but does not cover the minimum requirements of becoming a cognitive neuroscientist
Master's Degree – A master's degree in neuropsychology is the minimum requirement for most cognitive neuroscientists, and takes one to three years, following a bachelor's degree
Graduate Certificate – A graduate certificate in neuropsychology requires less than a year, and focuses more on field experience rather than research; this may not meet the minimum requirements for the field you're applying for
Doctorate Degree – A doctorate in neuropsychology is the typical attainment for a comparative psychologist that leads to a Doctorate of Psychology (PsyD) degree or a medical school degree for a Doctor of Philosophy (Ph.D.), and typically takes four to six years
Step 2: Become Licensed as a Cognitive Neuroscientist
The typical pathway to becoming a cognitive neuroscientist after acquiring a degree is to seek a license, typically a psychology license. However, depending on the field of specialization that you are in with cognitive neuroscience, you may be eligible for other types of professional licensing.
In order to get licensed, you will need to apply with either the state health department or the state department of psychology. If your goal is to enter the workforce as a psychologist, you will need to get a license from the state psychology board. Additionally, if you are pursuing a career as a medical doctor, you will need to be licensed by the state medical board, such as the Oregon Medical Board.
Internship / Practicum Experience
Required by certification and licensing boards to prove in-person experience as a cognitive neuroscientist, and involves supervised and guided learning opportunities
Applies to most places of practice, i.e., hospitals, government clinics, health departments, private offices, etc., and may lead to a future employment offer post-graduation
Typically requires a few weeks to a few months of commitment
Examination
Certification board exams provide feedback and testing for candidates in the field and are required for most medical or psychological employment opportunities in cognitive neuroscience
Typically takes around four hours to complete and requires a scaled score of 500
State Requirements
Examinations and certifications are required by state governments for cognitive neuroscientists
Each state has a unique licensing and certification requirement
Fees must be paid with the application for a cognitive neuroscience license, typically $600
Step 3: Apply for a Cognitive Neuroscientist Job
Prepare for your first job as a cognitive neuroscientist once you have earned a degree in the field. After you have received licensing and/or certification as a neuroscientist studying cognitive behavior in humans, it's time to put those skills to the test. Find a job as a cognitive neuroscientist by researching eligible employers.
Students of cognitive neuroscience generally are scouted by potential employers while they are in college or technical school. Employers that are interested in this high level of thinking and expertise will also generally work with interns.
Here's why it's important to provide free labor through interning – you might be able to get a well-paid position because of the opportunity. At the very least, you can add this to your resume when you apply for a cognitive neuroscientist job in your state.
What Careers Can I Pursue With a Cognitive Neuroscientist Degree?
Medical doctor specializing in cognitive neuroscience
Behavioral health specialist
Research and development consultant
College professor or scholar
Computational neuroscientist
Nurse in the mental health field
Author on topics of cognitive neuroscience
Where Can I Work With a Cognitive Neuroscientist Degree?
Hospitals and health clinics
Research and marketing firms
Lab development companies
Sports arenas for professional teams
Computer software developers
Step 4: Learn About Cognitive Neuroscientist Salaries
A cognitive neuroscientist salary, according to Salary.com, is based on a range from $76,679 to $103,012. The average salary for neuroscientists is $78,873 a year. This is based on the national average for US neuroscientists specializing in cognitive behavior.
For a state level salary, for example, take a look at Portland, Oregon. In this northwestern state, the average salary for a cognitive neuroscientist is $91,099. This is according to a range that goes from $79,606 to $106,945 a year.
Based on this information, there are some differences in how much you can make based on where you live. However, the only way to grow up from this base level salary is by advancing your degree or training as a neuroscientist.
How does a cognitive neuroscientist's salary stand against a psychologist salary? The average pay for a psychologist in the US is $81,040 a year. This is on the same level as a cognitive neuroscientist.