How to Become a Neurologist
Neurologists treat diseases related to the brain, spinal cord, and peripheral nerves. This particular field of medicine requires extensive training in both academic and clinical work. If you want to work in the field, here's how to become a neurologist.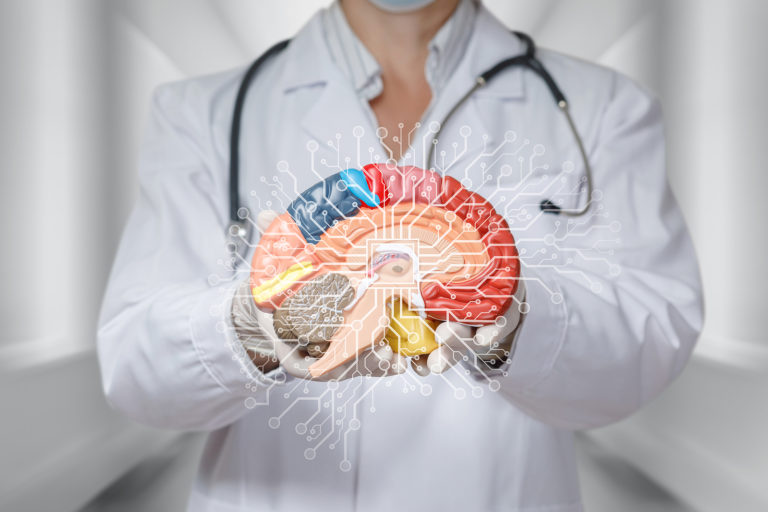 Step 1: Complete a Neurologist Degree
The academic requirement for neurologists is a medical school degree. Obtaining this requires both a bachelor's degree and a doctorate degree:
Bachelor's Degree: A bachelor's degree is the standard undergraduate degree that's a prerequisite for any graduate studies (including medical school). Bachelor's programs are four years long if you study full-time. You can apply to medical schools with any bachelor's degree, but you'll need certain natural sciences courses (e.g. Chemistry, Biology, Physics). Oftentimes, neurologists will get a bachelor's in general psychology or neuroscience.
Doctorate Degree: Medical doctors are required to have a doctorate degree in medicine before they can be licensed. Both medical doctor (M.D.) and doctor of osteopathic medicine (D.O.) degrees meet the doctorate requirement for physicians. Medical school lasts four years. The bulk of the first two years is classroom work, while the latter two years are spent mostly in clinical rounds.
Your medical school application will be extensive. Part of the application requires you to sit for the Medical College Admission Test (MCAT). This is usually done during the junior year of a bachelor's program.
Step 2: Become Licensed as a Neurologist
Medical school only fulfills the academic requirements for medical licensure. You'll also have to complete additional clinical work and pass at least one licensing exam.
Neurologist Residency
Medical doctors complete a residency in their chosen specialty after medical school. The process of applying to residency programs is done in your last year of medical school. It involves interviews, essays, transcripts, and more.
You then select your preferred residencies, and find out where you'll be going during "Match Week." All accepted residents learn where they'll be going during this one week in the spring.
Residency programs for neurologists are three years long, which is one of the shorter residencies. Should you choose to become a neurosurgeon, however, the length doubles to six years. That's one of the longest residencies.
State Licensing Requirements for Medical Doctors
All doctors must be licensed within the state where they practice medicine. Licensure isn't specific to neurology, but rather involves the general information you've learned during medical school.
Most residents apply for licensure within the first year of residency. The application requires submitting your medical degree and other materials and passing a state medical license exam. You'll have to follow the specific licensing requirements of the state where your residency is located.
Once licensed, you usually don't have to retake a licensing exam if relocating between states. Most states have reciprocity agreements with one another. Again, however, check for any specific requirements of the state where you're moving to.
Optional Narcotics License
Narcotics are controlled substances that require a special license to prescribe. The license normally doesn't involve another exam, but rather submitting information and passing a background check. Licenses are issued at the state level, and applications again can vary some.
Although a narcotics license isn't required to practice medicine, you should plan on getting this license. Neurologists need it to prescribe the advanced pain medications that many patients need, especially when addressing spinal cord pain.
Board Certification for Neurologists
Physicians aren't technically required to become board certified, but you also should plan on this step. Board certification ensures that a medical doctor isn't just qualified to practice medicine in general, but has knowledge specific to their specialty.
Employers will hire you shortly after residency if you don't have board certification, but you won't be able to sustain a neurology career without it. Initial employers will expect you to pass the boards shortly after being hired. Future employers will require that you're certified.
Neurologists may be board certified by several different professional organizations. You might want to be certified by one or more of the following:
Each board will have its own certification process. Expect to sit for both an oral exam and a written exam. Most physicians complete their board certification in the months following their residency program.
Clinical Requirements and Examinations of Neurologists
In summation, your post-medical school qualifications will involve the following:
Residency (three-six years)
State medical licensing exam (during the first year of residency)
Board certifying exam (during the months following residency)
Step 3: Find a Neurology Job
Neurologists can find employment in several different healthcare realms, performing a variety of neurological services.
What Careers Can I Pursue With a Neurology Degree?
A neurology degree can prepare you for work in many different subspecialties. You might choose to focus on:
Neural repair and rehabilitation
There are still many other options for subspecialties. You can complete an optional fellowship after residency if you want to focus on a specific type of neurology.
Where Can I Work With a Neurologist Degree?
Neurologists are employed in many different medical settings. A neurology degree might prepare you to work in the:
Subspecialty clinics (e.g. epilepsy clinic)
Step 4: Learn About Neurologist Salaries
According to Salary.com, neurologists command above-average salaries. The median annual salary for neurologists is $273,100, and most non-surgeon neurologists earn between $207,000 and $363,000.
Neurosurgeons make much more. Their median salary is $649,201 per year, and most neurosurgeons have salaries of at least a half-million. The upper echelon approaches the million-dollar mark in yearly pay.
For reference, the Bureau of Labor Statistics reports the median salary across all physicians and surgeons to be $208,000.