How to Become a Psychiatrist
A psychiatrist is similar to a psychologist or a medical doctor. All of these professional individuals all work with patients who have mental illnesses. However, a psychiatrist is also able to prescribe medication, which is a distinction for this field of medicine. If you are interested in working with patients who are suffering from depression, bipolar disorder, or ADHD, here are the steps for becoming a psychiatrist in the US.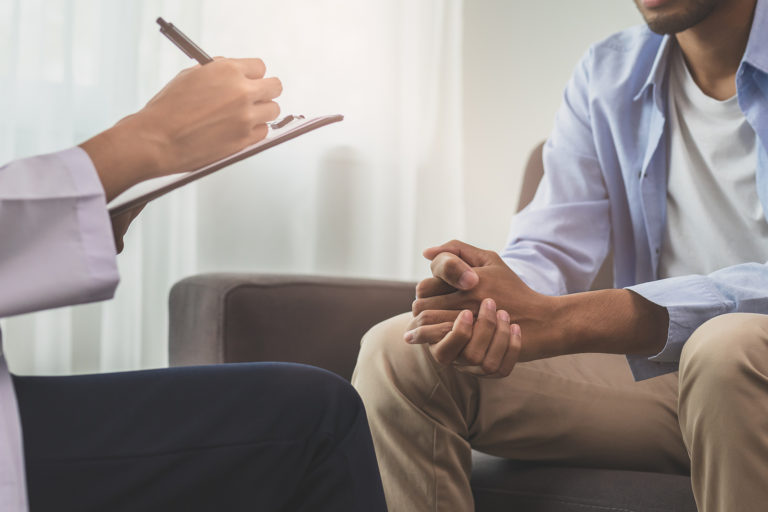 Step 1: Complete a Psychiatrist Degree
Psychiatrists are responsible for more than just talking with individuals, like with a counselor or mental health therapist. While a psychologist and psychiatrist are licensed to offer counseling and therapy, there is another service that the latter provides. A psychiatrist has additional training to be able to prescribe medication.
Other medical professionals at this level who also prescribe meds include registered nurses (RNs) and medical doctors (PhDs). Therefore, training in pharmacology is also required. In total, a psychiatrist requires at least 12 years of schooling after high school.
Associate of Arts (AA) or Science (AS) Degree – entry-level degree inmedical or science training, i.e. nursing assistant, phlebotomist, or pharmacy technician, that takes two years and will transfer to a bachelor's degree
Bachelor of Science (BS) Degree – is a four-year degree in a medical field that is in the psychiatrists' track, such as pre-med, health sciences, or biology
Master's Degree – involves a specialized advanced program in pre-med or psychology
Graduate Certificate – additional educational attainments achieved at any time post the bachelor's degree and adding to the specialization of the psychiatrist
Doctorate Degree – a psychiatrist earns a medical degree and becomes a medical doctor with a Doctorate of Philosophy (PhD) or Doctorate of Osteopathy (OD) and then proceeds to earn another four-year doctorate degree in psychiatry 
Step 2: Become Licensed as a Psychiatrist
Prepare to be licensed as a psychiatrist when going to school so you can apply for the right certifications. Generally, licensure involves passing a board examination, such as the American Board of Psychiatry and Neurology's Psychiatry Certification. This exam costs approximately $2,000 and you must schedule to sit for the exam. In addition, the certification process involves passing particular requirements to be eligible for the exam. This entails having completed three clinical skills.
After you become eligible to take a board exam in psychiatry, do so as there is a time limit for how long newly graduated psychiatrists can take the exam. Otherwise, you may be ineligible and be required to take supplementary training or courses.
Furthermore, it is advisable to take the board exam as soon as possible after graduating from training in psychiatry. This way, the information is fully in the front of your mind and readily available.
Internship / Practicum Experience
Involves clinical training in person at psychiatric clinics, offices, or applicable medical facilities
Required to take board exams in order to be licensed as a psychiatrist
Needed for employment potential by most future employers
It can be done at psychiatrist's offices, mental health wards, hospitals, or counseling centers
Examination
Provided by national associations including the American Board of Psychiatry and Neurology (ABPN) Psychiatry Exam
Board examinations are completed online at this time
At least one major exam must be passed successfully to proceed to licensure as a psychiatrist
State Requirements
US states require psychiatrists to maintain updated licensing as a psychiatry professional and a business associate
Check with local and regional associations for more localized state requirements for psychiatrists
Maintain an updated business license as a psychiatrist if running one's own practice
Step 3: Apply for a Psychiatrist Job
Finding a psychiatrist's job is the next step after graduating and passing your board exams. Typically, you can decide on a place of employment where you will apply long before you graduate. You may discover you love the place where you are doing your clinicals, and end up applying for a job in-house as an intern. This is an optimal situation for a new psychiatry graduate, but it is not always the case that the clinical experience will turn into a paid opportunity.
By branching out with clinical experiences while in school, though, students have a much better chance of finding a job when they graduate as a psychiatrist. Then again, there is always the option of working alone as a psychiatrist in independent practice.
What Careers Can I Pursue With a Psychiatrist Degree?
Child and adolescent psychiatry
Where Can I Work With a Psychiatrist's Degree?
Local health departments and mental health agencies
Police departments and corrections/prisons
Research and development firms
Writing and teaching other psychiatrists
Step 4: Learn About Psychiatrist Salaries
Become a psychiatrist in the next decade and start earning the big bucks. While it takes a while to train to be a psychiatrist, the earnings potential can make this career worth the hard work. According to Salary.com, a psychiatrist makes an average of $243,065 a year. This is based on a salary range from $217,813 to $271,891 annually earned throughout the nation.
For comparison, a cognitive neuroscientist earns only $78,873 a year on average. Meanwhile, a psychologist earns slightly more at $81,040 annually. If you are interested in making a lot of money while working in mental health, go for the longest training, at 12 years, and become a psychiatrist. The salary will be much higher in comparison to those other similar jobs that require less school. Of course, you will have to be able to pay for that amount of a medical school education, which is often the bottom line for students.