How to Become a Physiatrist
Pain is one of the most common symptoms of injuries, illness and mere old age. It's also the primary symptom that physiatrists treat. You'll have to study extensively and complete medical school in order to become a physiatrist, but the program isn't as long as some other medical specialties. Afterward, you'll be an expert in physical medicine and rehabilitation.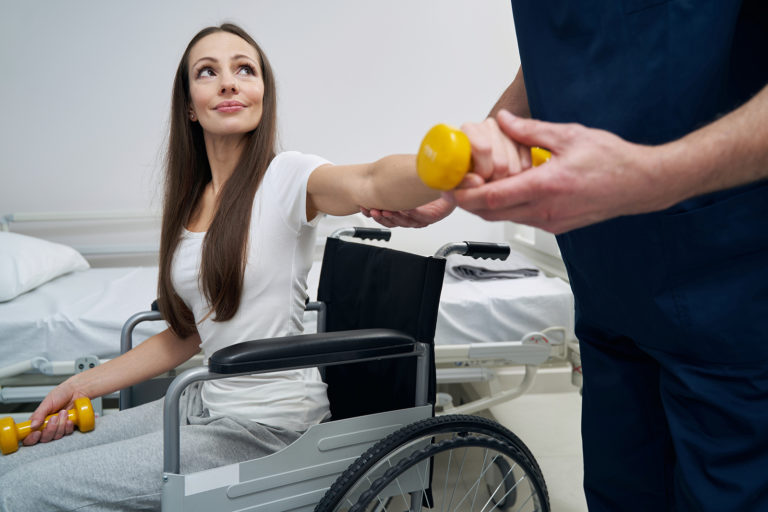 Step 1: Complete a Physiatrist Degree
Becoming a physiatrist requires both academic and clinical work. With regard to academics, you'll need a bachelor's degree and a medical school degree:
Bachelor's Degree: A bachelor's is the standard four-year undergraduate degree. You can study any subject, although medical schools will require certain natural science coursework before applying.
Most importantly, maintain the highest possible grade point average during your bachelor's program so that you have a competitive medical school application. You'll also have to sit for the MCATs before applying to medical school. These are typically taken during your junior year and aren't officially part of a degree program.
Doctorate Degree: All medical doctors must have a doctorate degree from a credentialed medical school. Programs require two years of coursework, and two years of clinical rotations. 
The most common doctorate is a medical doctor (M.D.) degree, but you also can get a doctor of osteopathic medicine (D.O.) degree. Either is considered fully qualified for medical licensure throughout all 50 states.
Step 2: Become Licensed as a Physiatrist
Completing medical school only fulfills the academic requirement for becoming a physiatrist. Licensure requires further clinical work and sitting for at least one exam.
Physiatrist Residency
After graduating from medical school, you'll have to complete a clinical residency program. Residencies are primarily clinical in their nature, but you may be expected to continue studying and giving academic presentations.
You typically apply to programs during your final year of medical school, and assignments are issued during "match week" in the spring.
State Licensing Requirements for Medical Doctors
All states require medical doctors to become licensed within the state. Licensure generally requires completing medical school and passing a general medical exam for doctors.
You'll become licensed in the state where your residency is located. Medical residents usually sit for their state licensing exam during their first year of residency. After your residency, most states have reciprocity agreements so you don't have to sit for another licensing exam.
While this is the general process, you'll need to follow any specific rules in the state where you first become licensed. You'll also have to check specific reciprocity requirements if you change states, and follow the specific ongoing requirements of the state where you ultimately work long-term.
In addition to the state license exam, you may also want to become licensed to prescribe narcotic medications. Narcotics are often prescribed for pain management. Obtaining a narcotics license is done at the state level, but normally requires just completing a few forms and paying a fee. There might also be a background check.
Board Certification for Physiatrists
Board certification isn't absolutely required, but the vast majority of medical doctors become board certified. It's generally considered a standard credential for doctors, and you'll have a difficult time getting jobs without it.
Physiatrists are certified by the American Board of Physical Medicine and Rehabilitation. Certification requires passing another exam, which is specifically for physiatrists. The exam is taken late during residency or shortly thereafter.
Additional Training for Physiatrists
Should you wish to specialize further, you can complete a fellowship after residency. Fellowships are in specific types of physiatry, such as pediatric, geriatric, sports injuries, or other focuses.
Clinical Requirements and Examinations for Physiatrists
In sum, you should plan on completing the following after medical school:
State medical license exam (during the first year of residency)
Board certification exam (shortly after residency)
Step 3: Apply for a Physiatrist Job
You'll be paid a nominal salary during residency, but won't start making "doctor pay" until you get your first job post-residency. Plan on applying for physiatrist jobs during your final year of residency. Most employers don't require that you're board certified, so long as you pass the board certification exam within a certain period after starting work.
What Careers Can I Pursue With a Physiatrist Degree?
A physiatrist degree qualifies you to work at the highest levels of physical medicine and rehabilitation. Most physiatrists primarily provide clinical care to patients, but some also conduct research (especially those who also have a Ph.D. degree).
You might provide general physical medicine or rehabilitation care, or you could subspecialize. With a subspecialty, you might work specifically in pain medicine, spinal cord injuries, sports medicine, traumatic brain injuries, musculoskeletal rehabilitation, pediatrics, or another area.
Where Can I Work With a Physiatrist Degree?
While physiatrists can have their own solo practices, most have jobs in group practices or at healthcare facilities. You might work at:
Step 4: Learn About Physiatrist Salaries
The job outlook for physicians is expected to slowly but steadily grow. The Bureau of Labor Statistics projects that physicians and surgeons will see a 3% job growth through 2031. Physiatrists may see slightly higher growth rates, as the population ages and pain management continues to become more widely used.
The median pay for physiatrists is $250,500 according to Salary.com. Almost all physiatrists earn between $200,00 and $300,000 annually. This is substantially higher than the median pay for all physicians, which the BLS reports to be $208,000 per year.