How to Become a Health Psychologist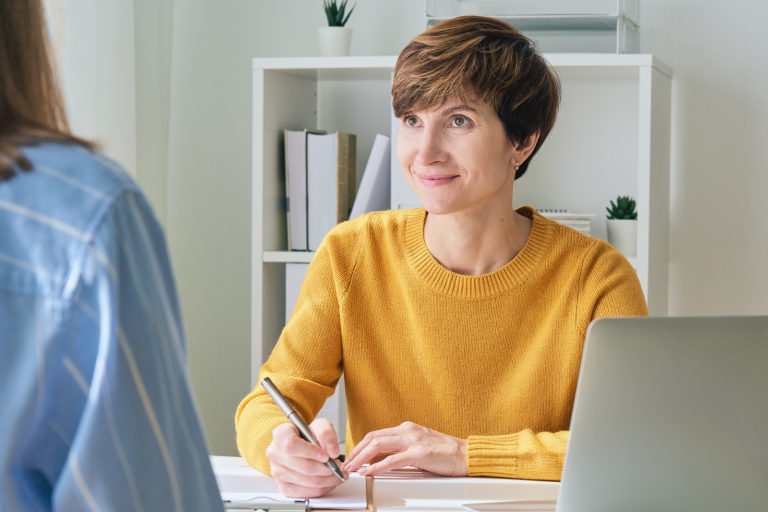 Health psychologists focus on the connection between the body and the mind – how mental health can manifest physical symptoms, affect healing, and more. They also look at how patients deal with illness, factors that cause noncompliance with treatment or medication plans, and how to help people change bad health habits.
Step 1: Complete a Health Psychologist Degree
There are several psychology degree types you can consider on your journey to become a health psychologist. The progression includes:
Bachelor's Degree – A bachelor's degree in general psychology or a focus on health psychology will open the door to several career options. These include community health specialist and occupational health specialist. You can also focus on research, or accept a more general non-clinical psychology position in any industry that benefits from knowing more about how people think. Bachelor's degrees typically take four years to get, but this speed is affected by how many classes you take each semester.
Master's Degree – Almost everyone who wants to make a true career out of health psychology finds that a master's degree is extremely helpful. It takes another two years to get one after you get your bachelor's. You can get a Master of Arts, or MA; or you can get a Master of Science, or MS. The MA gives you a foundation of liberal arts and humanitarian studies, while the MS grounds you in research and statistical science. Generally, those who want to work directly with patients get the MA, and people interested in doing research go for the MS.
Doctorate Degree – This is required to get a license as a clinical psychologist and work directly with patients in a therapy setting. If you want to do this, it's a good idea to go for the PsyD version of the degree. If you'd rather do research, go for the Ph.D. type. You can also get an EdD, which is a doctorate in education, but provided by the psychology department of the school's college of education. Get one of these if you want to be a school psychologist or otherwise work with students.
Step 2: Become Licensed as a Health Psychologist
Every state's requirements are slightly different, but most will require a combination of experience and the passage of exams in order to get a psychology license. There will also be fees.
Internship / Practicum Experience
Most states require that you get a certain amount of practice as part of your licensing practice. A few allow you to get the required hours during a college-sponsored internship. Otherwise, you'll get a provisional license and practice under supervision for a period generally in the range of one or two years.
Examination
There are often two exams to pass in order to get your license. The Examination for Professional Practice in Psychology (EPPP) will test you on your psychological knowledge, while the other exam will focus on your knowledge of your state's laws as they pertain to psychology professionals.
State Requirements
Each state has its own requirements for getting a license or renewing one. Getting one generally involves logging a set number of hours of practice, passing exams, and paying associated fees. There is more variance for renewal; in some states, you only have to pay a fee. In others, you'll need to take a renewal test or otherwise show that you're up on the latest developments. Check your state's Board of Psychology website for more information.
Step 3: Apply for a Health Psychologist Job
Health psychologists work with an unusually wide variety of organizations, which makes it easier for you to find the environment you're looking for. Groups ranging from sports teams to correctional facilities all find value in specialists in this field.
What Careers Can I Pursue With a Health Psychologist Degree?
Family Therapist – Families often need help dealing with the illnesses of one or more of their members. Along with providing psychological counseling, you may find yourself offering down-to-earth help like case management and reviewing insurance utilization.

Clinical Psychologist – Directly help patients overcome their problems, with a focus on health psychology. Your health psychology focus will make you better at things like helping people overcome eating disorders or substance addictions, deal with chronic illness, or even to get motivated to undertake fitness programs.
Where Can I Work With a Health Psychology Degree?
Health Rehab Centers – Rehab patients are often dealing with chronic or debilitating illness. Health psychologists help these people adapt to their conditions in healthy ways.

Drug or Alcohol Rehab Centers – Psychology plays as much, and in some cases more, of a role as physical addiction. Counseling is therefore a typical, if not mandatory, part of the recovery process.

Sports Teams and Other Athletic Programs – Peak athletic performance requires a high level of dietary and other health-related discipline. Help athletes and would-be athletes improve themselves by motivating them along the right path.

Government Agencies and Health Advocacy Groups – Effective health-related communication requires using methods that will resonate with the public. Help health-related groups do this by offering your expertise.

Private Practice – You don't have to get "a job" when you have the right degree. Use your license as your passkey to self-employment, and have as narrow or as wide of a focus as you choose.
Step 4: Learn About Health Psychologist Salaries
Since there are so many possible employers and sub-specialties in this field, the possible salary varies more than usual. According to Salary.com, you can make between $59,000 and $100,000 per year. Meanwhile, ZipRecruiter reports a range of $45,000 and $130,000 per year. These figures are for licensed clinical psychologists.