How to Become a Navy Psychologist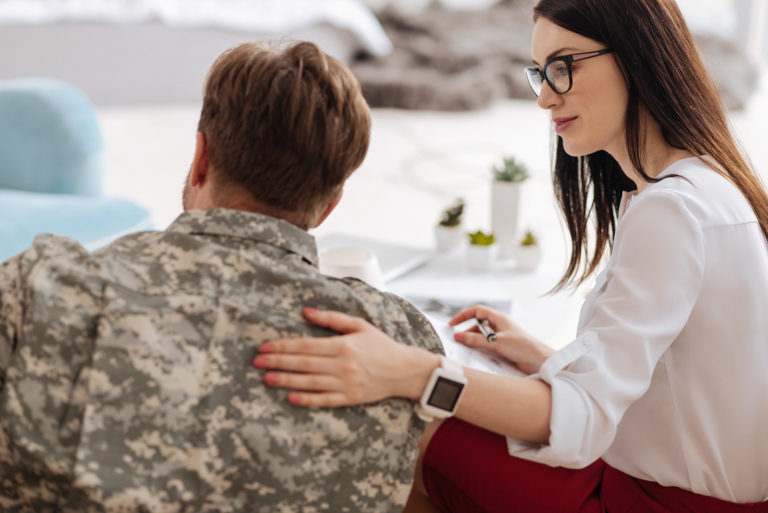 It's common knowledge that military occupations can lead to a variety of emotional and mental health issues. A career in the Navy is no different.
A unique specialty of psychology called "naval psychology" is concerned with the sailors and officers of the U.S. Navy. This area of psychology focuses on identifying, avoiding, and treating a wide variety of mental and emotional issues that sailors and their families encounter.
Navy psychologists strive to calm sailors' thoughts and assist them in navigating the emotional upheaval that comes with serving in the armed forces. Mentally and emotionally healthy sailors are not only healthier and happier, but they're also more capable and successful in times of war, when the country most needs them. Additionally, after being released from active service, sailors' transition to civilian life can be assisted or facilitated by naval psychologists.
Step 1: Complete a Naval Psychology Degree
Starting a career in psychology in the Navy is similar to beginning a career in civilian psychology. The first step for people who desire to work in naval psychology is to get a bachelor's degree in a discipline like general psychology, counseling psychology, or clinical psychology.
Navy psychologists are also required to attend the US Navy's officer development school (ODS) at Newport, Rhode Island when they first join the Navy and before they start any advanced training. The five-week ODS curriculum offers a thorough and intensive introduction to the duties of Navy staff corps officers. Here, students study the U.S. Navy's organizational structure, long history of traditions and conventions, leadership development, and military etiquette.
For those interested in becoming Navy psychologists, further degrees, including master's and doctoral degrees, are also required. Although these degrees can be earned at regular colleges and universities, many people who are interested in careers in navy psychology frequently enroll in naval or military schools before applying to the Uniformed Services University of the Health Sciences (USUHS) clinical psychology Ph.D. program. Tuition for this school is waived for students who agree to enlist in the U.S. military for a certain period of time.
Advanced training is available for psychologists who want to join the Navy or extend their studies. Included among these programs are:
• The USUHS Ph.D. program in clinical psychology
• Clinical psychology doctoral internship programs at the Naval Medical Center in San Diego, California, or at Walter Reed National Military Medical Center in Bethesda, Maryland
• Clinical Psychology Post-Doctoral Fellowships at the Naval Medical Center in Portsmouth, VA
• Programs for Scholarships in Health Professions (HPSP)
Step 2: Become Licensed as a Navy Psychologist
Navy clinical psychologists must be either licensed psychologists or have completed one of the Navy's advanced training programs, which are highlighted above, before joining the Navy.
Internship / Practicum Experience
It's common to need a one-year psychiatric internship before starting a career as a psychologist in the Navy, the minimum requirements for which are as follows:
• At least one of the two internship locations in San Diego, California, and Bethesda, Maryland, should be visited by applicants.
• Applicants need to complete all academic criteria for a doctorate in clinical psychology or counseling psychology from a university or program at a professional school recognized by the American Psychological Association (APA)
• Applicants need to fulfill all other criteria, including acceptance of their dissertation subject by a doctoral committee
The preferred internship requirements are:
• A GPA of at least 3.5 on a scale of 4.0
• A finished doctoral dissertation
• Assessment skills as well as knowledge of inpatient and outpatient care (either as a result of training or work testing)
• Experience in behavioral medicine and health psychology
The annual deadline for applications is December 1. The Association of Psychology Postdoctoral and Internship Centers (APPIC) sets the date for internships throughout the country. The selection committee meets in late January, and candidates are notified of the committee's decisions on the second Tuesday of February.
Psychologists may join the U.S. Navy as interns (officer appointments directly into active-duty service) or as direct hires.
Examination
Candidates for Navy psychologists must attend Navy Officer Training and have completed a four-year university or college degree. (Based on substantial service experience, there could be variances to this degree requirement.)
You must fulfill the following qualifications in order to be eligible for consideration for employment as a psychologist in the Navy Medical Service Corps:
• Possess a valid U.S. driver's license and be a U.S. citizen
• Be prepared to serve on active duty in the Navy for at least three years
• Have an age range of 18 to 41.
• Pass a thorough medical test and be in excellent physical condition
State Requirements
All commissioned officers who are Navy psychologists are required to have a doctorate in clinical or counseling psychology as well as a valid state clinical psychologist license.
Specifically, the minimum direct accession requirements are:
• A current state license for independent clinical psychology practice
• A clinical or counseling psychology doctorate from an American Psychological Association-accredited institution or a USUHS doctoral degree. The entrance requirement for this latter five-year program is a bachelor's degree. When finished, you get a commission as a Naval lieutenant.
The preferable direct accession requirements are:
• Experience with both hospital stays and outpatient visits
• Experience dealing with traumatized persons, crisis intervention, and catastrophe mental health
• Experience in behavioral medicine and health psychology
• References from professionals that attest to your exceptional clinical expertise and management abilities
Depending on whether you're serving in the Navy currently, have served in the past, or have never served, your specific criteria may change.
Step 3: Apply for a Navy Psychologist Job
In their careers, navy psychologists can take on a variety of responsibilities.
Before a potential sailor enlists, a Navy psychologist could perform a mental health examination, for example, to make sure he or she is capable of managing life in the Navy. A sailor's mental health may also be evaluated when he or she returns from leave and after leaving the service.
What Careers Can I Pursue With a Naval Psychology Degree?
Generally speaking, Navy psychologists speak with sailors almost daily. They watch them, evaluate them, and, if required, give them a potential mental disease diagnosis. Navy service personnel often deal with issues such as claustrophobia, insomnia, depression, anxiety, sorrow, and post-traumatic stress disorder (PTSD). These ailments can be brought on by things like being separated from loved ones, engagement in combat, injuries, or even simply being pent up.
The family and loved ones of sailors in need are often assisted by navy psychiatrists as well. For example, they could assist loved ones dealing with a sailor's deployment or death during combat or provide therapy to sailors and their wives.
After a service person is dismissed from the Navy, certain psychiatrists in the Navy are still in charge of helping them. Typically, this entails providing treatment for psychological issues brought on by combat stress, such as drug misuse, depression, or PTSD.
In 2019, 1,100 industrial-organizational psychologists (which include Navy psychologists) were employed in the United States, according to the U.S. Bureau of Labor Statistics (BLS). Industrial-organizational psychologist employment is expected to grow at a similar rate as the average for all professions during the 2019-2029 decade, generating some 200 new positions.
Where Can I Work With a Naval Psychology Degree?
Navy psychologists often need to be quite close to sailors who require mental health care in order to assist them. Typically, this means that they live and work on Navy ships, such as aircraft carriers and submarines. However, naval and military clinics, hospitals, and deployment and recruiting centers may be able to employ any aspiring Navy psychologists who have a tendency toward seasickness.
Step 4: Learn About Navy Psychologist Salaries
Industrial-organizational psychologists, which includes the category of Navy psychologists, earned an average yearly salary of $105,310 in the U.S. as of 2021, according to the BLS. Industrial-organizational psychologists' median annual wages, according to the BLS, range from $72,640 in Massachusetts to $123,090 in California, the two states with the greatest employment levels in this profession. Special pay, incentive pay, board-certification money, and other compensation are not included in these figures; these numbers solely reflect basic earnings.
It's important to remember that specialized training and job experience acquired while in naval service can result in worthwhile credentials and career prospects in related industries. Opportunities for promotion are often present, but they're competitive and dependent on performance.