Online Social Psychology Degrees and Programs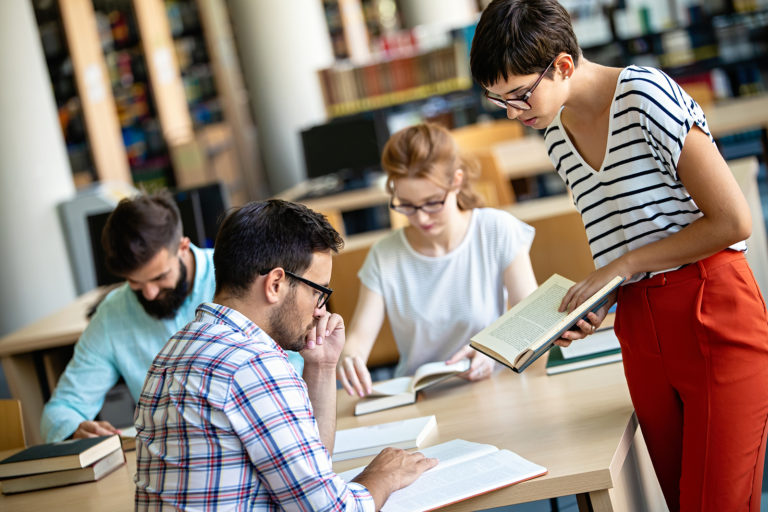 Social psychology delves into the intricacies of human behavior within social environments. It explores how individuals, groups, and cultures interact and the various factors that impact and shape their attitudes and behaviors.
For those interested in pursuing a career in social psychology, obtaining a degree in this field is crucial. The path to becoming a social psychologist involves completing a comprehensive educational program that equips you with the knowledge, skills, and hands-on experience necessary to succeed in this field.
Luckily many degree programs exist for those looking to earn their social psychology degree by taking classes online or primarily online.
Choosing the Right Online Social Psychology Degree Program
Most social psychologists hold a doctorate degree in psychology, although there may be opportunities for working in lower-to mid-level positions with a master's degree. There are also several online programs available to those who would like to earn a social psychology degree from the comfort other their home, however, a bachelor's is needed before you can pursue either of these graduate degrees.
When enrolling in a program, it is crucial to verify its accreditation from a recognized source. Two such sources are the Counsel for Accreditation of Counseling and Related Educational Programs and the American Psychological Association.
Bachelor's Degree
Few colleges and universities offer a bachelor's degree in social psychology, and the same goes for online programs. A bachelor's in psychology, any sociology area, or counseling could prepare you well for more specialized graduate studies.
Expect to spend four years completing a bachelor's program. The first two years will be spent largely on general education requirements and basic courses in your chosen major. You'll take more advanced courses in your major during your junior and senior years.
Master's Degree
A master's degree in psychology is the minimum academic degree required to become licensed for treating patients. Completing a social psychology degree online will prepare you well for the specific interpersonal work that this type of psychology involves.
Most master's programs will take two to three years. A master's in social psychology will include both general psychology courses and more focused social psychology courses. You may also take classes in statistics, counseling, or other peripheral subjects. You can find these classes listen on your school's website in the online curriculum section.
Accredited master's degrees include a practicum, which is an internship. The length of the practicum varies by state, but most are 600 hours of clinical and supervised work. Your practicum should be completed in a social psychology setting if this is the field you want to eventually work in.
Most social psychologists go on to earn a doctorate degree, and you may find many job opportunities that aren't available to those who only have a master's. A master's can prepare you for future doctoral work, though, and you can secure lower licensed positions with this degree.
Graduate Certificate
Some online programs don't offer a master's degree in social psychology and instead only offer a general master's in psychology. Some students don't decide to work in the field of social psychology until they're already in a general psychology degree program.
If you don't specialize through your master's program, then a graduate certificate gives you an alternative way to focus on social psychology. Social psychology certificates typically take six months to one year, and they're completed after a master's in most cases. They're mostly comprised of classes that specifically teach social psychology-related subjects.
Doctorate
Most social psychologists earn a doctorate, either after completing a bachelor's or a master's program online. Many job opportunities in social psychology require a doctorate.
Schools offer both Ph.D. and Psy.D. doctorates in social psychology. The former is more research-oriented, and typically involves two years of class followed by two to four years of research. The latter is more clinically focused, and typically involves three years of class and practicum. Psy.D. students commonly write a final paper that's much shorter than Ph.D. students.
The online doctorate program will be almost entirely in social psychology. It'll qualify you for licensure if you enroll in a doctorate immediately after your undergraduate degree.
Which Social Psychology Degree is Right for You?
| | | | | |
| --- | --- | --- | --- | --- |
| | Bachelor's Degree | Master's Degree | Graduate Certificate | PhD or PsyD |
| I am interested in gaining entry-level experience in social psychology | x | | | |
| I want to get started in my social psychology career before I pursue more education | x | | | |
| I want to pursue a non-patient-facing role in social psychology | x | x | | |
| I want to pursue or switch to a niche social psychology specialty | | x | x | |
| I already have an social psychology degree and want to gain specialized knowledge | | | x | x |
| I want to conduct research in social psychology | | x | | x |
| I want to become a licensed social psychologist and treat patients | | | | x |
| I want to work in academia | | | | x |
Social Psychology Degree Program Curriculum
Online degree programs become more specialized in social psychology as you move to higher degrees. Some courses you might eventually take are Psychology of Social Behavior, Group Dynamics, Methods of Social Psychology, and Psychosis in Social Context. You can find more examples of classes on your online programs curriculum page, or by asking for an informational packet from a school you're interested in.
Bachelor's: ~120 credits; Intro to Psychology, Human Development, Social Influences
Master's: ~30-60 credits; Psychology of Social Behavior, Group Dynamics, Psychology of Violence
Graduate Certificate: ~12-20 credits; Psychology of Social Behavior, Group Dynamics, Psychology of Violence
Doctorate: ~80-12 credits; Advanced Psychopathology, Cognitive Assessment, Statistical Methods in Psychology
Social Psychology Degree Program Clinical Requirements
Though your classes will be primarily, or fully online, most master's and Psy.D. students are expected to complete clinical practicums during their degree program. Master's programs typically require 600 hours, and Psy.D. programs usually require 1,500 hours.
Faculty members can help students network to find practicums in social psychology settings. When enrolling online, where faculty don't have connections with nearby clinical social psychologists, you might have to rely more on job postings in your area. During your practicum, you can expect to engage in social psychology within a highly supervised setting.
List of Social Psychology Degree Programs
Looking for an online or campus-based social psychology degree program near you? Browse our state-by-state school listings below.
Jump to Your State Listings
Alabama
Arizona
California
Connecticut
Florida
Georgia
Hawaii
Illinois
Indiana
Iowa
Kansas
Kentucky
Massachusetts
Michigan
Missouri
Nebraska
Nevada
New Jersey
New York
North Carolina
Ohio
Oklahoma
Oregon
Pennsylvania
Tennessee
Texas
Utah
Vermont
Virginia
Washington
Are we missing your school's program or need to update information listed? Please contact us so we can make the necessary changes.