How to Become a Neuropsychologist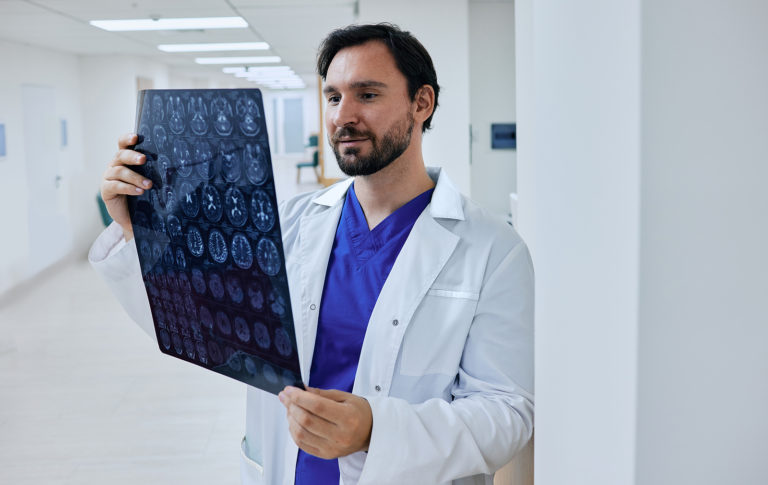 Neuropsychology is a field that combines neurology and psychology. Neurology is a field where specialists diagnose and treat conditions that affect the nervous system. Neuropsychology explores how the brain affects human behavior and thinking, often after a traumatic brain injury or a serious illness.
Neuropsychologists specialize in how both the brain and the nervous system function, and how both of them affect the behavior and the cognitive abilities of people. They perform research and administer tests.
Neuropsychologists decide the best treatment plan for their patients. The field of neuropsychology is likely to be of interest to people who wish to dive deeper into the mechanics of the brain and how it functions in order to help patients.
Step 1: Complete a Neuropsychology Degree
There is a specific educational pathway to follow to become a neuropsychologist in the United States.
Associate's Degree
Many students start their pathway to becoming a neuropsychologist by earning an associate's degree. The reasons that some people earn an associate's degree vary, but it may be because of the smaller campus, the ability to save money, or personal reasons.
Students who want to become a neuropsychologist often major in psychology, biology, or a closely related degree. Associate's degree programs are two years in length. Students who attend part-time may take three years to complete their degree.
Bachelor's Degree
Students who attend a four-year school have the opportunity to continue their pathway to becoming a neuropsychologist by transferring to a bachelor's degree program after earning an associate's degree, or by starting their studies in a bachelor's degree program.
Students should choose a major such as pre-medicine, psychology, or biology. Some schools offer different programs that help students who want to become neuropsychologists.
Master's Degree
The master's degree programs for students interested in becoming a neuropsychologist may vary among universities. Check to see if the school offers neuropsychology as a concentration within their psychology degree program.
Colleges and universities often have a master's degree program in clinical psychology, which is likely to have several concentration options. Some other degree programs may include educational psychology or sports psychology.
Graduate Certificate
Earning a graduate certificate may help students in their journey to becoming a neuropsychologist. Complete a degree in a psychology program or a biology program before enrolling in the graduate certificate program.
The university that a student wants to attend may or may not have a graduate certificate in neuropsychology. Check for options such as applied behavioral analysis or another graduate certificate in the psychological sciences.
Doctorate Degree
Start a career as a neuropsychologist by completing a doctoral program. Neuropsychologists complete a doctoral degree in psychology. Students who want to become a neuropsychologist earn their doctoral degrees with a concentration in neuropsychology, neuroscience, or a similar field.
There is often the opportunity to choose between earning a doctor of philosophy (Ph.D.) in psychology and a doctor of psychology (Psy.D.) Earning a Ph.D. is a degree that is more research-oriented, and is likely to appeal to students who want to work in research. The Psy.D. is more related to therapy.
All programs leading to becoming a neuropsychologist must be accredited by the American Psychological Association (APA).
Step 2: Become Licensed as a Neuropsychologist
Students must have appropriate licensure to work in the state where they wish to practice as a neuropsychologist.
The pathway to becoming licensed includes passing the exam produced by the Association of State and Provincial Psychology Boards (ASPPB) and the Professional Examination Service (PES).
Internship/Practicum Experience
Students are usually required to complete an internship when they major in an undergraduate psychology program or in a related field. The colleges and universities that offer a pathway to becoming a neuropsychologist may have different requirements for the number of internship hours.
Graduate students are also required to complete practicum hours. Working with professors and career counselors is an excellent way to find practicum experiences that align with the student's career goals and their needs for their pathway to becoming a neuropsychologist.
Examination
The American Psychological Association explains that students who graduate with a degree concentration in neuropsychology or a similar program to become a neuropsychologist, must successfully complete the proper examination. The required exams include:
The Examination for Professional Practice of Psychology (EPPP) is a two-part exam. The first part of the exam tests the student's knowledge. The second part of the exam tests the skills of the student.
Each of the two parts of the exam lasts a little over four hours. There are 225 multiple choice questions.
Certification may not be required, but it is a good way to stand out among peers in the field.
State Requirements
The requirements to become a neuropsychologist are likely to vary from one state to another state. The fact that some states differ in their educational, internship, post-doctoral experiences, clinical supervision hours, and licensure is why students should make sure that the school that they plan to attend and the program meets the state requirements for where they want to practice.
Step 3: Apply for a Neuropsychologist Job
Applying for a job as a neuropsychologist may seem challenging at first, but is rewarding once the student has the required education and licensure. Checking with professional organizations, career coaches, and other resources are all excellent ways to find a job as a neuropsychologist.
What Careers Can I Pursue as a Neuropsychologist?
There are a variety of careers available to neuropsychologists. Examples of careers include clinical neuropsychologist, clinical pediatric neuropsychologist, researcher, or cognitive neuropsychologist.
The people who require diagnosis and treatment from a neuropsychologist typically have a traumatic brain injury, a serious illness, or cognitive decline.
Where Can I Work with a Neuropsychology Degree?
Neuropsychologists have several options for where to work after they obtain their licensure. Some neuropsychologists work in hospitals, while others work in specialty clinics. Neuropsychologists sometimes work in private practice or at research facilities.
Step 4: Learn About Neuropsychologist Salaries
The salary of a neuropsychologist may vary, based on the state where the neuropsychologist practices, or which type of career setting the neuropsychologist chooses for their specialty. The Bureau of Labor Statistics (BLS) groups all psychologists together when disclosing salaries.
The BLS indicates that psychologists can expect to see job growth "as fast as average," when compared to other fields. The median pay for a psychologist in 2021 was more than $81,000 per year.