How to Become a Child Psychologist
Few responsibilities are as important as caring for children and adolescents who have experienced trauma or life challenges. Child psychologists conduct assessments, provide therapy, and support the general mental health and well-being of young people. In addition to reviewing a child's behavioral or emotional problems, child psychologists may also help a child or young person with developmental milestones, social skills, or educational issues.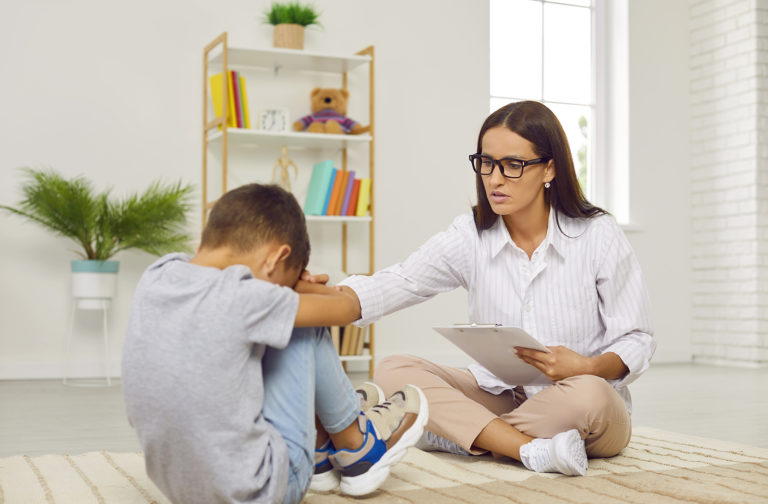 Step 1: Complete a Child Psychology Degree
There are several child psychology degree types that can prime students for a career in the field. The level of degree you will need will ultimately depend on the type of career desired. For those interested in direct patient therapy, a master's degree is usually the minimum degree type needed.
Associate's Degree in Psychology – Students can begin their careers working with children when they earn an associate's degree in psychology, which can often be completed in two years or less. Affordable, and available at community and career colleges, graduates can work in support positions within the larger child psychology field.
Bachelor's Degree in Child Psychology – Love working with children? A four-year degree in child psychology readies graduates for entry-level careers in education, social services, and psychology. Graduates can advocate for children's mental health, and work in a number of support roles.
Master's Degree in Child Psychology – A master's degree in child psychology, which can be completed in about two years, is the minimum requirement needed to provide direct counseling or therapy. Students can also specialize in treating children and adolescents with certain types of conditions, such as ADHD or autism.
Doctorate Degree in Child Psychology – A doctorate in child psychology is most often necessary for licensure and the ability to work with children, adolescents, and their families as a psychologist. Non-practicing child psychologists can attain a Ph.D. to work in academia. Child psychologists assess, diagnose, and provide treatment for children with cognitive and behavioral disorders. Hands-on clinical components are a large portion of such programs; doctorates can take four to six years to complete for this reason.
Step 2: Become Licensed as a Child Psychologist
Those with a master's or doctorate in Child Psychology must obtain licensure via a multi-step process if they wish to practice.
Internship / Practicum Experience
When earning their advanced Child Psychology degree, students must complete internships to gain a certain number of clinical hours to gain real-world experience. Some schools, such as UC Davis, have partnerships with area clinics and have an established process making it easier for students to complete their internships. Not all schools offer this type of support, however.
Examination
Graduates must also demonstrate they have completed the minimum number of practicum hours before they can become a candidate. A total of 2000 hours is usually the minimum.
State Requirements
When candidates pass the EPPP, they must then meet state requirements by also passing a jurisprudence or state exam.
State or jurisprudence exams are based on individual state laws so child psychologists know how to handle and report violations.
Child psychologists must renew their licenses every one to three years to stay up to date with industry changes.
Step 3: Apply for a Child Psychology Job
Assessing, diagnosing, and providing psychological and behavioral health support for children and adolescents is a responsibility not to be taken lightly. Working in this diverse and growing field is often a life's commitment. Upon earning their master's or doctorate degrees, graduates should have an idea of suitable jobs based on internship and practicum experiences. Child psychology graduates commonly work in education settings or pediatric medical centers.
What Does a Child Psychologist Do?
Any institution that serves children can be a place where child psychologists work. Duties performed will be largely dependent on the type of employer. Examples include:
Child Psychologists (specialized) – With the proper education and clinical experience, a child psychologist can diagnose and treat adolescents coping with issues such as ADHD, Obsessive-compulsive disorder, or Autism.
Child Psychologists (general) – Not all child psychologists treat patients with serious conditions. Some can work with young people who are struggling with more routine challenges, such as their parents divorcing or struggling to fit in at school.
Social Worker – A master's degree is typically needed for this career, which involves helping people modify behaviors to improve their day-to-day life. A background in child psychology can enable one to enter this field and work with families and children. Social workers often work for government agencies and nonprofits.
School Counselor – Though it often requires its own certification or license, those with at least a master's in child psychology can work for schools as counselors. Typically employed directly by the school district, these professionals work one-on-one with students to help them cope with behavioral and emotional issues as well as conditions such as ADHD.
Where Do Child Psychologists Work?
Child psychologists typically work in settings such as:
Schools
Medical centers
Hospitals
Private clinics
Government agencies
Social services or government agencies
Private practice
Step 4: Learn About Child Psychology Salaries
The earnings of a child psychologist can vary depending on years of experience, location, and whether they work for the public, private, or non-profit sector. Board-certified child psychologists can often command higher salaries. Working for schools, government sectors, or nonprofits may pay less.
The average salary for a child psychologist in 2022 was roughly $78,000 per year. According to Salary.com, the range fell between approximately $67,000 and $89,000 annually.